James Harden and his Rockets: chronicle of a failure
The Harden Rockets have changed basketball, but have clashed with their star's personalism and style.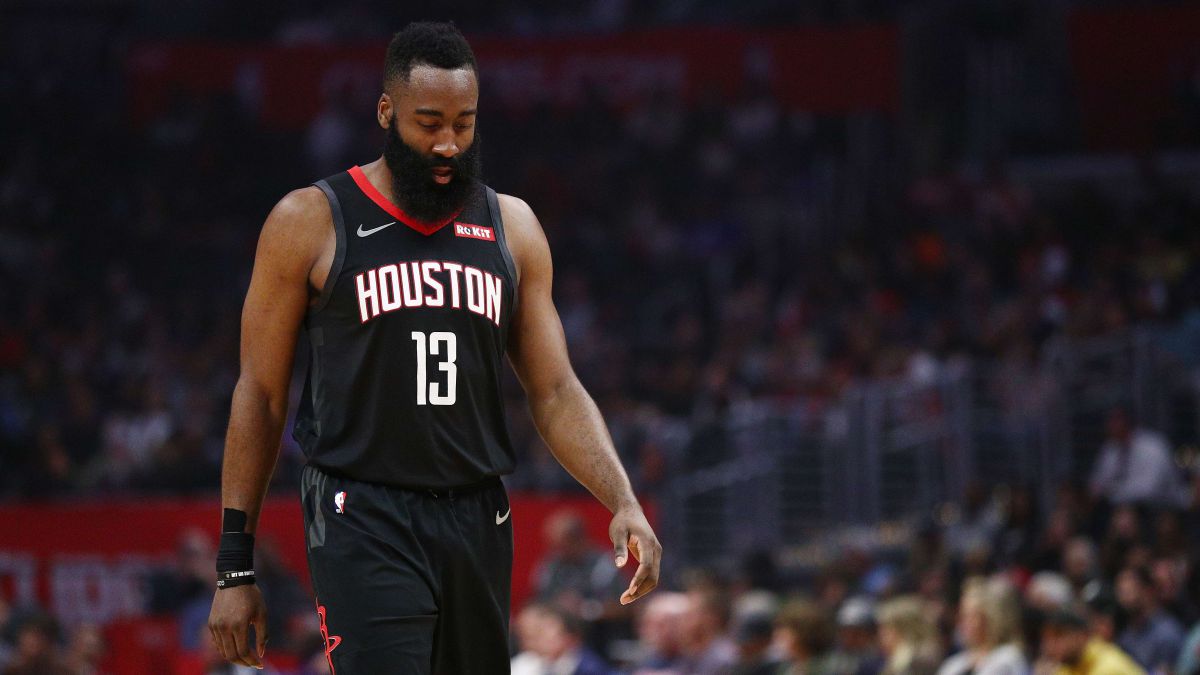 A Rockets project that was long dead is over. Continuity and extensions have not been enough to try to raise an idea that has changed basketball but has run out of ring. Eight years and three months after James Harden's debut in Houston, a successful attempt is put to an end that has remained at that and that has gone through several phases, of greater or lesser caliber, but always with the same end. On October 31, 2012, La Barba made his debut with the Texan team, an adventure that ended on January 12, 2021, with a player who went from being a promise to a star, but who has ended up being one more within From a whirlwind of ringless talents who lose their heads, a too long list in which he continues to appear and from which he will try to get away in a new destination, in which he will share a dressing room with attitudes similar to his own, excessive egos and an uncertain future, forming a pair with a Kevin Durant with whom he met before starting his adventure in Houston and with a Kyrie Irivng who literally no one knows where he is.
Between extravagant numbers and an indiscriminate shooting of triples, the umpteenth attempt to carry out a project that succumbed to its own mistakes, the eternal absence of an alternative plan and the power of one of the greatest dynasties in history has ended for the Rockets. the Warriors. Before them was where the idea of Daryl Morey collided, a manager who seemed almost like a coach and who transferred to the courts what he thought from the offices. There were a total of 27 triples that the Rockets failed in the seventh game of the Western Conference finals, those of 2018. It was the year of 65 victories, those of MVP James Harden (30.4 + 5.4 + 8,8) and those of that defensive coach, Jeff Bzdelik, who was little less than the creator of an incredible containing block that began in Clint Capela and ended in Chris Paul and who had the original ideas of Mike D 'on offense. Antoni, able to create the Seven Seconds or Less with Steve Nash at the helm, and to fall into the other side of the trap, the monotony of long attacks and imperishable possessions, with an unlimited use of the triple, a clear absence and resounding middle distance, and a lack, that of plan b, the one that he had neither with the funniest game on the planet nor with the most tedious of all.
Neither coach changes nor redemption wishes have been enough in Houston, a place that nostalgically remembers a hero like Hakeem Olajuwon (and his rings, those of 1994 and 1995), as he escapes from the elongated shadow of the pivot and remains with a staff radically opposite to that of that time, in substance and in form, and also in idiosyncrasy and connection with a now non-existent audience, but muted and calm in its most recent history. Harden came to the Rockets in 2012 from a Thunder whose project ended the same as his and with Westbrook, his other great partner outside of Durant, amassing more criticism than anyone. La Barba was the scapegoat for the defeat in the Finals against the Heat of a LeBron who began his particular dynasty (one that continues, and continues ...), and saw from Texas how his old project came to an end with Durant showing off of player empowerment, one that was started by LeBron himself, and he would go to the Warriors to be the only one of the trio that Sam Presti created from scratch (or from the draft) to win the ring. Harden will now share a team with the face of that project, a Durant who is leaving in the Big Apple after a year stopped because of the Achilles heel. And he also crossed paths with Westbrook and then forced his transfer, something that was done to please a player who has been wanted to be happy countless times, but without ever being enough.
Harden always asked for more and every single wish was always granted. He came to a team trained by Kevin McHale, that mythical Larry Bird Celtics player who won three rings in the 80s. It was with him that Harden definitely exploded and consolidated himself in a League that ended up being his in statistics and LeBron and the Warriors in everything else. The Rockets went from 34 to 45 wins in one season, and Harden, from sixth man to franchise player, averaged 16.8 points per game, to 25.9. The project with McHale reached its ceiling in the Western finals of 2015, it is a round that has also been the limit in which the Harden Rockets have always stayed. The one in which they stayed again in 2018, after McHale's dismissal and the worst year of the project (41-41 in 2015-16, with elimination in the first round) and the arrival of a D'Antoni that made it come true on the fields what Morey, the genius of mathematics, invented behind the scenes.
Chronicle of an announced death
The successive extensions that the project has had are well known, and the second real opportunity came after the first, in 2019, but it was neither an opportunity nor was it real. The 27 triples marked a project that has been a favorite once and a constant candidate without a favorite ring the rest. The 3-2 up front was, despite Chris Paul's injury, an optimal position to reach a non-existent Finals in Texas since 1995. The Rockets had clear advantages in the sixth game and also in the seventh, when the offensive and the arbitration concessions to the champion (which there were) tipped the balance and raised the Warriors dynasty, one of the greatest ever. D'Antoni, who believed like no one else in Morey, solved the missing triples by shooting more triples, and no one was able to scratch anything in a gargantuan crisis that ended with Harden saying goodbye and thinking of future opportunities that never were. Houston could not fish in troubled rivers and achieved in overtime the same with what had remained in his most recent past, and the goodbye of the coach and manager who had developed that idea of winning the Warriors playing like the Warriors, precipitated an end that was sung and with a last year in which no one has counted on the Rockets. With or without bubble.
The vertical structure created to please Harden has left historical numbers of the escort, who has established himself, objectively, as one of the biggest stars of the last two decades. Regardless of his MVP in 2018 and so many individual awards, La Barba leaves a legacy that is difficult to match in the franchise: Harden leaves the Rockets as leader in triples, assists, games of 30, 40, 50 and 60 points ; and second in points, in playoff points and in playoff games. Harden is, in addition (and among many other things), one of the few players who has led the League in points and steals in the same season (along with Michael Jordan and Allen Iverson), one of the only players who has averaged more than 34 points for games in two different seasons (with Jordan and Wilt Chamberlain), and is in the select group of players who have won at least one MVP and been the leading scorer in up to three seasons. That is where, in addition to the four mentioned, Kevin Durant (of course) and Bob McAdoo.
Of course, among records from another era (he is also the only player to average more than 35 points per game in the last 40 years alongside Kobe Bryant and Michael Jordan) not a single ring is in sight. A king without a crown like Baylor, Barkley, Stockton and Malone (who always go hand in hand), Ewing or those companions of his like Chris Paul or Russel Westbrook. An endless list of stars without a championship in which a player who has monopolized in the same way on the court as outside of it, something that has ended up costing a dissolution that was sung and that has become effective, precisely, when he himself He has wanted. All the yeses that the escort has received became a no for Tim Fertitta when he requested the transfer, but even the owner has had to give in to the embarrassment that his star was organizing, which has shown the same roots in Houston as camaraderie with some players with whom he has shared everything except the ball. Harden will not leave, far from it, the indelible memory that Olajuwon maintains, nor has he demonstrated the know-how, basketball and professionally, of that pivot who is, without a doubt, a better player and a better partner than a beard that is shaved in terms of your reputation is concerned. Metaphorically, of course. A project full of corpses
Neither the partnership with Chris Paul paid off, nor did the unlikely unity with Westbrook. The first was the best teammate Harden has ever had, a man who knew how to play with or without the ball, who had excellent shooting percentages and who knew how to be in every moment and place of the game. Nor was La Barba happy with that, who managed his particular empowerment so that Morey transferred to the point guard after promising that he would never do it after the second consecutive elimination in the playoffs against the Warriors. It was in the sixth game, again in Texas and, to make matters worse, without a Durant who was injured in the fifth round. From that movement came a Westbrook that neither was nor was expected and with which the project was shipwrecked again, for the umpteenth time, and without remedy. Looking for the ultra small ball was Clint Capela, a classic tall man in danger of extinction and who left the team as Jeremy Lin or Dwight Howard did in his day, two men who had an ephemeral association in terms of chemistry and unsuccessful in what that refers to success. A string of companions from which Russ also disappeared, the umpteenth corpse left by the insatiable desire of a Harden who was not satisfied with the departure of his last great lieutenant (and friend).
Arriving late and overweight to training camp, making statements that have raised blisters and forcing the transfer in an ignominious way (and with clubs from DeMarcus Cousins included) have been Harden's last actions in what has been his home for almost a decade . Thus, an era that has collided with the limitations of a style that has changed the world but has not managed to unseat its pioneers, those Warriors who continue to be the reference of the last five years and one of the greatest dynasties in history is over . One with which one of the greatest offensive talents of always could not (36.1 points per game and a long etcetera), a man who has been everything in a franchise (in which he has records of everything) that does not seem like I'm going to miss him and that he continues to be, yes, one of the most distinguished characters by public opinion, that place where the battles that decide wars are won. The Lakers eliminated Houston in the last playoffs and put an end to a project that began with hope and ended in failure. One of some. And at the bottom of it, 27 triples failed consecutively ... and all that this has meant.
Photos from as.com