Incredible: a heroic Sexton busts the big three party
The Nets first taught Kyrie alongside Durant and Harden but lost in a spectacular game resolved after two overtime periods.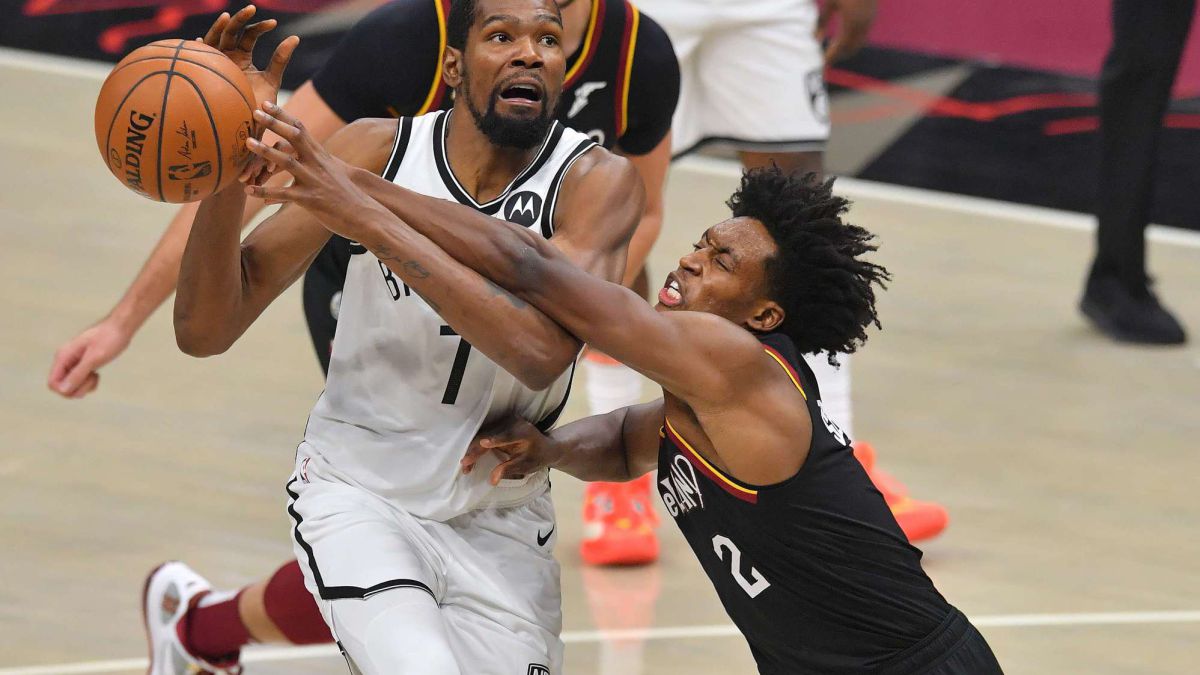 Kevin Durant, James Harden and Kyrie Irving debuted together in the first game of the third since January 5 and after their seven absences due to their mysterious (everything with Kyrie ends up being mysterious) personal reasons. The Nets had beaten Bucks and Bucks with Harden and Durant, and the debut of the atomic big three was promising against the theoretically accessible Cavaliers. In Cleveland, where Kyrie was champion in 2016 (it's already raining), where he left scared by the long shadow of LeBron James and where he had not played again (everything with Kyrie is mysterious) since October 2017.He played the big three and there were impossible triples, streaks to remember, 20 points in a row in a decisive stage and a plethora of performance in an epic second overtime. Yes, all of that was done by a player. Kevin Durant? No James Harden? No, Kyrie Irving? Neither. It was Collins Sexton. The Cavs guard (22 years old, product of Alabama) arrived in Ohio because of Kyrie's cat flap, precisely: with the pick (of the Nets, precisely) that the Celtics gave the Cavs to take the point guard, which (so to speak gently) did not curdle in the Garden. In his first season, Sexton (No. 8 in the 2018 draft) was slow to look like a legitimate NBA player. His start was calamitous, in a haphazard team, and his streaks of points seemed like rogue calories, a monument to inefficiency. But he was 19 years old when he debuted in the NBA. In the end of his first year and during the second, Sexton (who even plays the 2 that Kyrie used in Cleveland) improved by leaps and bounds and in the third he is a brilliant note within a team that is at a surprising level but that had not made headlines ... until today.
Because the Cavaliers beat the Nets (game score: 147-135) in the first game of the big three. After two extra time and with an exceptional Sexton: 42 points, 5 rebounds, 5 assists. His numbers do not count, being impressive, the true story: he scored 15 points and 4 triples in the second overtime, basket by basket, many face to face against Kyrie. Earlier, he had scored another triple, the first of his own, to tie the first overtime with less than two seconds to go (also over Kyrie). Then Kevin Durant failed and the Nets plunged into the void in the second overtime, in which they were 145-131 at a glance. Sixth had scored 15 points and assisted for the other basket, a triple by Taurean Prince ... former of the Nets that came in the multiple transfer by James Harden and finished with 17 points, 7 rebounds and 4 assists. Jarrett Allen, the other who left Brooklyn and a very interesting player for the future of the Cavs, played very well in important moments: 12 points, 11 rebounds, 4 blocks. The very remarkable rookie Okoro defended Kyrie, Cedi Osman played 50 minutes of a high level (25 + 7 + 7) and the Cavaliers achieved their great triumph in what for now is a great season: 7-7 and the future closer to what it looked like. And all playing without Kevin Love and Darius Garland, his star second-year point guard. Sexton's great couple. You already know, Sexton + Garland = Sexland.
The Nets have, things, the same losses as the Cavs. And they are 9-7 after an anticlimactic debut of their deadly weapon, a big three that scored 96 points and that showed, actually it is logical, how dangerous it can be but how green it still is. Without training together, the new Nets made their first ten shots and missed the next eleven and froze in a first quarter in which they went from scoring 16 points in six minutes (10-16) to seven in the next six (28-23 ). And they played poorly from there until they warmed up, especially thanks to Durant, with a plethora of comeback in the fourth quarter: from 98-85 with eight and a half minutes to go to 113-113 with 68 seconds to play. There Harden failed and there Nash saved his team with a challenge won after a lack of attack pointed out to Kyrie, who had received the ball after Harden stealing. In the second overtime he went from 113-118 to 127-127 final. And then came that illogical and spectacular trance in which Sexton beat three of the best scorers in history. Even Kyrie recognized it: "You have to love the basketball that is played in the NBA, even I was smiling when Sexton made those shots."
The numbers were impressive, yes: Durant, who put energy on both sides of the court to wake up the team in the fourth quarter, finished with 38 points, 12 rebounds and 8 assists. In 50 exhausting minutes. Kyrie played more than ever in his career (over 48 minutes) and finished at 37 + 2 + 3. Between the two, 27/53 in shots. And Harden, the last to arrive, signed his second triple-double in three games with the Nets: 21 + 10 + 12 as a point guard and very shy at first. Only two shots in the first half and progressive growth as the game heated up. The Nets, beyond their three stars, did not have much (an issue that will also be recurring). Good minutes from Jeff Green and a less useful Joe Harris (6 points) from a bench who only had ten total points in a 58-minute game. One that was not what anyone expected, that was a lot of fun and in which Collin Sexton was better than Kevin Durant, Kyrie Irving and James Harden together. NBA Stuff.
Photos from as.com