If Woo Kim takes the American Express to Cantlay
The South Korean finished the last day with 64 strokes thanks to eight birdies that made him take the title with just one stroke ahead of the American.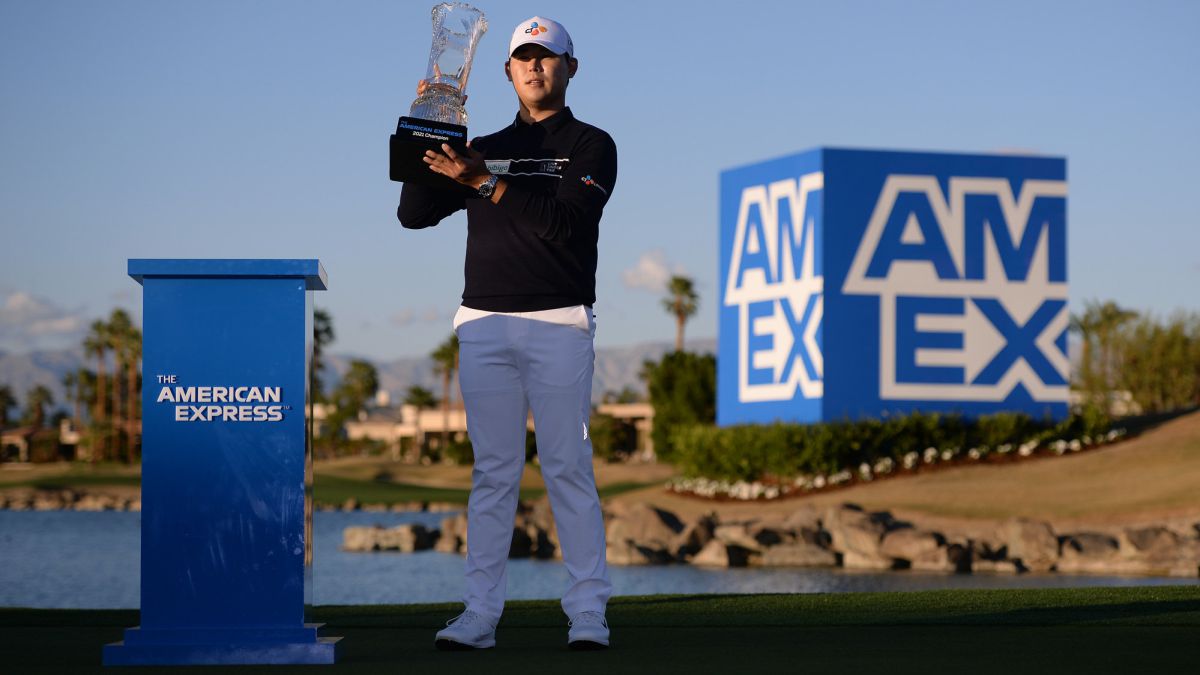 South Korean Si Woo Kim showed his best game again and in the fourth and final round of The American Express tournament, corresponding to the PGA Tour, he beat American Patrick Cantlay to become the new champion.
Kim, 25, who last year left the same scene in Coachella Valley (California) with an injured back, and without having his best control of the game, returned through the big door at the conclusion of the tournament with 265 strokes (- 23), one less than Cantlay (366, -22) and took the title and a prize money of $ 1,206,000 plus 500 FedEx Cup qualifying points.
The South Korean player who had reached the fourth round sharing the lead with Americans Tony Finau and veteran Max Homa, endured Cantlay's genius by delivering a signed card of 64 strokes (-8) with eight birdies, including the last two he achieved on holes 16 and 17 that ensured victory.
Kim, who claimed his third PGA Tour win, acknowledged that he had had a restless night as he prepared to chase his first since the 2017 Players Championship, a series of 102 straight starts without a win. victory.
"Every year, I had a chance, but I couldn't do it," Kim said through a translator. "I had a lot of resolution on my mind last night. I took melatonin, but still didn't sleep very well."
Kim acknowledged that he saw the classification while playing. Six groups ahead of him, Cantlay shot a 61 and jumped from 13th place to the front as he broke the Stadium Course record by two hits.
"I had to know what was going on, so I knew how to play my game in the final round," Kim commented. "I knew Cantlay played very well. I tried to be patient and believe in myself. I had a chance at 16 and 17, and that's when I was able to do it. I feel good about myself."
Cantlay's inspiration only put him one stroke ahead, and Kim comfortably birdied the par 5 of 16 to equalize. Kim then buried a 20-foot birdie putt on the 17th island green to get back to the front of the standings, gleefully pumping his fist as his perfectly paced putt fell into the hole.
Kim wrapped up his third bogey-free round of the tournament, all on the Pete Dye-designed Stadium Course, with a pair of two putts on 18 to finish at 23 under 265 in this event in the Palm Springs area hosted by Bob. Hope.
"I tried to focus on my game," said Kim. "I didn't even know I had a bogey-free round today."
Kim joined American Collin Morikawa as the only PGA Tour players under the age of 26 with three career victories.
For his part, Cantlay, who was also perfect, acknowledged that he had thought he could get the title.
"I thought I would have a shot at the playoffs," Cantlay declared after failing to reach his fourth career victory despite the best round of his professional career. "I played as well as possible."
Cantlay, 28, took home a $ 730,000 prize with 300 FedEx Cup qualifying points.
Australia's Cameron Davis finished third with 268 strokes (-20), while Finau was fourth (269, -19) .
Mexican Abraham Ancer shared fifth place with two other golfers, scoring 273 strokes (-15) after completing the day with a signed card of 66 (-6) .
Ancer, who won a prize of $ 247,900 and 100 points for the FedEx Cup classification, finished the round with an eagle (hole 8), five birdies and a bogey (hole 3), being the best Latin American player.
The Argentine Emiliano Grillo, who started the day in fifth place, two strokes from the lead, had his worst performance of the tournament, registering 76 strokes (+4) that relegated him to 37th in the classification with the sum of 279 (- 9) .
Grillo had a journey to oblivion with a double bogey, five bogeys and two birdies.
His compatriot Nelson Ledesma was better with a signed card of 69 (-3), but he added 288 strokes (even) that left him in the position 68.
Photos from as.com