Honda did not lose motivation
"I had never seen a motorcycle so destroyed. The mechanics got down to work and even had time to have a coffee," says Santi Hernández.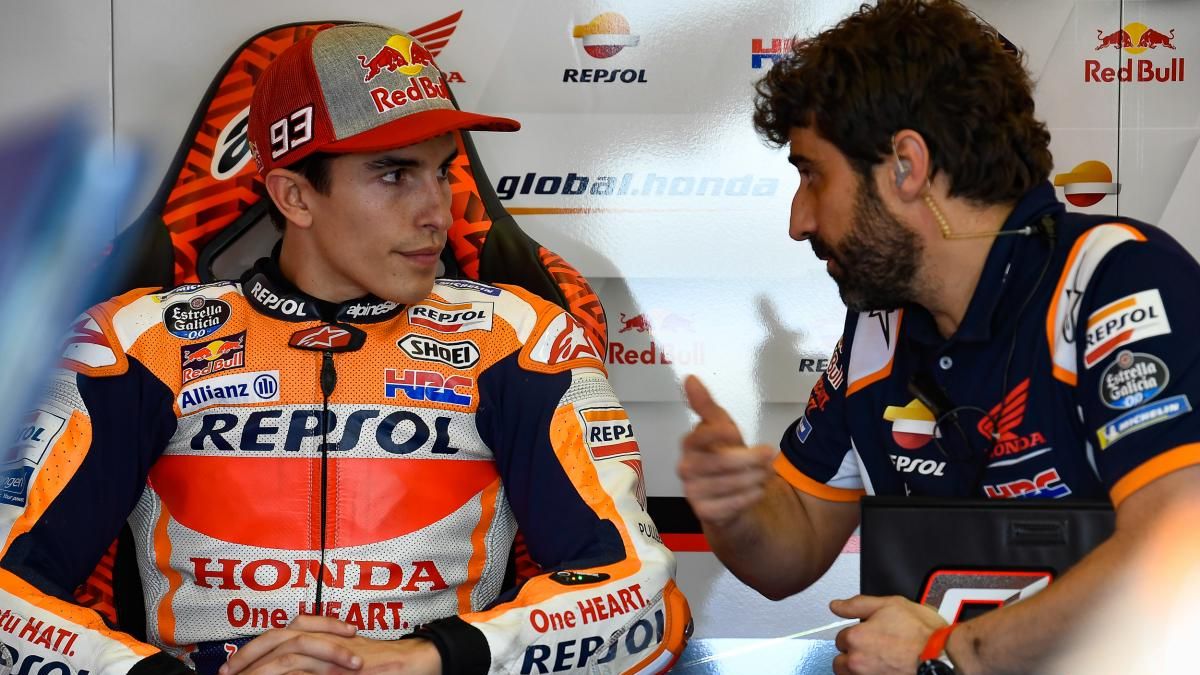 "It would not be normal for Honda to sign Dovizioso to replace Marc." This was the firm answer that Santi Hernández gave on the podcast 'Por Orejas' on December 22 after being asked about the rumor that emerged in Italy that Honda could be thinking of signing Andrea Dovizioso to temporarily replace Marc Márquez in the 2021 MotoGP World Championship until the eighth champion recovered 100% from his fracture in the right humerus.
An undaunted replica that Marc's chief mechanic at the Ala Dorada factory then argued, highlighting Stefan Bradl's progression from the Brno test to the Portimao event, where the German qualified directly for Q2 and was the first Honda in seeing the final checkered flag in the Algarve region: "If during the year you have considered the option of incorporating him as a test rider and in the end you have ruled it out because, among other things, Stefan has done a great job, because he would not understand that you sign that rider for three races. It would make much more sense for that replacement to be Bradl, because he is the one who has the best feeling with the bike, he is the one who has understood things that happen in races and that are only understood in a grand prix , because he has the speed and because he is the tester who is testing things to improve the bike. Who better than him to replace Marc? ".
"Marc Márquez can do things that probably others can't"
Likewise, Hernández expressed his disagreement with the belief that the RCV123V is a motorcycle built exclusively to enhance the qualities of the Cervera rider, although he admitted that it is not a motorcycle simple and you need to make a leap of faith to pass a certain limit: "The Honda is not a simple motorcycle, but I do not agree that it is only for Marc. In this brand there is a rider who stands out much more than the rest. What What happens is that Marc can do things that probably others do not. That is why we are working on a bike that is a bit more balanced. But we have a complicated bike and suddenly Nakagami starts to roll fast. The Honda is a racing bike . To pass a certain limit you have to make an act of faith, believe, but she herself generates doubts. It is there that the pilot decides whether to try it or stay at that point. Stefan took a quality leap when he believed and started doing things that h until then I was not doing ".
The Santa Coloma de Gramenet technician highlighted Bradl's great honesty above the rest, since on many occasions the Augsburg pilot thanked him for his help and advice to gain confidence and speed on the back of the RC213V: "The truth is That surprised us all, positively. He adapted very well to the team. He entered the joke game. I was surprised by how honest he is. Given the circumstances and his role as test driver, at times it would have been easy to say The motorcycle had the problems. But in that aspect he was very sincere, and there were many times that he thanked me a lot for trying to help him with the motorcycle, but he said that the problem was him. He had just arrived from a test and told me that The problem was with him, not with the bike, and he needed some margin to reposition himself. That honesty is greatly appreciated. He has shown that he is a great test rider and has managed to manage a situation that was not easy at all. "Santi Hernández sends a message to the great rivals of Marc Márquez in the MotoGP World Championship
Similarly, Santi Hernández did not hide the annus horribilis that 2020 has been for the Tokyo brand without Marc, since for the first time since 1982, Honda finished the championship without achieving a victory in the 14 races contested: "It has been a very difficult year, very hard. At first it was difficult. At first we thought that Marc would be able to return in less time, and that is why one does not prepare psychologically for Such a long absence. We thought he was going to miss two or three races, in which we would work with Bradl as a test team. But as the weeks passed and the information that reached you indicated that things were going to take longer than the account, because you have to change the chip. Rehabilitation costs a lot, because we go from fighting to win or to get on the podium every weekend, with the aim of fighting for the World Cup, to setting a very goal for ourselves. and different. Marc is the rider, with whom I have worked, that when things are not going, or the bike is not, he makes up for those deficiencies. In 2016, having a motorcycle much inferior to the rest, he won the World Championship. Why? He supplied what the motorcycle did not have, at no time did he stop giving the gas ".
The Catalan proudly praised the group of mechanics that make up Repsol Honda, recalling that at no time did they lose motivation despite not fighting for victories: "The most beautiful thing that happened to us this year is that each of us has found his own motivation. An example of that motivation we had in Portimao. Stefan, in the Warm Up, fell and destroyed the bike. He had never seen a motorcycle so destroyed and we have seen many from Marc. And even our boss, Takeo Yokoyama told us that he understood the situation and that if there was no time to repair it, he would take care of the situation. But the mechanics got down to work and even had time to have a coffee with the finished bike. For a team that is not playing anything, in the last race and when, in addition, the boss allows it, it would have been to relax. Well, the group took the risk and that speaks for itself. Honda did not demand anything from us at any time They understood the situation and they gave us a lot of peace of mind, which is what matters most in these cases. In a year so complicated and conditioned by the coronavirus, I can only thank Honda for treating us; it is to take off his hat ".
Finally, Santi did not miss the opportunity to send a message to the great rivals of his pupil in the queen class: "Those who had to punch on the table and position themselves as leaders, have not done it. Nobody has done it The surprising thing is that people like Viñales, Quartararo or Dovizioso have been in another world. It is as if the hare had been taken from the greyhounds and they had stopped running. Maybe at the beginning of the season they were preparing to win the champion, suddenly and thud would disappear, and they didn't know what to do and got lost. Quartararo won the first two races at Jerez and then disappeared. I was quite surprised ".
Photos from as.com