Herbalife Gran Canaria is buried in the last quarter
He lowered his arms when he still had options, and he paid dearly: 73-62. Okoye and Stevic, insufficient against Klimenko and the push of Unics.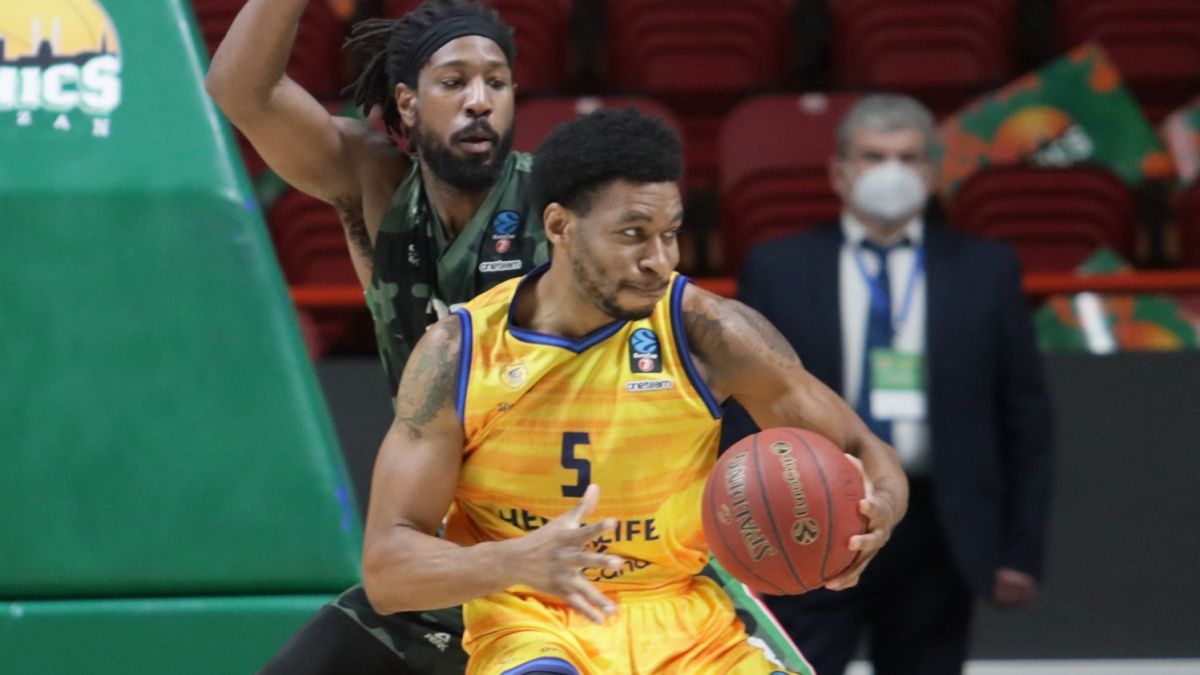 When it was most needed, Granca was less connected to this decisive match. He had endured the greatest Russian intensity, a sea of arms each defense, an ordeal to defend each attack, but he squandered his chances of victory, which were many, in a terrible staging of the last quarter. It didn't even make it to shore.
Nor that it was an anthology of the failure, the first part was a scoring nonsense. Nor is it that the defenses were excessively tight, so the shooting crisis was even more embarrassing for both teams. If Unics missed 18 of their 27 field goals, Herbalife missed 7 of their 9 free throws or 10 of 14 triples. One by another and the court was not swept, and that the initial triple of Conaan had foreshadowed the opposite.
Herbalife tied quickly after another shot from Okoye's 6.75, then took their first lead of the game off a hook from Balcerowski: 5-7. A first quarter was played for oblivion, soporific for the spectator and unbearable for the players themselves, and only the 7-0 of Unics in the last moments of it, to reach 17-11 at the end after a 7-0 partial with Smith's 3-pointer, infused some rhythm.
Herbalife reacted soon. A triple by Beirán quickly tied at 17, and Slaughter's subsequent basket to give him the lead again closed a 0-8 run that forced the Russian bench to call a timeout. A new triple from Smith and a 2 + 1 from Klimenko gave Unics a break, 25-20, but Okoye cut off, from beyond the magic line, any attempt of a local breakaway.
Gran Canaria regained the advantage after a 3-pointer at the end of possession by the Fallen Dimsa, 29-30, but Klimenko continued to act as a hammer, 9 points in the first half after two free throws that put the 33-30 on the scoreboard seconds before the protagonists face the changing room tunnel.
Unics Kazan seemed determined to break the game as soon as it resumed after the break. Thus, an 8-0 run formed by two triples by Holland and White, plus a slap from the infinite Klimenko, put the first +10 of this duel: 43-33. Although five consecutive points from Kilpatrick put out the fire, 43-38, but a 2 + 1 from Canaan brought with it a dangerous 48-30 in the absence of 5:09 to dig this period, which of course forced Porfirio Fisac to ask for time-out.
Herbalife did not give up, and a distant triple from Dimsa, almost from Las Canteras beach, put him only three points, 53-50, before Holland left the electronic at 56-50 at the end of the third quarter.Last quarter
At dawn of the last, Herbalife had every chance of winning the game. Or at least, to compete until the end. However, he squandered them right away, letting go no matter how much the rent grew more and more, something unforgivable in phases where the average can be so important. Thus, Slaughter's triple for 58-53 was nothing more than the remnant of an illusion. And not even that.
Conaan and Brown quickly put another +10, 63-53, against a team that only lurched in attack, losing so many balls that they seemed spoiled gifts. A mate by Brown, alone and on a counterattack, stretched the difference to 68-53, which translated into a new visitor time-out with just over five minutes of matches remaining. Two 3-pointers by Okoye and Albicy, 68-60, unsettled the Russian hosts, but Smith's final 3-pointer dug into the yellow heart like a dagger.Thus, the final 73-62 complicates the qualification options for Herbalife Gran Canaria, which adds the second defeat in such a short phase, just six games. Now with the aggravation of the final difference. The next matchday, against Morabanc Andorra, will mark their continental future.
Photos from as.com