Hazard can't stand the comparison to Bale
At this point the Welshman had scored 32 goals for Madrid and Hazard has three ... The Belgian has only been able to play 28% of the minutes.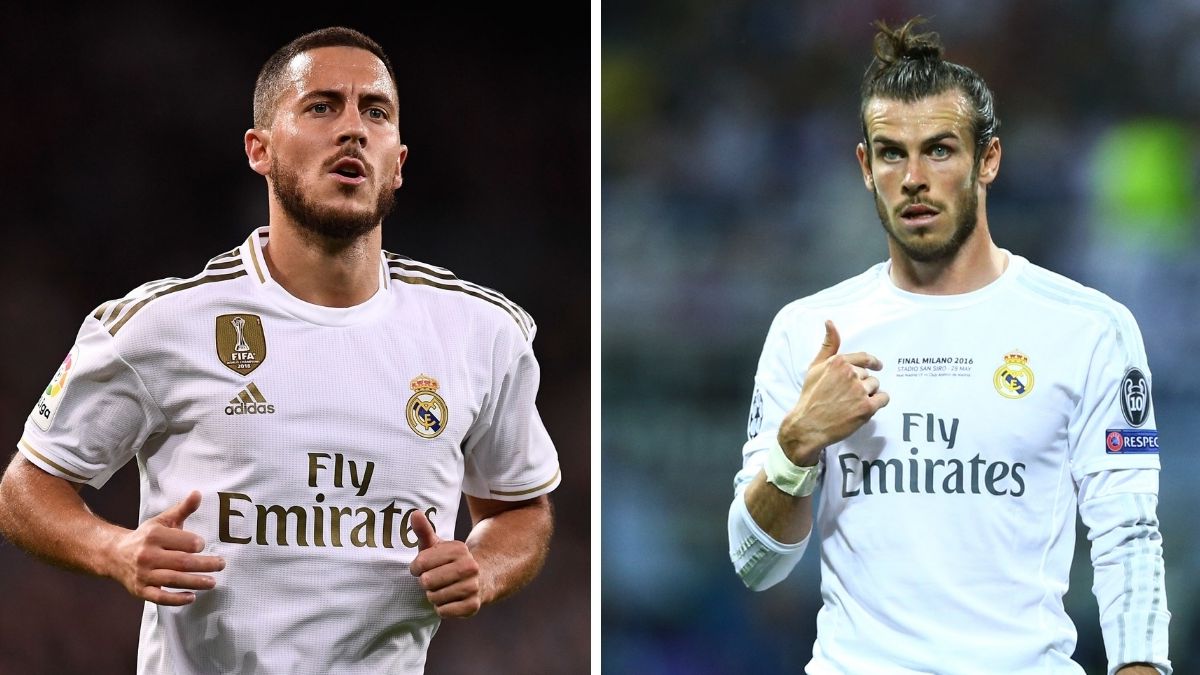 "We go little by little, we go little by little ...". It is the litany to which Zidane has signed up every time he is asked, insistently, about Hazard in the press conferences prior to the meetings. The eternal hope of Madrid. The signing of the 100 million plus 40 in variables that should serve for a transitional Madrid to that other that will be commanded by Mbappé. But, for now, the Belgian has trouble starting. In Sadar, with the frozen field, he started again and left some sparkle, but he is still far from his best level. Moreover, to fit it in, Zidane had to undo something that had been working very well, and that was for Asensio to play on the left.
Injuries are to blame for his bad moment at Real Madrid. Hazard is immersed, not in vain, in his umpteenth comeback after the last of a long list of injuries since wearing white. Something new for him. Before coming to Madrid he played an average of 50 games in each of the seven seasons he was at Chelsea… That's nothing. And with peaks of 62 meetings per course as in 2012-13.
Now, Real Madrid handles the Belgian's situation with the utmost caution, with the same caution that it treated Bale's injuries. To this day it remains a mystery if Hazard's constant relapses are due to the ankle that was operated on last season (after an unfortunate set with his compatriot Meunier), because in that area he had already been given a plate before. , or if it is the biomechanics of your footprint that has changed. That could also be the cause of his constant relapses (which, in this case, would be muscular). But for one reason or another, Hazard's numbers at Real Madrid are truly disappointing and he doesn't hold up in comparison to Bale.
The price of both was similar: 101 Bale and 100 fixed Hazard. The first arrived at 24 years old, the Belgian at 28 (he just turned 30). But in his first season and a half Bale had already scored (at this point) 32 goals and Hazard has only been able to score three ... What's more, the Welshman was able to play 59% of the possible minutes in his first season in white and 78% in the second. Hazard's thing is much worse: he only played 33% in his first exercise and, in this, he has not roasted 16%. Although it is true that Bale left Madrid having participated in 43% of the possible minutes, to date, Hazard remains (adding the two seasons) at a sad 28% ... A shame. The alarms go off.
The situation with Hazard is one of the main problems currently being considered in the offices of the Bernabéu. The investment that was made in the player, beyond the price (100 plus 40 in variables), in his file: Hazard earns, like Bale, 15 million net per season, which means 30 million for Real Madrid. Between the two they take 60 million of the 448 of the total salary of the entity and the performance for the club is zero. In the case of the Belgian, already 30 years old, his price has plummeted since he signed for Madrid. At that time it was valued (by the specialized website Transfermarkt) at 150 million and now it is priced at 50 ... The next two months, with the Super Cup and the return of the Champions League, will be decisive to see what will be his future as a target.

Photos from as.com