Hannah executes Gran Canaria
The Morabanc Andorra base, formerly of Herbalife, sentenced the match with five final points. Slaughter's 3-pointer that could cause extra time did not enter.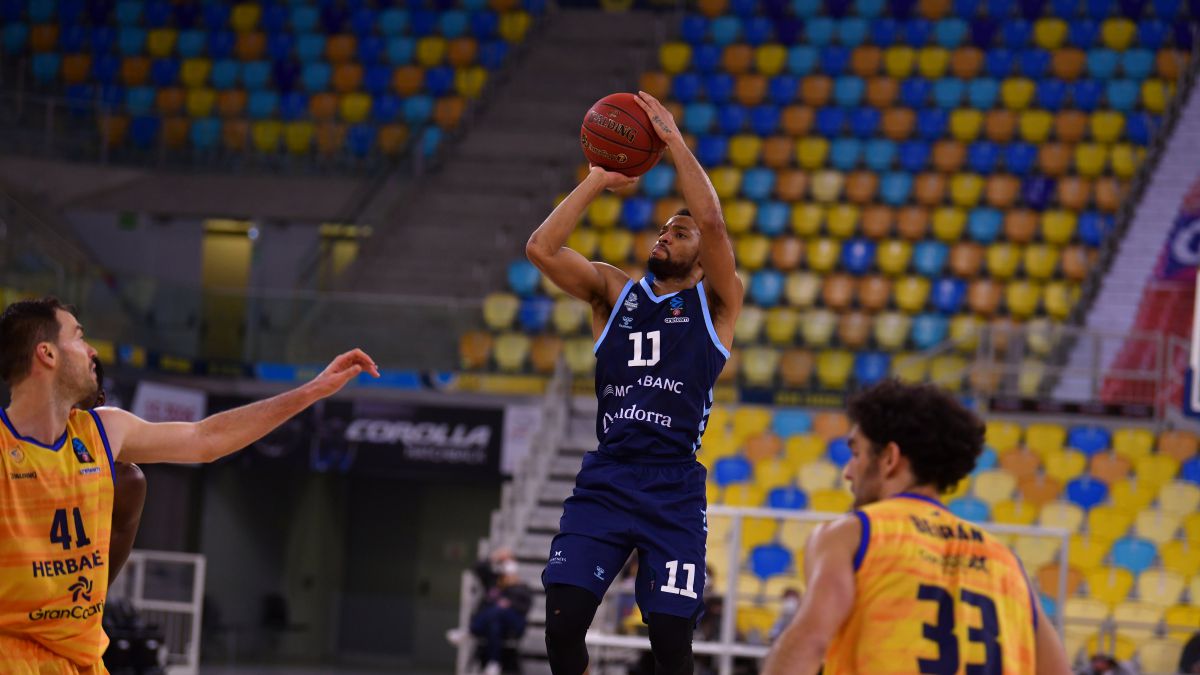 Gran Canaria improved in defense after its debatable performance back in previous games. Of course, Morabanc Andorra also made a great effort there, so the first part did not stand out in any case for the showiness of the game. A motivated Paulí, formerly of Herbalife, connected five points in a row at dawn of the game, and Senglin stretched that initial lead to 0-7 against an undaunted home team. It had to be Slaughter who stopped that little initial bleeding, and with five consecutive points, including a 2 + 1, he put a 5-7 to put things in place.
Each basket cost a world, the attacks of both teams clouded, an ordeal to face the rival hoop with guarantees. That is why Slaughter himself was a breath of fresh air in the game thanks to his seven consecutive points (7-8). However, when only five minutes had been played, he had to leave his place to Albicy when he committed his second personal foul. At that time Costello was already on the field, after more than a month off. It seemed that the weeks of absence for the North American pivot did not pass, four points in a row, who interpenetrated with Kilpatrick, whose suspension for 15-14 also meant the first local advantage in the game. Stevic stretched the local quarter to 7-0, 18-14, but a final triple by García reduced the disadvantage to a minimum at the end of the first quarter.
Okoye gave Granca the maximum of the match shortly after the second act began, 22-17, but Morabanc Andorra always remained on the lookout. Thus, a triple by Hannah, another former Herbalige player, gave him an advantage on the scoreboard, 22-23, and two free throws by Paulí brought with them 22-25 on the scoreboard and a 0-8 partial in favor of the formation of the Principality.
The local team was missing the contribution of Dimsa, one of their main sources of outside annotation, and the Lithuanian guard responded to Fisac's confidence despite his repeated mistakes in shooting with four consecutive points for a new yellow advantage: 29- 28. After 14 initial failures, the 15th triple thrown by Gran Canaria was the first to kiss the net. Its author was Beirán, who also gave the helm of the game to his own, 32-31 before Morabanc was winning at halftime for the same income, 32-33 in the sky of the Gran Canaria Arena.
If Herbalife stayed in the second half it was Slaughter, who with five points in a row put his team ahead: 39-37. By then the problems with the electronic development of the game had already occurred, which kept the game stopped for a few minutes. And Gran Canaria was stopped. Another triple from Paulí gave him an advantage again, 39-42, and then came the exhibition of Gielo. He came so high, perhaps in a state of trance difficult to match, that he hit four triples that, inevitably, kept his team with an advantage: 47-54. However, Herbalife stood by its options despite such offensive display.
More intelligent in their game, and also with that juicy advantage in their favor, which became 47-58, Morabanc Andorra increased their intensity in defense against a Gran Canaria as willful in their effort as sterile in their success. Between Shurna and Slaughter they got to put the match on a tight 53-58, forcing Navarro to call a timeout.
It was time to defend with all their advantage, and there the visitors acted firmly despite the fact that Herbalife, with three points followed by Slaughter, went 60-61. The local team drowned on the shore, impossible to overcome the last arreón of Hannah, who knows Gran Canaria so well, who left the game at 60-66 with five points in a row, impossible and the yellow comeback. This time, Slaughter's 3-pointer who could send the game into extra time missed. And incidentally, it brought with it a new European disappointment for Granca, almost eliminated from the Eurocup. He is left with only a perfect mix of heroism and miracle. Meanwhile, Morabanc Andorra continues with all the options.
Photos from as.com