Granada returns to La Rosaleda, the field where his life changed
Aaron returns to Malaga, where he made his debut six years ago. Jorge Molina will lead Granada's attack and Orlando Sá, the Malaguista. Without public for prudence.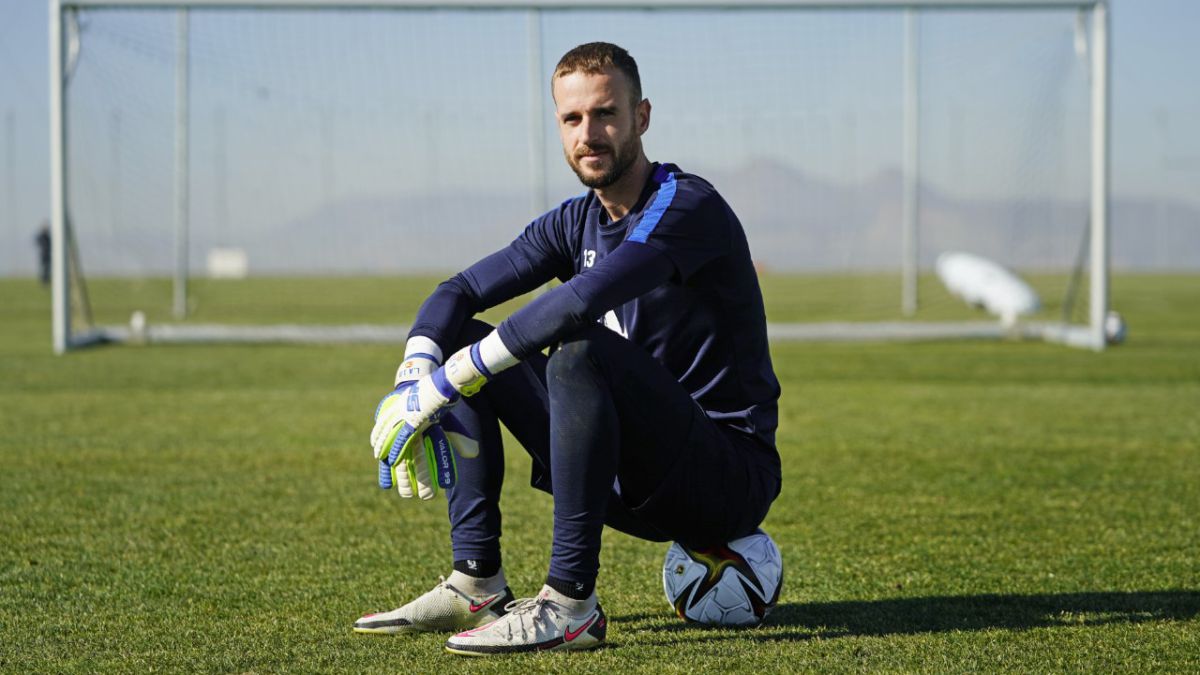 The derby or rivalry match is back, whatever you like to call it, older and special for Malaga and Granada (follow the match live on As.com). The Los Cármenes team returns to La Rosaleda just over two years after their last visit, which resulted in a momentous 0-1 victory. A goal scored by Montoro that changed the destiny of the two teams, that of Granada for the better because they were promoted to the First Division and later qualified for Europe; Malaga for the worse because he stayed in Second, suffered to stay and not disappear, in addition to suffering the boredom, frustration and weariness of having to endure the nonsense of its absurd owner, Sheikh Al Thani until, happily, he was separated by court order. Now they meet again in the Cup in what will be no less than the 30th match for the people of Granada in their intense campaign and with the people of Malaga most awaiting their sporting and institutional salvation.
Despite the fact that the Spanish Football Federation (RFEF) does allow audiences and the Junta de Andalucía authorizes a percentage not exceeding 50% of the capacity in open-air shows, this match will be behind closed doors. Málaga has not requested the presence of spectators and the Andalusian government has not advised it. The bad data in relation to the third wave of coronavirus does not exactly invite festivals. Prudence. These are not good times and health is what matters.
The fact that this match takes place on Sunday will help Málaga to take it with ambition, but without pressure. He knows that where the bread is played is in the league. Sergio Pellicer does not have as much wardrobe depth as to put what is now called a second unit and previously substitutes. Iván Calero, Matos, Benkhemassa and the players with a subsidiary file Julio and Hicham continue with their different recovery processes from their injuries. It is likely that the coach will put Juan Soriano in his starting eleven, well recovered from his blow to the knee. In addition, footballers like Alexander González or Chavarría can use it very well to add minutes. Orlando Sá, who confessed to having rejected an offer from Wilsa Krakow, will once again lead the Malaguista attack.
Jorge Molina, a benchmark in attack
Diego Martínez, of course, will rotate because the unstoppable rhythm of matches does not stop. This Sunday against Malaga, on Wednesday at Villarreal and on Sunday, they have to go to Pamplona. In the goal will be Aarón, who played his first minutes with Málaga on a distant November 15, 2014 in a friendly played at La Rosaleda against Córdoba. Since then, this goalkeeper from Carcagente (Valencia), very good at playing with his feet and an excellent penalty taker, has improved a lot in the shadow of Rui Silva, the starting goalkeeper (with ballots not to continue in Los Cármenes and with proposals from Italy and the Premier) .
Granada, who remained at the gates of playing the final after falling in extremis against Athletic, will put players like Pepe Sánchez on the right back, minutes for Montoro, Luis Milla, Kenedy or Soro and, of course, Jorge Molina. The eternal scorer, who has scored in all three competitions, still has the fine trigger at his incredible 38th years (he will turn 39 in April and there you have him, so fresh). Gonalons, Quini and Víctor Díaz, who suffer from different ailments, have stayed at home. Foulquier, who gave a sovereign scare in the run-up to Osasuna because he fell out of the lineup due to an allergic reaction from which he is perfectly restored is among the expeditionaries.
Málaga eliminated Oviedo with a goal from Chavarría in the 118th minute, almost at the end of extra time, almost the same as Granada against Leonesa where Machís saved him from penalties in the 116th minute. 'Do not be surprised if we have extra time again .
Aces to follow
Málaga. Escassi. Well placed player with ease to join the attack. Possibly, he will act in the center of the field.Granada. Jorge Molina. The veteran and eternal rocker will act as a reference in attack. An expert in scoring decisive goals.,
Details of the match
Alexander González. The Venezuelan can have minutes. It is not ruled out that Pellicer uses him as a left back as the day of his debut against Oviedo in this KO tournament.
Machís. Diego Martínez may not put him in the starting team, but will use him as a trigger if things get difficult during the game.
Intensity. It is always said that teams leave all their energies for the tournament of regularity. This does not seem likely to happen this Sunday.
Goal chances. We use this section too many times when we talk about Malaga. But it is an adventure to generate opportunities.ç
Registrations and registrations
Malaga. Sergio Pellicer gives the call before the game. Casualties due to injury of Calero, Benkhemasa ,, Matos and Hicham
Granada. Diego has not summoned Rui Silva, Gonalons, Germán, Azeez, Víctor Díaz and Quini.
Possible alignments
Málaga (blue and white shirt and blue pants): 1 Juan Soriano; 26 Ismael, 2 Josua Mejías, 5 Juande, 22 Alexander González; 23 Escassi, 30 Ramón Enríquez; 11 Joaquín Muñoz, 19 Jozabed, 10 Jairo; and 9 Orlando Sá. Substitutes. 13 Dani Barrio, 4 Lombán, 26 Ale Benítez, 32 Alberto Quintana, 12 Chavarría, 17 Yanis, 7 Cristian Rodríguez, 8 Luis Muñoz and 20 Caye Quintana.
Granada (red shirt and pants): 13 Aarón Escandell; 28 Pepe Sánchez, 2 Vallejo, 3 Nehuén, 15 Carlos Neva; 19 Montoro, 8 Eteki, 5 Luis Milla; 10 Antonio Puertas, 23 Jorge Molina and 24 Kenedy, alternates. 35 Joao Andorinha, 2 Foulquier, 22 Domingos Duarte, 7 Luis Suárez, 11 Machís, 14 Fede Vico, 21 Yangel Herrera, 26 Soro and 9 Soldado.
La Rosaleda (12:00 hours, DAZN)
Referee: Del Cerro Grande (Madrid) .
Photos from as.com