"Raúl gives his teams his vision and that DNA that he has"
Dani Poyatos led Madrid's Juvenil de Oro until they went to Greece and it was Raúl who finished the job with the Youth League. Now he will train in Japan.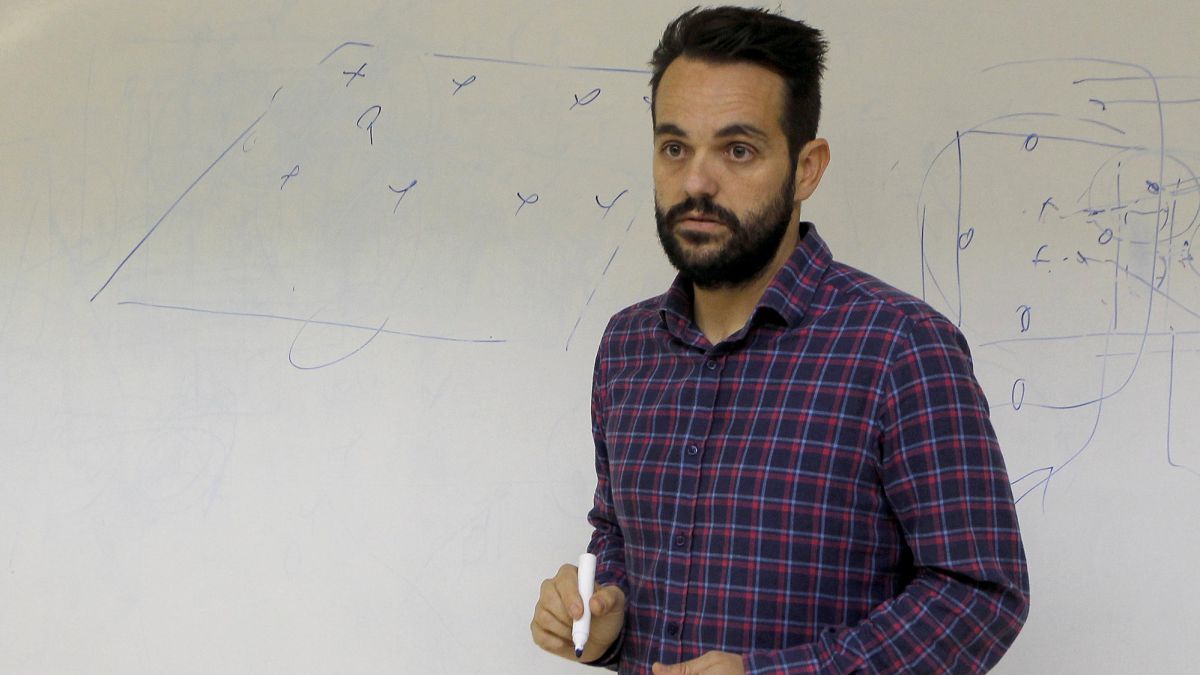 Dani Poyatos (Barcelona, 06-23-1978) is one of those coaches who are doing their homework to break into the elite. Without the name of having been a recognized ex-footballer, on his resume is also the UEFA Youth League that the Real Madrid Juvenil de Oro won last summer. Raúl finished the job, but it was Poyatos who led the team to the quarterfinals, at which point he left Valdebebas to lead Panathinaikos. The dream turned into Greek hell, because he was dismissed after only three games, but he is still determined to succeed. From February he will take the reins of the Tokushima Vortis of the Japanese J-League. Before his Japanese adventure, talk to AS about what is going on at La Fábrica madridista, those talents that appear like Arribas, Miguel Gutiérrez, Dotor or Pipi, a Japanese who marvels in the white quarry ...
Leave Valdebebas to direct a historic, Panathinaikos. But it only lasted three months there. What happened?
I don't know what happened. They came from being denounced by the Financial Fair Play, they changed players, sports management ... They did not let me work. The dynamics weren't that bad. I was happy at Real Madrid and if I left it is because they asked me to give the team and the club a style. But there was a defeat and a draw in the last minute and I saw that they were for the work of change. There was a good predisposition from the owner, nor was there an ultimatum ... It was a very strange thing.
A Greek layoff.
I had a day off, I went with my wife to spend it outside of Athens and while I was away they told me to report to the offices. But before all that, the dismissal had already appeared in all the media. A disaster.
From anarchy to disciplined Japanese football
They value other things. I don't have that part of a former player, who now sells a lot, it's almost a brand ... I have my experience, I started training when I was 14 years old and I'm now 42 and I've never stopped training. You have to keep fighting, trying things. My dream would be to be able to coach Real Madrid but I understand that I have a process. This opportunity arises. It's first-class football, in Japan, but they always bet on me. At the time Tokushima came several times to talk to me but it was not the time. Now they hardly let me unpack. They insisted again and I appreciated it. I am waiting for Japan to allow access to foreigners through the Covid protocol to be able to join. Assistant Marcel Sans is coming with me and we will have to start training the team remotely.
You started the project of that Madrid Youth A 2019-20 and put him in the quarterfinals of the UEFA Youth League before going to Greece. It was Raúl who finished the job and made the team European champions. Did you feel bad not being in the photo?
Know me wrong, no. That success is the sum of many factors. Arribas or Dotor, for example, have passed through the hands of many house coaches. It was looking for a long time. I was with them for nine months. We won the League, I helped put the team in the quarterfinals of the Youth League… Happy that Raúl took the team, his vision and that DNA that he has imprints on his teams. The precious title that was so longed for finally arrived. I am very grateful to Madrid because they also sent me the medal, they made me share in the success.
Tell me about Sergio Arribas. Valdano is delighted and has a tremendous future ...
He is a footballer that we all had that perception that he was going to go up a lot last year. Regardless of talent, I saw that he played the game very well, able to endure the hardest moments, those of not playing. A very mature boy. I was very surprised. That talent, that very profile of ours, of Isco for example. Players who may not be very pretty to look at, but have the ball sewn to the foot. He is more medium than forward, but still has a lot of goal and gives a lot of assists. I'm not surprised by what he's accomplishing. I see him very furnished, very well mentally. God wants it to be consolidated, which is the most difficult thing in Madrid.
Miguel Gutiérrez is another of those who you were in charge of and who looks very good ...
Yes, I spent more time with him, because he was always two years ahead. Seeing it says a lot about La Fábrica, the talent there is. He has to have that point of patience because it is difficult to consolidate himself in the best club in the world. I have no doubt that he is a player who… as a Real Madrid player, not as his coach that I was, I would like to see him in the first team because he has a high level. You can do it, without any hesitation.
Is it the best generation since that of Toril in which Morata, Carvajal, Nacho, Jesé were…?
It's complicated. All those who quote have arrived and have stayed. Today's football due to the pandemic is changing. Those of the generation of 2000 also have a great projection and it is being seen. The Antonio Blanco, Gila, Víctor Chust, Baeza… The one from 2001 has four or five kids who look very good too. Now that the clubs have to reconvert in the economic aspect can open doors. What I can say because I know them is that if they give them a chance, they take advantage of it.
We saw Baeza recently at Di Stéfano with Celta.
He is a player who will give a lot of joy to Spanish football as soon as he gets a little luck.
Now that you are going to Japan, I am curious to ask you about Pipi, the Japanese youth squad from Madrid. He arrived long before Kubo, he is in the Juvenile and there is great talk about him…
I have not had the pleasure of having it, but it has always caught my attention. He is Japanese but raised here in Madrid. It stands out a lot and is technically exquisite. I always say it, dance on top of the ball. His capacity for unbalance is brutal. He has also been sucking what Real Madrid is. He and Bruno look really good. They will be knocking on the door shortly.
His dream is to coach Madrid and perhaps, before, come to First Division. After going through the First Division of Israel, Greece and now Japan, it seems the expected step ...
It's something that is there, thinking that I started in a neighborhood ... you want to be on the coaches roster that can be visible and have that opportunity. That is why I have come to Japan. It's something I fight for every day.
People at this point in the interview may be wondering how, being Dani Poyatos Catalan and such a powerful quarry technician, he did not end up at La Masía ...
Because I grew up at Espanyol, I was there for eight years and I won the Copa del Rey Juvenil and we were runners-up in Spain, which Diego Martínez, the current coach of Granada, beat us by the way. I was happy there, they made me known and Madrid called me. Ramón Martínez bet on me. It was the dream, because also my parents are from Madrid, everything came together.
Well, that return to Spanish football could have a return precisely in Cornellà-El Prat ...
You never know, I wish it would be very, very nice ...
Photos from as.com