Gasol remembers Kobe Bryant: "He's the older brother I didn't have"
The two shared two titles in the Lakers and a friendship that, without him, continues between their families. Tomorrow will be a year without Kobe Bryant.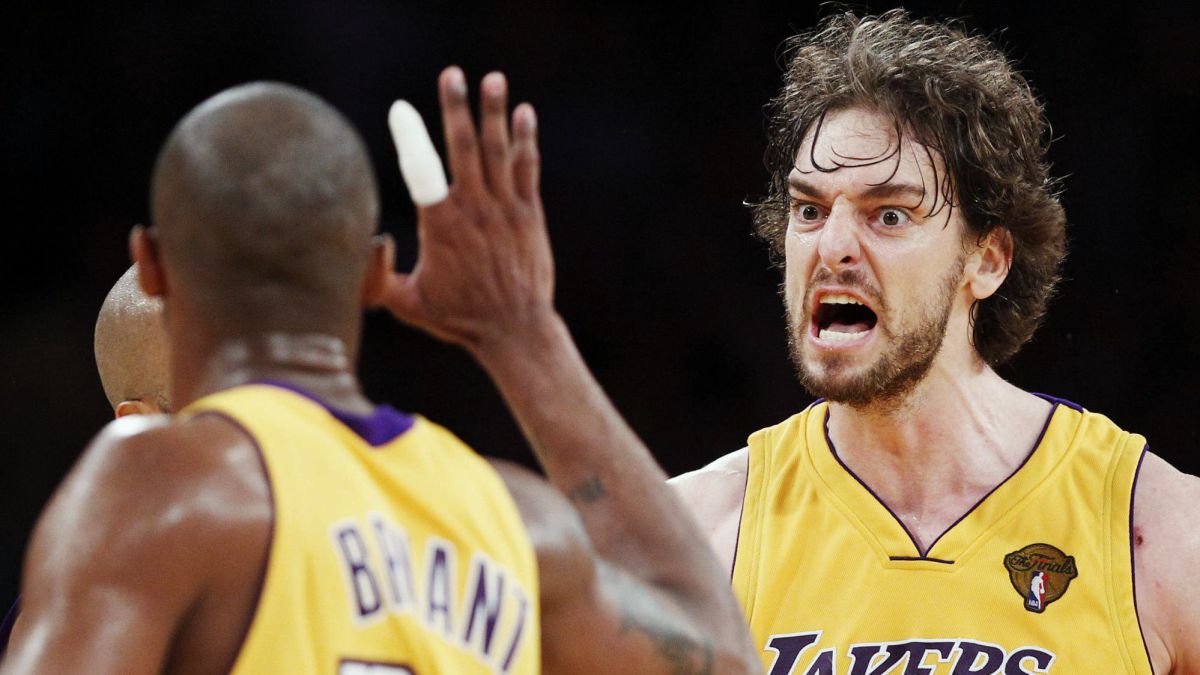 One year after the tragic death of Kobe Bryant, a special report has been released on E: 60, ESPN's program, in which he talks about the sports career of the star with some of the people who passed him by. One of the protagonists who gives his testimony is Pau Gasol, who became a great friend in life and a support for his family after his loss.
The fragment dedicated to Spanish begins and ends with the same phrase as Bryant, pronounced in one of his last press conferences: "He was my brother and he will always be my brother."
Pau recalls the 2008 transfer, which brought him from the Grizzlies to the Lakers, and how the relationship with Kobe instantly became iron: "In the first game, in New Jersey, he was talking to me all the time in Spanish. to mark the plays, to give me cover, etc. He wanted to connect with me, to trust him. Sometimes he gave me that look of his just to hook me. How much do you have that connection with a guy who's not going to stoop to something less than excellence made him a very powerful motivator ".
One of the keys to Bryant's second stage of success in the Angelina franchise came, according to the pivot, for which he forced others: "He demanded a lot because he expected us all to give him the same desire that he did, although that was something unrealizable".
He returns to Kobe's serious injury in 2013 to exemplify his enormous charisma: "He walked to the locker room with a broken Achilles. Who does that?"
On a more personal level, the following stands out:
"He's the older brother I never had. He had a warm, loving side that I think I influenced. I told him it was okay to be vulnerable and soft sometimes. He tried to be the best father in the world, putting all the love he could into the relationship between a father and a daughter "
"We just wanted to be close to Vanessa and the girls. My daughter's full name is Elisabet Gianna Gasol and having Gianna there represents a lot to us. I'm going to try to be a good father too"
One day after one year without Kobe Bryant, Pau Gasol also leaves this thunderous phrase: "I still don't want to believe it, you think that Kobe could have gotten out of that accident on his own foot. That was how invincible he was."
New nod to the Lakers
In a conversation in another medium, La Repubblica, which has also been published commemorating the anniversary of Kobe Bryant's death, Gasol talks about the future:
"The Lakers? Sure, that wouldn't be bad. But that depends on factors that I can't control. I prefer to focus on my daily work to overcome my left foot injury. Once I have that, everything that comes along will be something special "
The player gave himself a month and a half to see how the injury he suffered in 2019 progressed, something that was fulfilled weeks ago. Keep training alone to see if your foot holds up and can reach your goal, the Tokyo Olympics.
Photos from as.com