Garrido: "I'm in the same boat as the Albinegros"
The Valencian has been presented as a new Castellón coach. "We need 30 points in the second round," he argued.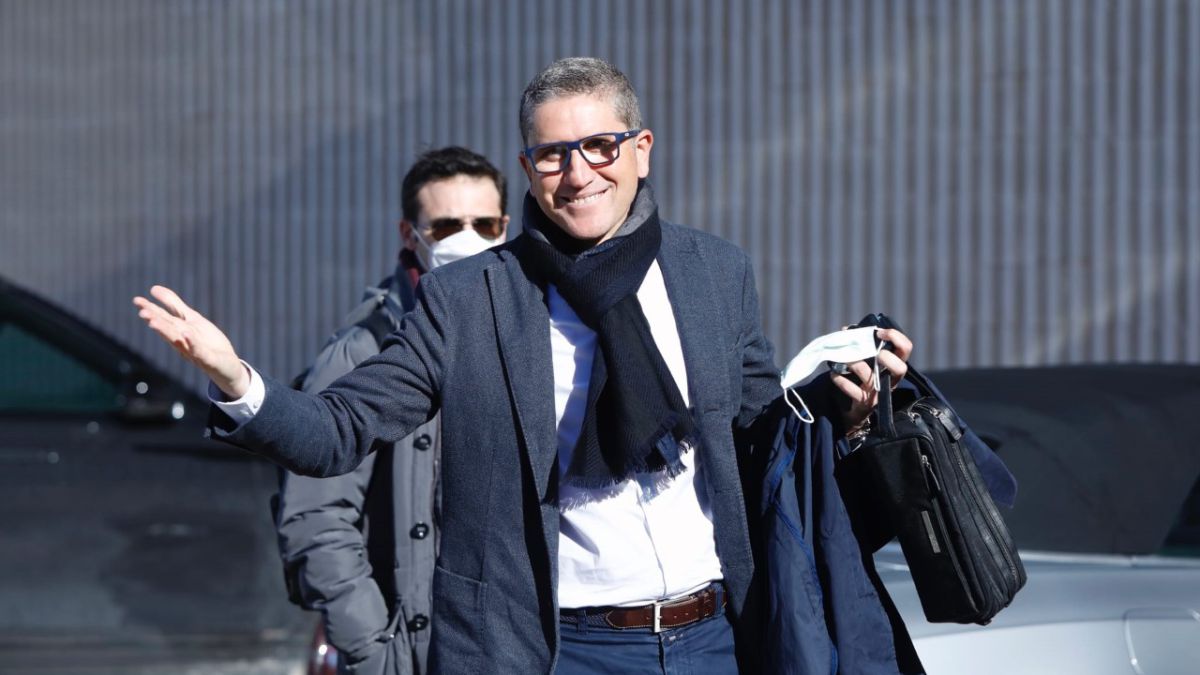 Juan Carlos Garrido has been introduced as Castellón's new coach. "Thanks to Ángel, Vicente and the people who run the club right now. For me it is a great opportunity and a great illusion to lead a historic club. The great challenge is to keep the team in the Second Division. It is a club with a project It has a very important future, as it has in the past. Now we are going to focus on achieving permanence and I am sure that the future I want to have here and with the team can be very bright. I am in the same boat as the Albinegros ", assured the Valencian in his first intervention as an orelltut coach, ensuring that salvation is possible if the team manages to score 30 points in the second round. Ángel Dealbert, who served as host, wishes him the best of luck and stated that they believe he can give "the change we need" .
Pasado Groguet: "I can say that I am very excited to be the Castellón coach. It is a great motivation and I know the history of the club. In the clubs where I am I am going to death to win. I am going to do everything possible to win. The future Castellón is mine. My time at other clubs has passed and the coach that you are going to meet is going to try to win with maximum demand to try to keep Castellón going. I know that the fans feel very much for their club and I am First, I want the good of Castellón. They will see it well soon ".
Parón to work: "It is perfect for us to work and get to know the staff from within. We cannot speak of one idea being better than another. I am going to try to implement my style and it is good to have this margin to be able to work on ideas and mutual knowledge between players. This time suits us very well ".
Figs: "The meeting I had with Ángel and Vicente is because I trust the team. I assume I train this squad and we will work to the maximum to achieve results. In that sense the club is the protagonist. I am not waiting for any reinforcement and if it comes I hope someone is to help. I hope they have my opinion. That is the role of Ángel and the sports commission ".
Situation: "Salvation is obviously possible, but it is not easy. To argue, the goal of our team is to achieve permanence and we need 47 to 51 points. We need 30 points in the second round. The goal is not easy and we are going to work. for this. Each game for us will be the possibility of adding, and if we do it regularly we will see the objective feasible. We assume that we have to scratch points from anywhere and finish the season with some regularity. There are many teams involved in the fight, The season is very long and we are going to suffer. We must know how to fit in and react. We have to fight for 30 more points, a minimum of 49, and these are numbers that have to be transferred in attitude and fight in each game. Getting points is essential and we have to have ambition and obsession to achieve permanence.
Diagnosis: "I have practically since the beginning of the season following First and Second and I have a fairly clear idea from my point of view of the game and the style of Castellón. I am not going to answer it completely, because with the first ones I have to speaking is with my players. I have to contrast the style with them. Without going into nuances and respecting the previous coach. I congratulate them for what they have done. Castellón has offered me to come here and I am very grateful. Logically I will introduce changes. We must fight games to the death and be solid to fight for permanence ".
Coaching staff: "They are fantastic people. They have an important role in the club. Mario Rosas is the second coach, knows football and the club. He has experience and maturity and I have a good football relationship. Xavi Oliva I have been their coach and is a phenomenon. I know him very well and he will help us in many facets. With Diego working for a long time. I think we have a great coaching staff. I want to work with people that I have confidence and with whom I am lucky, who are renowned footballers in Castellón and in Castellón ".
Market: "I agree to come to Castellón with the existing squad. I believe in them and I believe that I can work with them. I am sure that the correct way of working is for the coach to be consulted and I will give my opinion. there have to be them because such a long squad is not positive. I think there are players who should come out. It is better to be clear and direct and face the face, than to be nice from the back ":
Team profiles: "You talk about proper names. Carles is a very important player and it is important to have him. I think the squad has many players, to win games the team has to score goals. Have balance. It's about working well. This Football has many topics. We have forwards that we have, with capacity and experience. They all have good qualities. I repeat, talking about signings would not have accepted Castellón's proposal. That is not the idea. As a coach you have to assess the team that you have. I think we can achieve permanence with this team and that is why I accept the position. "
Style: "At the moment I did not want to talk because I want to talk to the players first. The team has been made by the club with many profiles that can play other things. Within the team there are players to play in other ways. We have to work maximum and these days I must assess very well what is inside to define my style and strategy. Before defining my idea I have to see what is inside. In the next week and a half we will have that information with a definite idea of how we are going to want to play. Then a lot of things happen in games and you have to know how to play. Broadly speaking, I want maximum intensity, demand and compete in every game. Do everything possible to win. Increase the competitive level. I think that after that level the concepts can come out better when the team has intensity in the fight ".
Permanence: "The Second is very difficult and very long. It changes a lot. There will be teams that will be in different dynamics and there will be more teams in the fight. Above that it is about abstracting ourselves and focusing on ourselves. We have 21 games and as we go adding points is what will give us permanence. Getting 49 points, normally we will achieve permanence. You have to be mentally strong to know how to fit in and score points. Detach yourself from this fight and go game by game. As we add we will see salvation is more possible. With 50 points, mathematically, in the last ten years they have been saved. We have to go to each game to compete the three points ".
Fans: "What I'm telling you is that I've never said or done anything against anyone. I can't regret something that I haven't done. What I can tell you is that here is the Castellón coach and I'm going to leave life every game for Castellón to win. I want my team to win and work ".
Photos from as.com