El Granca drowns on the shore
The island team tied at 100 when it was worst, but cruelly squandered their last chance of victory. Former CBA Jacob Pullen declared Mornar Bar's victory.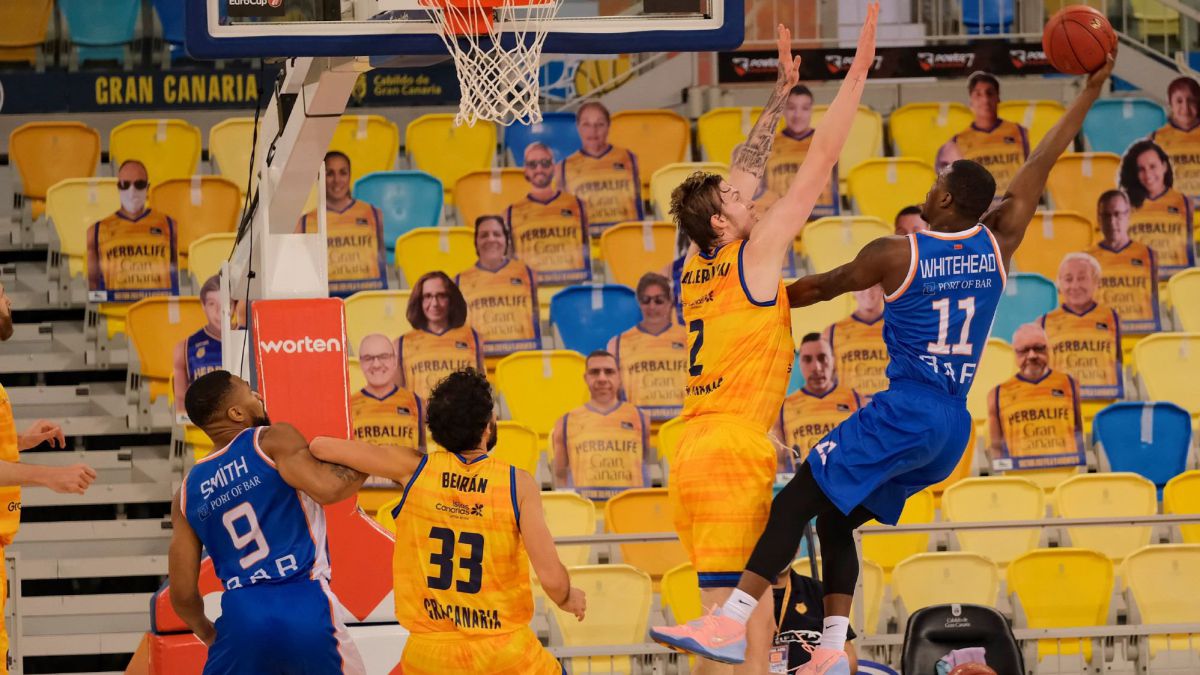 A beautiful basketball game was played tonight in Gran Canaria, of which both Gran Canaria and Mornar Bar were able to win. Finally it was the Balkan team, which thus scored the first and fundamental victory. The local consolation, in such a short phase, is that the basket average is just a stone's throw away.
The attractive first half, even if it was an omen, began with a triple corner by Gabriel. Gran Canaria seemed to go to the slipstream of the Mornar Bar until an Albicy tray that brought with it the tight 6-5, gave it its first advantage. At the beginning where the defenses were well below those desired, the Balkan formation shot more and better, which was 10-15 until again Albicy, this time with a triple, tried to put things in their place: 13- 15.
Then came the first escape attempt for the visitors, who chained a triple by Needham, a 2 + 1 that Smith took from Clark and two free throws by Vranes to chain a 0-8 partial and, incidentally, shoot Mornar on the scoreboard: 13-23. Granca wanted to return the coin, and a furious reaction sealed by Slaugther (triple), Balcerowski (mate) and Shurna (triple) put things back in place, a 21-24 whose difference practically remained after the first ten minutes match (23-27) .
As it could not be otherwise, perhaps to the satisfaction of the coaches, the defense finally appeared at dawn of the second quarter. Then the Herbalife grabbed Kilpatrick, who with five points in a row, seasoned with a superb stopper from Balcerowski to Lukovic, gave his team an advantage again, a 37-34 that also meant a 9-2 partial in favor of the team yellow
The Mornar Bar is not a team that gives up easily, and a triple by Pullen allowed him a break on the scoreboard, 42-47, figures that barely changed when the break came (43-47) .
Mornar Bar escaped again after opening the third quarter with a triple by Vranjes, although Slaughter quickly responded from the same distance: 46-50. Pullen conducted the Balkan orchestra, and a triple by Gabriel returned the +7 to the visitors (50-57). However, Herbalife's response was swift: triple (Clark), basket of two (Slaughter), 2 + 1 (Stevic) and triple (Slaughter). And most importantly, the advantage on the scoreboard: 62-58.
Mornar quickly entered the path again and another triple, this one from Jeremic, put him ahead again: 62-65, 0-7 of partial. Pavicevic's boys were then in control, closing the penultimate set with another shot from 6.75, this one from Whitehead: 67-72.
The Granca could not sink their teeth into the visitors, who also found a gift from Kilpatrick, who gave Jeremic three free throws so that he minimally stretched the Balkan advantage: 69-75. The truth is that they were trying to hit the hosts of Fisac, but if Slaughter hit a triple, 77-81, Whitehead connected three baskets in a row, triple included, for the dangerous 79-86.
Herbalife was trying to react, but at the most decisive moment it ended up becoming a bag of blows. A triple by Gabriel fell like an icy hose on the Gran Canaria soul, 86-95. It also happened that Whitehead was in a trance, and his basket topped with another triple from Gabriel sealed the Balkan victory: 90-100.
There were barely two minutes left to play and the situation became critical for Herbalife, because in such a short phase, just six games, each point of difference, basket average on the sidelines, counts double.
But in a sport where believing in is important, anything can happen. Of course, the impossible. And this was for Granca to recover when it was worst. Boy did it. Shurna chained both 2 + 1 although in the second he missed the free throw, and while the Mornar lost his temper, Clark assisted so that Albicy, on a counter-attack and with nothing to lose, tied at 100 from 6.75: 100-100. In the madness of the closing seconds, Pullen was happy to promise him until Slaughter put a poster cap on him, but he picked up the ball before Albicy needed it. After scoring the two free throws rigorously, he forced Fisac to call a timeout with barely four seconds left, which Clark and Albicy, heroes of the comeback, wasted passing the ball without risking the last shot.
If they lose, Herbalife should settle for doing so. It starts by falling, but just by two points. It's time to recover.
Photos from as.com