Donnarumma: a 'free' star off the market
Gigio ends his contract on June 30, 2021 but there is a pact so that he does not negotiate, for the moment, with other clubs. Has not renewed yet.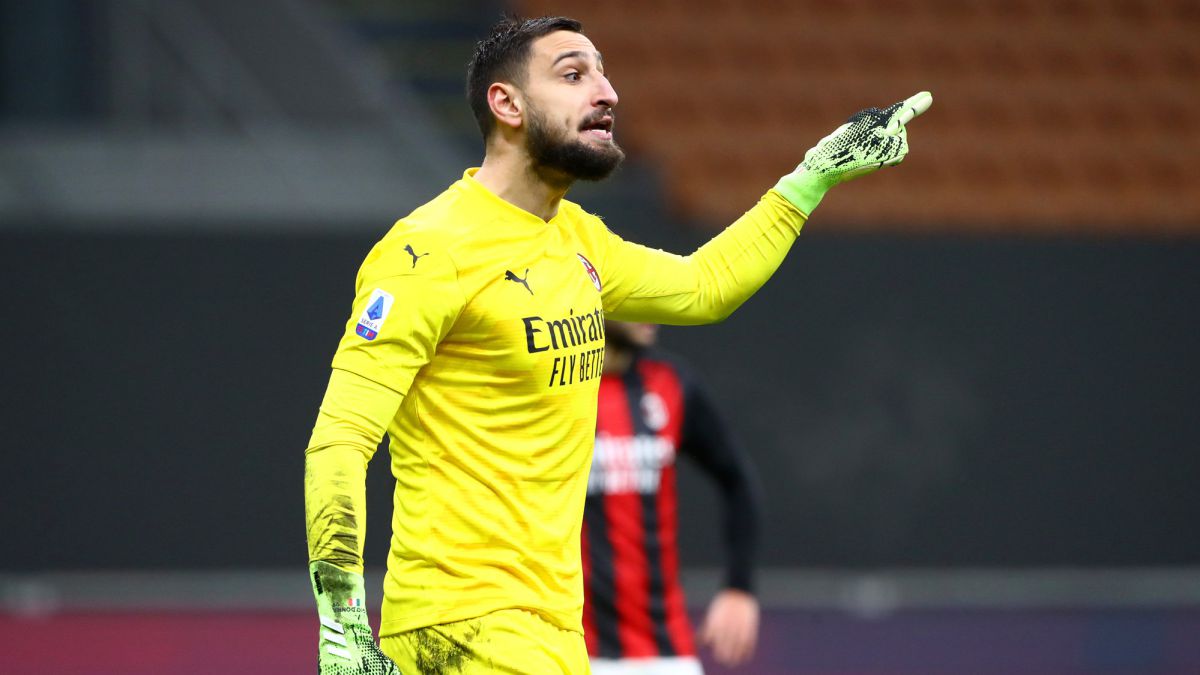 Gigio Donnarumma is in limbo, but his future will continue to be tinged with red and black. The Milan goalkeeper ends his contract on June 30 this year but, according to Gazzetta dello Sport, he is not going to negotiate with any other club and intends to stay at San Siro. Signed, yes, there is nothing.
Its continuity is not in doubt, but nothing is closed. According to this newspaper, Donnarumma is convinced that he wants to continue in Milan for various reasons, but mainly because of the long-awaited resurgence at a competitive level. The rossonero team is fighting for the Scudetto (it is the leader with three points of advantage over Inter) and has an excellent path to enter the Champions League, a competition of which they are the second highest winners in history (7 times 13 for Real Madrid) but in which Gigio has not yet made his debut.
This argument weighs so much that it has led to a non-aggression agreement between the club and Mino Raiola, the Italian goalkeeper's agent, who will keep the hatchet buried. The Nocera Inferiore intermediary will not thus seek a new destination for his player even if he is already free to sign with whoever he wishes.
At the moment, the pact is in force and negotiations have not started. According to the Gazzetta, Calhanoglu goes first than the goalkeeper. Once the medium is resolved, the conversation with the meta will begin. At 21, Donnarumma is already a 'veteran', has proven experience in the elite and wants a salary more in line with his role. In San Siro, affected by the pandemic, they will try to please the goal of Castellammare di Stabia but will try to lower their claims. From Italy they point out that Gigio would want 10 million euros while Milan would be willing to offer him seven, one more than he receives now. The bonuses could facilitate the agreement and also, one of Raiola's favorite plays, a more attractive clause for the rest of the clubs in case they want to leave.A 21-year veteran
With more than 200 appearances for Milan and 22 caps, Gigio Donnarumma is a true 'old man' of football. Young man, barely 21 years old, but with a long experience in the elite.
Still a minor, Donnarumma made it to the first team in the second half of the 14-15 season and in the 15-16 season he took the goal for good at just 17 years old. So far, no one has been able to snatch the job. That same year he was summoned and made his debut with the Italian team where he is already considered Buffon's great relay. Despite his extensive experience for his young age, neither his club nor his national team have allowed him to appear on the biggest stages since he has not yet made his debut in the Champions League (if he has played Europa League) and neither in a World Cup or a Euro.
The Azzurri were unable to qualify for the last World Cup event in Russia in a qualifying round in which Donnarumma was always a substitute to the detriment of Buffon. This was expected to debut at last summer's Euro Cup, which was postponed due to the coronavirus.
Photos from as.com