Doncic's Mavs sink: "It seems like we don't care"
"I've never had this feeling," says the Slovenian after another disaster against a Jazz without Mitchell. The Mavs are now the third worst team in the West.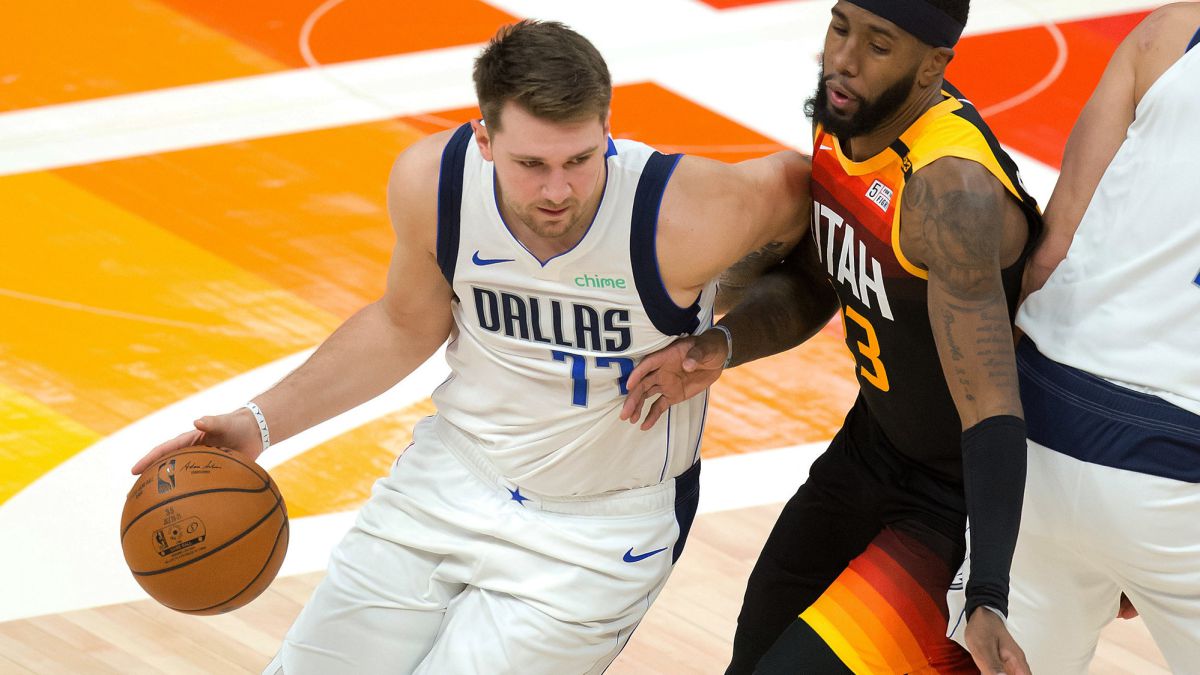 While Rick Carlisle, a technician with enough experience not to collapse in the worst circumstances, preached patience and spirit ("we have to stick together and stick our heads out"), Luka Doncic spoke like this of the harsh, stark reality of the Mavericks : "It's awful. Not much more can be said, I've never had this feeling. We have to do something because this doesn't look good. We have to take a step forward, talk to each other and play better. It is, above all, a matter of effort. Right now it seems that we don't really care. We need more effort, more energy… I know we will put it in and that is what matters. "
Hardly reality: four losses in a row, seven in ten games and 8-11, the third worst record in the entire Western Conference. Worse than teams like Warriors, Rockets, Kings, Thunder… and certainly light years from the Utah Jazz. Since both franchises were 4-4, an eternity ago (or so it seems), the routes they have taken have been opposite: 4-7 the Mavericks, 11-0 the Jazz who are 15-4 and are the best team in the country. NBA, right now a machine from hell that runs from memory and crushes rivals without regard and in whatever circumstances arise. All are worth, all win.
These are the numbers for the Jazz: eleven wins in a row in a stretch where they have the best net rating in the NBA, with the best attack and ten of those wins in double digits. In these 19 games they have made 319 triples, more than any other team in history in their first 19 nights of a season. Nobody adds more shots than three scored on average, of course: 16.8 with the second best percentage in the League, a fearsome 39.8% that is the result of an electric and velvety circulation, a hymn to team basketball. In their last two games they have beaten the Mavericks by a +31 total (116-104 and 120-101) that barely explains the real difference between the two teams. Abysmal, colossal, embarrassing for Texans.
Because, and that's the worst for the Mavs, Donovan Mitchell hasn't played either game. Without their franchise player, the Jazz were much superior in the first game ... and even more so in the second, when the calendar gave the option of an express rematch (less than 48 hours) to Carlisle's, who were even more dominated, more tied, more put in front of a mirror that right now casts a horrible reflection. The calendar has been very tough and the health protocols have hit hard. Although the absentees have been returning (Kleber is missing but Finney-Smith, Powell and Richardson are already there) the damage has been catastrophic: too many minutes for those who were healthy, lost automatisms and rusted gears in a season that circulates at hyper speed and in the that there is no truce or compassion.
Yes, it is better not to be alone in that, in bad luck, because there is more. The absence of energy that Doncic speaks of is palpable, surprising. One of the best rebounding teams of last season is systematically crushed in that section (59-50 this time but 19-8 in a game-busting first quarter). A team that was pure offensive efficiency just a year ago now suffers to score and is the worst shooting of three (32.9%) in the entire NBA, a brutal drag that allowed the Jazz to zone defenses and create a disruption total in the rival's rhythm in that first quarter of massacre (37-12). Tim Hardaway Jr did not make anything (2 points, 1/5) and Kristaps Porzingis played a pitiful game within a worrying stretch in which he does not rebound, does not shoot fluently and does not defend. This time he finished with 11 points and 9 rebounds but after a good makeup against the second unit of the Jazz, already in the fourth quarter. At halftime, with a terrible attitude, he had 3 points, 3 rebounds and three personal fouls. As soon as the second half started, he managed five fouls and went to the bench. It seemed that it was what he most wanted at that time, actually, out of supply on the outside and without any intention of dealing with Rudy Gobert (17 + 12) on the inside.
The first quarter (37-12, three points in the Mavs' final six minutes, all from the personnel line) was a demonstration of where each team is. The direction of Ingles, the energy of Gobert and O'Neale, the intelligence of Mike Conley (22 points, 9 assists), the electricity of Clarkson and the wrist of Boganovic made no one remember Mitchell against an opponent without an iota of courage to avenge the defeat of two days earlier. The review was comprehensive, absolute, seismic. Doncic was also uncomfortable, surpassed: 6 points and a single basket in that first black quarter and a reaction in the second, when the Jazz loosened the rope a bit: 61-45 at halftime, 24-33 in the second quarter with a mess that favored the Mavs and 11 points and 3 assists there from Doncic (17 + 4 + 4 at the equator), who finished the game at 25 + 6 + 7, broken and without answers. Like your team. Because after rowing as best they could in the second quarter, they fell with a simple blow from the rival in the third: Porzingis' two instantaneous fouls, five attacks in a row to limbo and an initial 8-0 to burst any positive inertia and go again to the catacombs of the marker (69-45). That third quarter (94-68 final) was an exhibition by Bojan Bogdanovic, who scored 17 of his 32 points (7/11 from 3-pointers) as the opponent fell apart with an absolutely alarming sense of fragility.
Without reaction time (we'll see if that's good or bad), the Mavericks face a double duel against the Suns (back to back today and Monday), on their track and surely without Devin Booker (just like Mitchell was now missing ...) . An opponent that is not (9-8) as good as they would like, but another of those teams that aim high in the West and that will allow the Mavs to see what they are capable of once they have hit rock bottom in this very tough first leg of the season. Doncic says that the effort and energy will return. Today is, why wait, an excellent day for them to do so, of course.
Photos from as.com