Deportiva and Girona draw and keep looking at the playoff
Amo equals Monchu's initial goal for the Catalans in the second half. A draw that does not satisfy the aspirations of either team.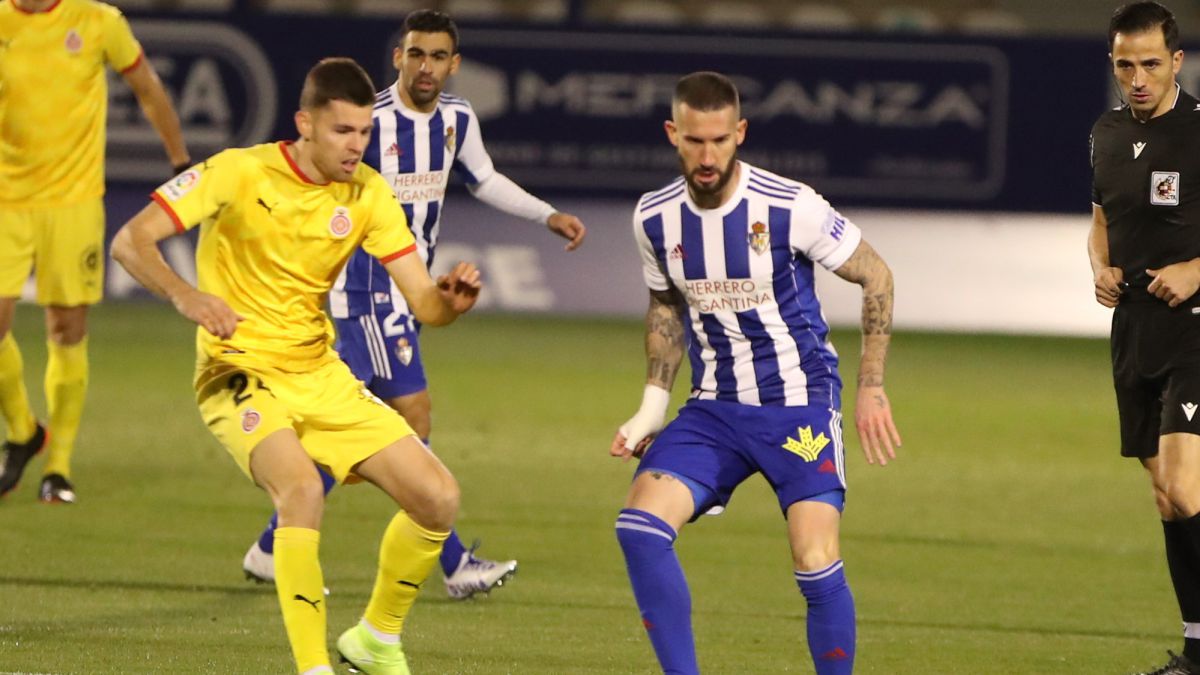 Ponferradina and Girona closed the first round of the competition with a draw that does not satisfy the aspirations of either team, but which allows them to continue to stalk the playoff spots. Monchu put the Catalans ahead in the first half and Amo, just off a corner, scored the tying goal for the local team.
Girona started sending the field and was able to get ahead on the scoreboard on a clear occasion from Gumbau, who sent the ball out with everything in favor after a good break from Pablo Moreno down the left wing. La Deportiva reacted to set pieces in a foul by Curro that was about to surprise Juan Carlos after touching the wall and in a steal of the ball by Yuri after a bad transfer that Juan Carlos managed to touch to avoid the local goal.
In the final stretch of the first half, Girona would find a reward for its efforts when Monchu, completely alone at the far post, finished off a cross from Aday from the right to the net. Francisco's men tried to extend the lead before the break taking advantage of the local confusion, but the score would not move when the first half ended.
After passing through the changing rooms the game went crazy and, although Girona tried to maintain command of the game, Ponferradina began to find gaps to reach the rival goal. Doncel, very active on the left wing, was about to achieve a tie in a center-kick that poisoned himself and ended up taking Bernardo for a corner with difficulties.
The equalizer would come, however, on the right wing. Paris, who had started the game as a left back until Adri Castellano entered, progressed down the right wing until he took a shot that Juan Carlos sent for a corner. In the corner kick, Amo took advantage of the fact that no defense managed to clear a ball at mid-height to finish in the small area at 1-1.
With more than twenty minutes to go, neither team was satisfied with the draw and both were still looking for the winning goal, which could fall on the Girona side in the last minutes. However, there appeared the figure of Caro to disrupt first a lateral foul by Monchu and then a hard shot by Samu Saiz, leaving the scoreboard in a draw and both teams looking askance at the noble zone of the classification.

Photos from as.com