Daniel Felipe Martínez: "I want to help Ineos to be what it was"
The Colombian, recently signed by the British squad, affirms that his intention is to contribute to making him unbeatable again as in the golden years of Froome.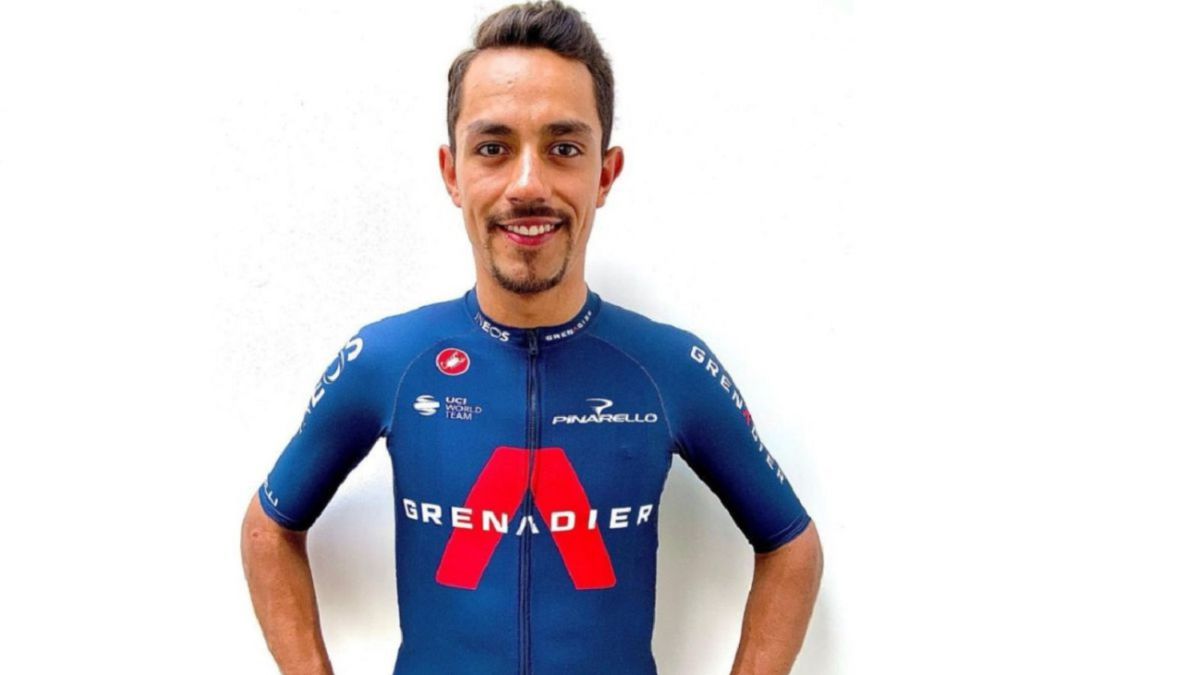 Colombian cyclist Daniel Felipe Martínez, one of the new faces of the Ineos team for the 2021 season, stated in an interview with Efe that he hopes to help the British formation go back to being the same as before, when it was unbeatable.
After a brilliant 2020 in which he won the Critérium del Dauphiné and a stage in the Tour de France with Education First, Martínez (Soacha, 1996) highlighted having obtained a new team despite the crisis caused by the pandemic and thanked all three years he was on the American team, which he believes changed his life.
Martínez, who trains in the department of Antioquia (northwest) and will travel to Europe next month, also dreams of playing the Tokyo Olympics and aims to participate in one of the big three this season.
Question: What did it mean for you that, despite the pandemic, your move to Ineos took place?
Response: Happy because we are living, not only me but everyone, difficult times. Cycling has been hit financially. There are teams that have disappeared, the team I was on had a reduction in salaries.
Finding a team in the middle of a crisis is really something fantastic because there is uncertainty. It is not known what will happen to these teams whether they continue or not. Finding a team in a pandemic (...) is something that fills me with great peace of mind to continue working more every day.
P: What did the passage through Education First leave you?
R: The team taught me so many things. He came from a second division team in Italy, Wilier Selle Italia, and taking the step to the World Tour is quite a different step because we already have access to all the races in the world and being in the Tour de France, in more renowned competitions, it is something very beautiful.
My life changed the day I started at Education First. Being with Rigo (Urán), an idol for me, an idol of the Colombian people, and being surrounded by people who contribute a lot to life as an athlete and as a person is something wonderful. Before I saw all of them on television, I knew who they were, they were highly respected people in cycling and I learned from all of them.
P: And with Ineos, what will your role be and what are the expectations?
R: The team is really great. It has very good cyclists, most of them are of a high level. You have to go to the team to practically look for the position. The legs and the road will tell what situation I am in, obviously the directors and coaches will know.
In one-week competitions they will already know what level I am at, if they give me the opportunity to be a leader or to help other teammates, depending on the level I am at.
The most important thing is for Team Ineos to go back to what Sky was three or four years ago, who won the competitions, which was a team that had no one to beat them.
P: What does it mean to start from the bottom, even building your own bike, until you reach the elite where you have won the Critérium del Dauphiné and a stage of the Tour?
R: It is a very nice process, I have an upline process. My thing is to work, persevere, fight, correct the mistakes I made in the past and learn from them and keep moving forward.
I believe that cycling is a good school for life, not only for sports, but for life in general. What this has taught me is that you have to persevere and fight for your dreams; Ever since I started riding a bicycle I always dreamed of a Tour de France, a Giro d'Italia, in the big competitions and to be competing in them.
All my dreams were focused on that and life is leading there. Around there they say that whoever wants can and whoever doesn't, makes excuses. So, let's say I've always tried to put excuses aside a bit and focus on the real goals.
Q: To what do you attribute that young cyclists have come to dominate the great races in the world?
R: I think that not only in cycling, but globally we are witnessing a change of era. In cycling, as you can see, young people are 18, 19 years old and are already beating those who have 10 or 15 years of experience on the World Tour.
This is surprising for everyone because a boy is practically not mature to play a big lap and we see that they are winning the Tour de France lately.
But this is because the competitions are now a little more explosive and the level has been shortened, the gap that existed before, 15 or 20 years before, has been shortened a lot. Now we see that those who dispute the competitions, the top ten, are in a range of ten minutes or so.
With technology, with potentiometers, you know where you are and what you can become (...) These guys who come with overdeveloped talent no longer have to wait ten years to win.
P: Would you like to go to the Olympics?
R: The quota for the Olympics is there, it must be ratified. Whenever you go, you put on the national team shirt, you go to represent the nation to the world and you want to give your best and that the country stands tall. Of course, I am training myself to reach the Olympic Games at my highest level, to do my best, not to be left with any regrets.
We are all going to get there with that mentality of improving what Rigoberto Urán did in the London Olympics (when he won the silver medal) .
P: What does it mean for Latin American cyclists who have canceled the Vuelta a San Juan and the Tour Colombia due to the pandemic?
R: You like to run a lot at your home, in the country, because they are the roads you train on, because it is the people who know you, they are very special races for us Latin American cyclists.
It is a failure (that they have been canceled) because they are races that you enjoy, that fill you up. To be surrounded by families, surrounded by their public, their people.
The team even had a concentration here in Colombia and could not come because the pandemic is at its peak and they decided not to come due to the risk of contagion.
P: Last year Diego Camargo stood out by winning the Youth and Colombia laps and now he is going to Education First, what would you recommend to this young man?
R: You come to a very good team, which is the team where they are going to have patience to a certain point.
Colombian cycling is totally different from what European cycling is and much more in a World Tour team, but I think it will be very well sheltered because it will be next to Rigo, Sergio (Higuita). It is a team that speaks Spanish. My advice is that you enjoy it, that you take advantage of each race, that you enjoy this stay in the team and get what he knows how to do.
Q: What would you be happy with at the end of the year?
R: I would be happy to know that all the competitions, all the training sessions, I did them thoroughly, that I gave my best.
This I learned from Rigo: you train and enjoy training and enjoy racing, but you don't have to be attached to results. I go to competitions and enjoy some of them, in others I suffer a lot, but the result does not have to take away my peace of mind.
If I can win the Giro d'Italia or the Tour de France it would be a blessing and I would be hopping on one leg at the end of the year, but I will do the same if I don't win them.

Photos from as.com