Cristo González threatens the good moment of Rayo Vallecano
Mirandés receives a team grown in the face of adversity in Anduva. The Canarian striker will debut with the red shirt and Iraola returns to his previous home.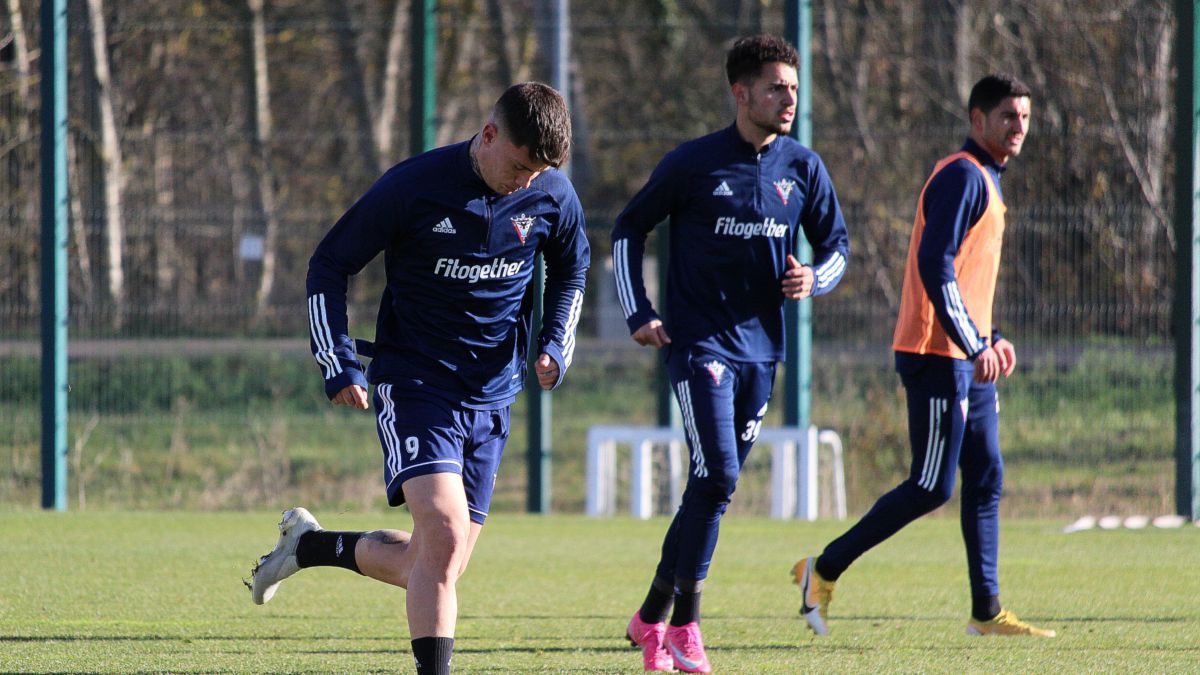 Positive cases for coronavirus, snow, a tortuous journey ... could be the main ingredients of a horror movie. Ten days ago there was no choice but to postpone the meeting between Mirandés and Rayo Vallecano due to such conditions. A clash that will finally have a second half, and this time on the pitch, in Anduva. The rojillo team wants to close the first round of competition on the right foot, and in turn end a streak of two consecutive defeats (follow the game live on As.com).
Cristo González has all the ballots to debut in the Mirandesista ranks. Much is expected of the Canarian striker who returns to Spain after his previous spell at Huesca. José Alberto recovers center-back Vivian, who could be from the game, after spending five games in dry dock due to injury. The only one who will not be at the disposal of the Asturian coach is Carlos Julio, who continues in the process of recovery.
In the Ray, meanwhile, they are not being quiet days. The trip to Miranda, the cup postponements ... ended up leading to a statement from the franjirroja squad in which she confessed feeling "helpless for the club" and "tired of this type of situation". A convulsive moment in the extra sports, which is at the same time sweet in sports, where Iraola's men have been planted in the round of 16 of the Cup and remain in the playoffs.
Moreover, Rayo has five wins, three of them in 2021. And it is that the year has started at full speed, hence he faces Miranda's appointment with moderate optimism. He will have to dispute his second duel in less than 72 hours and he will do so with several casualties: Advíncula, Velázquez, Ulloa and some more due to COVID-19, although the identities of those affected have not transpired. With all this, Iraola's call will be a great unknown. The Basque coach returns to a very special place where he managed to finish a recently promoted eleventh and reach the semi-final, for the second time in its history, in the KO tournament. Previous statements by the coaches
José Alberto, Mirandés coach: "It is one of the great teams in the category. In any detail they can solve the game without being better than you. They are in a favorable dynamic. They have resources to take on any loss or setback such as was seen in the Cup match "
On the possible debut of Christ: "I see the desire that everyone has to see him, but I do not want extra pressure to be generated on the player. His best version will be in a while, when he has a greater rhythm of competition. since June without playing an official game and I ask people for patience "
Andoni Iraola, Rayo coach: "I spent a season of which I will always have very good memories and, as I have been there, I know how difficult it will be for us to go to a field like Anduva. They have had a lot of time to prepare for this match with care. They will demand a lot from us because they have a brutal tactical and physical level "
"They are going to want to dominate the game and so are we. We are two teams that prefer to control possession. We know that we will have to defend a little lower. They are very good at transitions so there will be times when the match breaks down. We must try to be together as much as possible, with or without the ball, without breaking down "
Photos from as.com