Chelsea teach five players to start in winter
Lampard has opened the exit door for them and now, some of them will not be able to leave an amount even remotely similar to what was invested.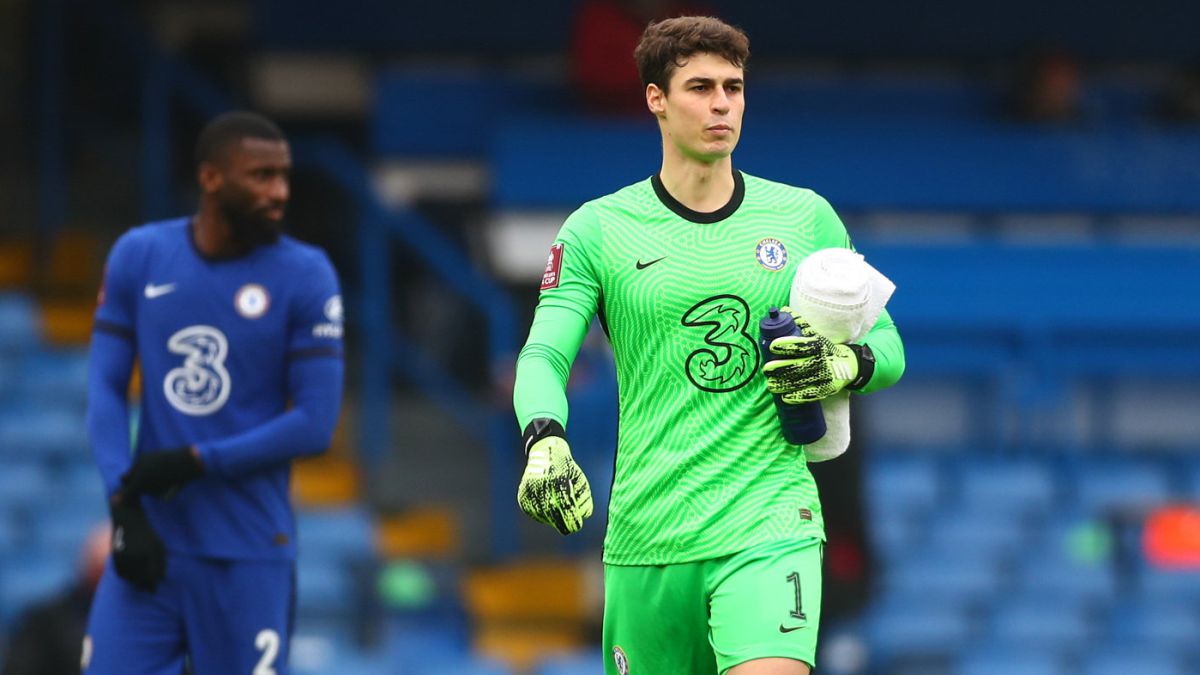 They did not count on the good ... not even now that the team has come down from the cloud. The remodeling of Chelsea goes beyond the signings, and, on the B side of that reconversion, there are the discards, the names that are not part of the future that the club has in mind. Lampard has opened the exit door for them and now, with the difficult economic situation that the pandemic has left, some of them will not be able to leave an amount even remotely similar to what was invested when it was brought to them.
Kepa Arrizabalaga
The most bloody case, without a doubt, is that of Kepa. The most expensive goalkeeper in history, who was brought in from Athletic for more than 80 million euros, has no place in the team. Mendy, who cost almost a third of it, has emerged as a much more solvent goalkeeper than him. Or, at least, he has managed to better win the trust of Lampard, who has never held the Spaniard in high esteem. It was very clear that the Englishman had to see it to point him out after a bad season, as he had not had a chance of more. The ideal situation for Chelsea, and surely also for Kepa, would be a transfer in winter with the mind set on the goalkeeper revaluing from here to the Eurocup and an acceptable transfer can be achieved in the summer.
Marcos Alonso
The change of system that Lampard brought, regardless of the lanes, and, above all, the brilliant arrival of Ben Chilwell, who is leaving, have closed the doors of ownership. In addition, in the few opportunities he has had to play, his discomfort has been noted, and he even had a heated discussion with his coach after the draw at 3 with West Brom at the beginning of the season. Even Atlético de Madrid sounds like a destination, and it does not seem that he sees with bad eyes looking for a way out.
Danny Drinkwater
Chelsea no longer know what to do to get rid of him. After the unproductive transfers to Burnley and Aston Villa, the English player, who was league champion with Leicester, has even played with the youth, with whom he starred in a very tough entry to the pearl of the Tottenham quarry, Alfie Devine. It cost the club 40 million and has a contract until next summer. At the moment his assignment to a team in Turkey sounds during this winter market.
Emerson Palmieri
Either he leaves or Marcos Alonso leaves. Or, rather, one of the two has to leave before waiting for them to find a replacement for both as a substitute, because the club does not have either of them. He has barely played two Premier matches this season, but there is talk that he has important offers from Italian teams such as Inter, Juventus or Naples. His agent, however, assures that no official proposal has reached him.
Fikayo Tomori
At 23 years old, there was a moment last season when it seemed that great things could be expected from Fikayo Tomori, but the passage of time has been de-sinking them. The club seems to have not completely lost hope with him, but, as Lampard himself confirmed, they are studying finding him a loan so that he can take minutes and confidence. Leeds, Newcastle and even Milan are playing.
Photos from as.com