Castera: "They always think I want to screw them up, but I don't"
The Dakar director speaks with AS to take stock and answer some controversies: "Some say it is difficult, luckily it is."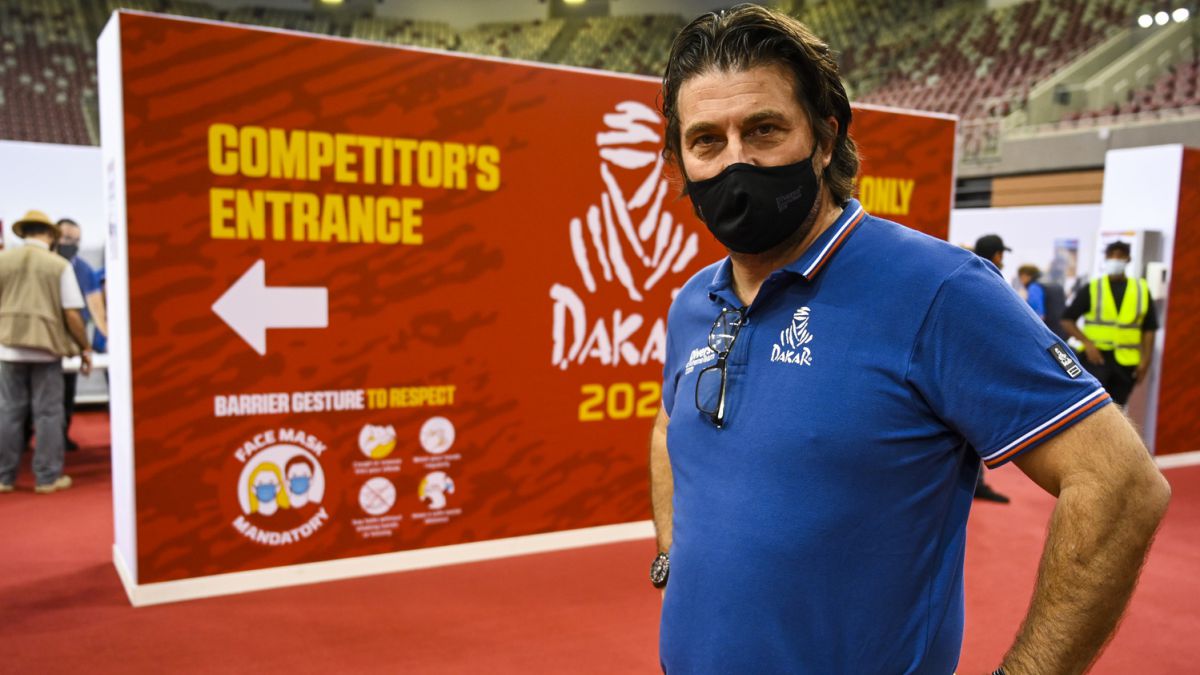 He is the highest authority of the Dakar and as such, the main person in charge of everything that has to do with the organization of the race. David Castera (50 years old, France), director of the event, always tries to have the best possible competition and for this it is not difficult for him to assume what has been done wrong, but he also defends what he has done well. AS talks to him in Arabia to take stock of what this edition has given him and to respond to some of the controversies that have occurred. And he does it with total honesty.
— First of all, we must congratulate ASO because they have managed to finish the Dakar without the coronavirus intervening.
— Yes, it's true. Our first victory was to start this Dakar and keep the virus out of the bubble. It was complicated at the beginning, but I think we have done well and I thank all the people who have done things well with a mask, gel, social distance ... The way it was done, we all had to take care of ourselves and it was done well .
— I suppose that the closure of the country's borders a week after starting was something difficult to solve, how did they do it?
— It was a complicated moment, yes, because we had to look for more planes and start working on it again. We had a Christmas week that wasn't very good, but it was done as usual, with all the ASO people working together. We are lucky to have a large company that has many resources and that works well, we succeeded, but it was not easy.
— What is your assessment of the rally?
— Very good, I'm happy because I think the organization has worked very well, that's the first thing. All this is very nice when you see it, but you have to move it, prepare it ... It is quite a job and we also did it in difficult conditions, because it was done remotely with videoconference meetings. We had never organized a Dakar like this, we made our first trip here on September 15th and we usually do it in March. So take the rally forward and in these conditions, a ten.
— Last year they said they were going to learn from what they did wrong in the first edition in Arabia, have they applied it?
— Yes, we have, but we have to learn every day about things like the terrain, that there are people who say there was a lot of stone. We have to take care of these things a bit, but we made good changes and I think we are at a good level of difficulty, I like it because the Dakar is difficult. There are people who say that it is difficult, luckily it is ... It is the most complicated adventure, it is not a rally to go on vacation and those who come know it, but there are many who underestimate it. The Dakar is like this and, in the end, if you look at the numbers, a lot of people have finished it because those who have come, the majority, are people with experience and those who have not finished are people who have a level too low at the moment like to do a Dakar.
— Before the Dakar, it was said a lot that the navigation was going to be complicated, has it been too difficult? Pilots like Sainz have criticized it, what do you think of that?
— Carlos is a bit wrong on this topic, he says that it is a co-drivers rally, but the first three are always the same, Stéphane (Peterhansel), Nasser (Al Attiyah) and him, so the classification has not changed, the first three are the fastest of all. If it had been a co-drivers rally, others would be ahead, but this is not the case. You are right that it was the most complicated we have done, but people do not understand the concept of making a roadbook well because they think that I am always thinking about how I am going to roll them, but it is not that. The start was difficult because there were a million tracks in the first week, so we have to learn to use the roadbook so that it is not so difficult. Now that we have seen it, we have more experience in that sense, but we did it the same as last year, only on different terrain and then there was rain, wind that erased everything ... and that must also be taken into account. It was difficult, but it was like that and it was like that for everyone, so each one has to adapt and see. Although, as I say, the first ones are always the best.
— So, will you continue with this line, with this style of the 'roadbook', in the next editions?
— Yes, we are going to do it the same way, but we will take care of it so that it is not so complicated. So, I think we will lower the level of navigation a little because I listen to what they say, so we have to find that balance that we are missing now.
— They also tried to lower the speed for motorcycles with rules such as the six rear tires, but it has also been very controversial ...
— That is nonsense for riders, because nothing can happen to you with the rear rubber, if they say it from the front one, yes, but if the rear one is destroyed, the bike will stop, they will not fall. They don't like it, but I have a problem with motorcycle riders, nobody wants to understand that you have to slow down. In a way, I am responsible for them because I am the organizer and I cannot let them go like this because they are going to kill themselves or something (the interview was conducted before the death of Pierre Cherpin was known). Rules like these may not work, but if you don't do anything it's worse. We have tested the tires and the truth is that they have not slowed down much, but achieving it is very difficult with today's generation, they are very good drivers, but it scares me because I don't want to see them hurt, I don't like it. We are going to study other things. I am very happy with the airbag, which has worked very well, but there is more to see and we will work on it.
— What else can be done in this regard?
— I don't know, we're looking ... The first idea was to reduce the power of the vehicle, but we couldn't do it because of the COVID issue. We are going to see if this year we can work on it, it is the first thing because if we do it it will slow down a bit, that's for sure. They don't like it either, but they don't like it at all ... When you touch their comfort zone, they always complain. It's hard, but we're going to work on it.
— Speaking of the competition, the cars somewhat less than the motorcycles, but the tension was maintained until the end. That is always positive.
— Yes, yes, of course, we always want to wait for the last stage to know who is going to win. Nobody knew before going to the last stage who was going to win the Dakar on a motorcycle, and that's incredible. Motorcycles are less critical of navigation than cars and they are the ones who navigate alone ahead of the race. You can tell Carlos that ... (laughs). They are incredible, they don't have any traces or anything and they go alone, while the cars arrive and follow the tracks, they make mistakes and complain because they say that the roadbook is difficult. But the truth is also that, that motorcyclists have an incredible level, although they are also wrong, of course. For example, I am very sad for Nacho (Cornejo) because he is the one who has done the best navigation of all the Dakar pilots of all categories, he opened the track 60% of the time and he was not wrong. There are pilots who do it without problems, so it can be done.
— What more duties do you have for the next Dakar? Maybe a new route?
— Yes, we will always change it, it may be that other countries will enter, but I don't know yet because we are working on it. It will also depend on the pandemic, because it slows us down a lot and we will have to see how the virus and the vaccine evolve in the countries, but it is a complicated issue.
Photos from as.com