The shooting guard, three months away from his 38th birthday, hits his best since 2013. He and Simon (Efes) are the top scorers among those over 35.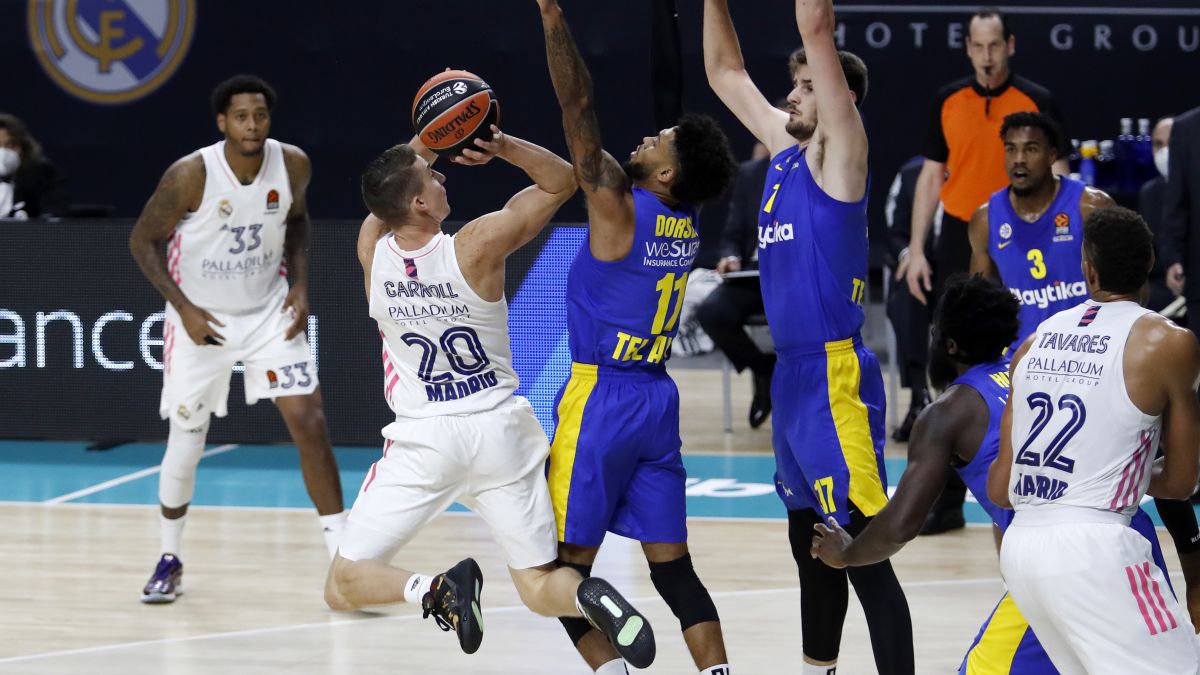 Diet, physical preparation, and advances in medicine have allowed athletes to extend their careers. Now it is common to see players over 35 years of age perform at a good level. In the Euroleague there are 14 born between 1980 and 1985, around 5% of the total, and some continue to have great weight in their teams. Write down the name of Jaycee Carroll, who will turn 38 on April 16. Throughout the past school year, he defoliated the margarita of retirement, with his wife and four children already installed in the mansion that has been built in Wellsville (Utah), but he decided to remain active for another year.
The Madrid guard has chained ten campaigns in the competition and has 256 games. The best shooter of the last decade, and the foreigner with the most encounters in the history of the white club (664), this year signs 9.9 points in 15:17 on the track in 13 games played (out of 18 possible). He exhibits 43% in triples and a fabulous 77% in shots from two, his best numbers since his second season at Real, 2012-13 in which he finished with 11.9 points (in the first he made 14.2).
From the third time, coinciding with his most important injury (he had a cartilage in his right knee affected), he never averaged more than 17 minutes. His current scoring average is above his career (9.5) and only Croatian forward Krunoslav Simon, two years younger, surpasses him among those who have already turned 35. Efes's, now injured in one hand, He has 12.3 points, a figure that he has never reached before with the Turkish club in the Euroleague, although neither with Armani, nor with Lokomotiv, nor with Unicaja.
The oldest is Felipe Reyes, two months after his 41st birthday and who has only accumulated two and a half minutes since October. Out there are the Greeks Spanoulis and Printezis, a legendary couple who also endure the type, and the Spanish San Emeterio and Rudy. Madrid is the only one with three players on the squad born in the first half of the 1980s.
Carroll's secret, in addition to his talent and how he takes care of a privileged physique, which led him to play 149 consecutive games between April 2014 and January 2019, is that he has been able to polish resources. In attack, for example, he has improved his bounce and penetration in his thirties, thus expanding his threat and raising his production to more than two baskets within the 6.75 line per day this season. And on the triple he has further polished his classic throwing feints without losing his speed to get out of the blocks and receive turning. And it still retains its elevated suspension to launch. In two of Madrid's last three games, he finished as the team's top scorer and last Friday he almost led an impossible comeback against Armani with 18 goals in 7 minutes. An offensive explosion within the reach of very few, and with 37 years, of none. The club has also managed to manage his family needs and, at the end of November, although it was not announced, he was allowed to leave for the United States for a few days, coinciding with a sprained ankle that was done on the CSKA court. Despite his retirement for granted in 2021, Carroll still has dynamite. Quino Colom visits a Madrid still without Llull (21:00, Dazn)
After ostracism in Valencia, Quino Colom (32 years old) tries to recover his best game abroad, as always (Russia, Turkey and, now, Serbia) . The point guard, a key player in the Windows with the National Team, visits Madrid (21:00, Dazn) with the Red Star, where in three games he averages 9.3 points and has 5 of 7 of three. Jordan Loyd and Marko Simonovic are out. In Madrid, Llull (knee discomfort) will continue to be absent as a precaution and Rudy may reappear. Second match for Alex Tyus.
Photos from as.com