"I called Torres before debuting. He is my soccer idol"
Borja Garcés was introduced as a Fuenlabrada player along with sports director Miguel Melgar. "I want to add minutes," said the forward.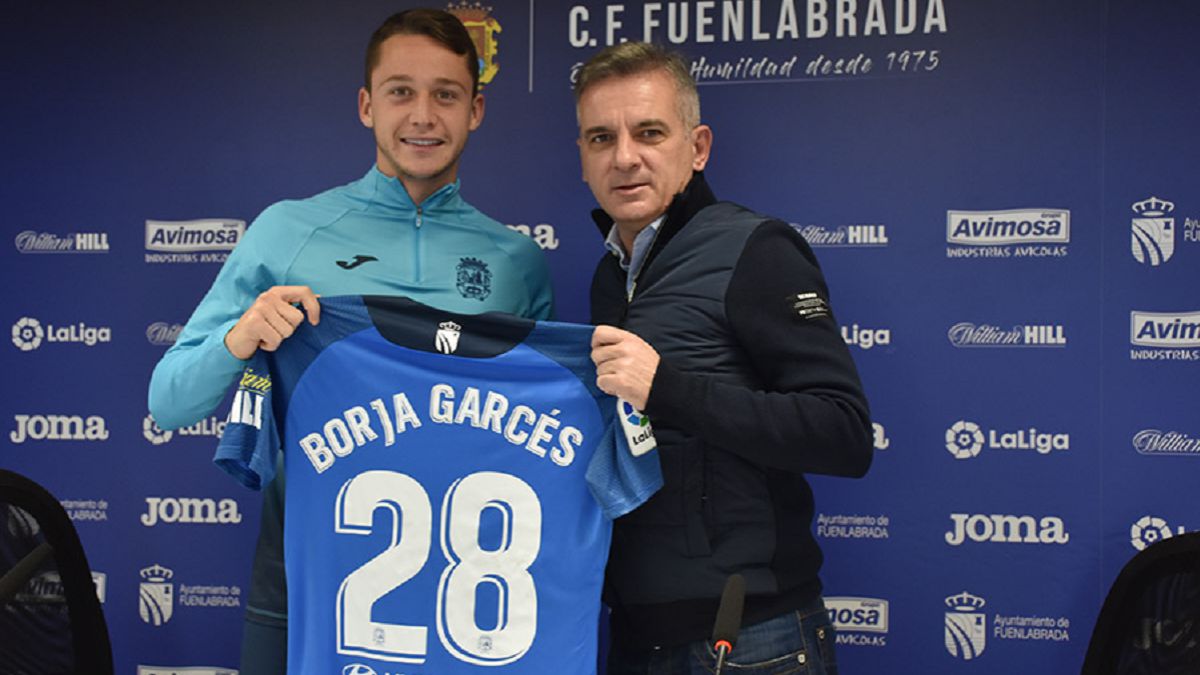 Big day at the Fernando Torres offices. The striker and already scorer Kiriko Borja Garcés, recent signing of Fuenlabrada, had his pertinent telematic presentation, accompanied by the sports director Miguel Melgar.
Borja Garcés, speaking:
What has convinced you to speak with Atleti and choose Fuenla as your destination?:
The Fuenlabrada was very interested in me. That is why I chose this club. On the other hand, I want minutes in professional football in order to continue growing as a footballer and as a person. That can be given to me by Fuenlabrada. Also, I called Pinchi, who is a friend of mine, and he gave me very good references from the squad and the coaching staff.
How did you feel after that hour of play?:
The sensations were very good. Then on penalties anything can happen, but very happy with these first minutes after being without competing since before Christmas. Of course, I lacked a bit of rhythm.
Do you want to stop being a promise and be a reality?:
I neither wear nor want labels. I want my work to speak for myself.
What has the coach told you and what does he expect of you?
We haven't been able to talk much really. I arrived four days ago. I spoke two or three little things in training and two words before going out on the field, and we will be communicating so that he makes me grow as a footballer and, for my part, I do not disappoint him.
How would you define yourself and what do you think you need to improve?
I define myself as a fast, strong player, with very good movements and with a goal. I would like to improve in everything. If you don't improve, you don't play in the big leagues.
How have you been received in the dressing room?
Very good. They are a formidable group.
What would you say is your football reference and which player has marked you the most in your football growth?
Fernando Torres is my idol, but then I have noticed many forwards like Villa, Ronaldo Nazario, Diego Costa… but I prefer Torres who has given me very good advice. On the day of the match I spoke to him in the morning and he gave me a lot of advice which I think is what I stick with.Miguel Melgar, speaking
What does Borja have that you have fought so hard for him and what do you think he will contribute to us?
It is going to give us energy, speed, strength, desire and, above all, effective upstairs. With Sekou's injury, we have very few players on the offensive field and the coach has always had to use Kante as far as Tahiru has already reached in the King's Cup.
For this market, what else do you have in mind to reinforce?
It is a very rare market. People, due to the economic issue, are moving very little. Player exchanges predominate. We are open to listening to everything and trying to improve. Without going crazy as we don't have urgency in many positions, I want that to be clear. All in all, one more piece in the center of the field would be very good for us. We have Damián, who will help us, and Aldair, who is more integrated every day and will bring us more things, but I think that the way we play and with the wear and tear we have, it would be nice to incorporate another midfielder. However, what I do ask is to recover the injured: Rosic, Pathé or Sekou. It's what I want the most.
Trouble up front without Sekou?
The thing about Sekou has hurt us, it cannot be denied. However, I want to think out loud: we are the fifth or sixth highest scoring team in the category. I'm not worried about the forwards scoring more or less goals. I am happy with Kante's work, of course I would like him to score seven or eight goals, like the player, but let's not forget that he has a couple of goals, they have scored four penalties and that he gives us a lot of things up front. Now, if you add Borja to that, we will have a competent forward waiting for Sekou.
Is there any way out of Sekou Gassama leaving?
Zero, none. On the contrary, we are looking forward to him coming back.
Do you think the jump to Second could cost?
Many times it depends on the adaptation of the player or how he feels prepared for the category. For Borja, for his sporting career it has been very good to make his debut with Atlético's first team and thus see that he can play higher than in 2ºB. We saw him the other day, it took him very little to adapt, with spark and understanding with his teammates. In addition, its conditions are very good.
Photos from as.com