Barça approved and suspended: Fortnite Griezmann, bad Messi
The purest version of French, with two sparks that were not enough. The tournament highlights Araújo. Messi connected little and finished expelled for the first time like Barcelona.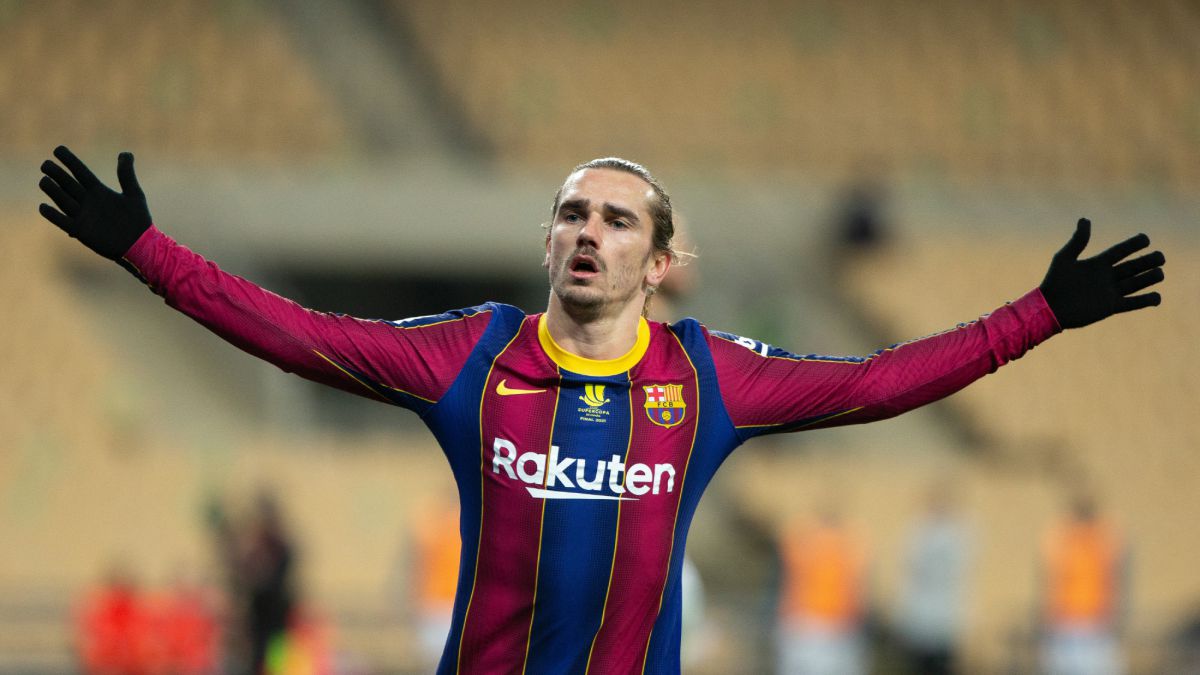 Ter Stegen: Little to do in Athletic's three goals, although in lateral fouls and corners he does not go out of line or burn. And when it comes out, as it happened in extra time, it almost blew it.
Dest: Dembelé cuts his presence in attack and defense is not his virtue. For this reason, and for the inconvenience, Koeman took him off at half-time to put Mingueza in.
Araújo: Imperial in the cut, better than in the exit of the ball and some compromised clearance, the Super Cup has begun to illuminate a center-back who is already beginning to have Barça level regardless of the final result. He is on his way to becoming another great Araújo like Sánchez, that teacher of journalists from Alcalá.
Lenglet: As bad or worse than almost always lately. He soon saw a yellow for grabbing Williams and then didn't lift his head. He covered or should cover Raúl García in the goal canceled by Navarre and, of course, he also lost his way with Villalibre in the tie at two.
Alba: Almost assistant in 1-0 and assistant at all in 2-1. That redeemed him from his defensive oversight in De Marcos' 1-1.
De Jong: When there are no spaces, it shines much less. It ended up as central.
Busquets: Suffered without clarity when distributing from behind. Somewhat more lucid when he organized positional attacks.
Pedri: He makes almost everything simple, but in this Super Cup he hasn't done too many things.
Dembelé: Barça's most active in attack during the first half, although without even approaching the recital he gave against Real. He was again missing a partner in the area although he combined with Messi in the play of the first goal.
Griezmann: In its most reliable version, that of the enfant terrible that sometimes it seems that the game is a game from Fortnite and does little with him until he appears to knock down the opponent. He caught a rebound from Messi to make it 1-0 and then made the second by taking advantage of another pass from Alba. He was able to tie in extra time with a deflected volley.
Messi: It was doubt, he played and it was noticed that he was not well at all. He was nothing like the one who decided everything before injuring himself. It took him 40 minutes to organize his first start. When he connected with Dembelé and Alba it was so that the first one ended up on the scoreboard. The final despair earned him the red for attacking Villalibre, the first expulsion of his career with Barcelona.
Mingueza: It is difficult for him as a winger and it was noticed again.
Pjanic: 30 years as a versatile midfielder but more offensive than anything else, with Koeman he plays little and always away from the area, taking the ball.
Braithwaite: It puts will. The other ...
Riqui Puig: Painter, especially.
Trincao: Every game you play has less to do with that dazzling winger, already signed by Barcelona, during the summaries at Sporting de Braga.
Photos from as.com