Andorra freezes in the last five minutes
After a 14-25 run by Unics Kazan in the third quarter, MoraBanc managed to get to one (64-65), but only scored two free throws in 5:54 of play.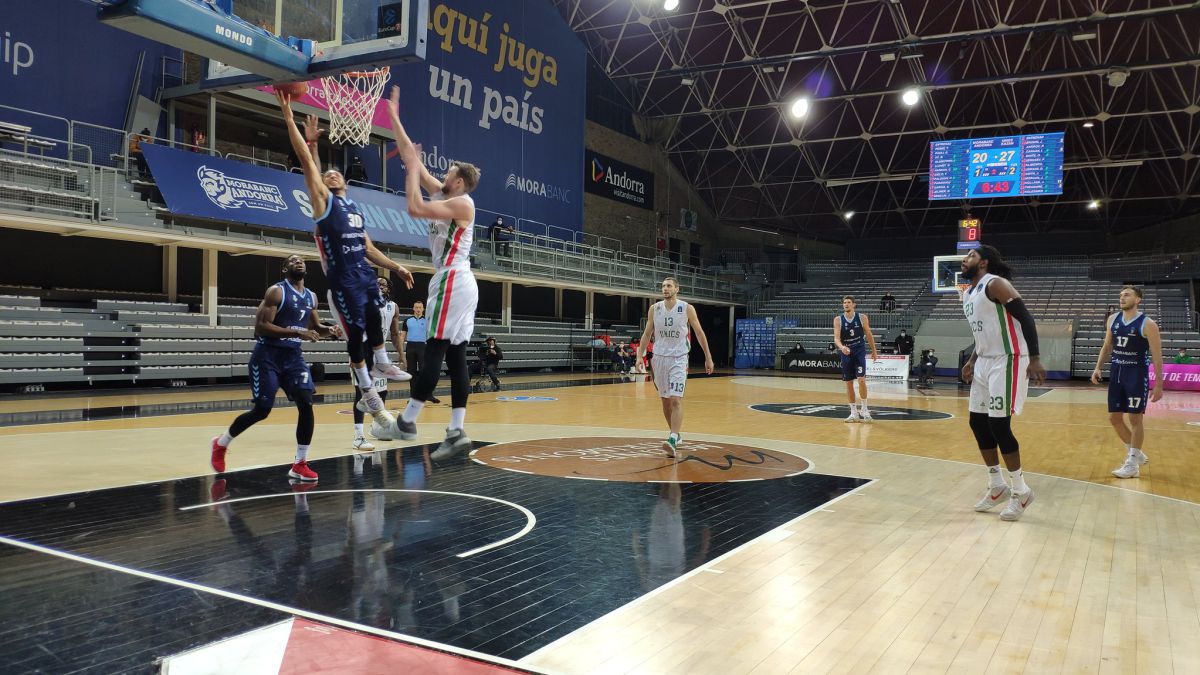 BC MoraBanc was defeated in its debut in the Top-16 and has already had six consecutive defeats after losing 66-73 against Unics Kazan. Those of Ibon Navarro, who lost due to injury as soon as they started Haukur Palsson, faced those of Dimitris Priftis with the success of David Jelínek (18 points) but were unable to control Jamar Smith, Canaan or Brown.
Unics Kazan began marking territory in the Principality, with a partial of 2 to 8 with two consecutive triples from former Sevilla player, John Holland. The locals were always in tow in these first 10 minutes, but they never gave up and resisted the success of Unics Kazan.
Two 3-pointers by Clevin Hannah placed 10-12, but Holland continued to be inspired and was well supported by Canaan who, with a triple and 2 + 1, closed the first quarter with 16-21. in triples and with a 3 of 3 for Holland and a 2 of 2 for Canaan that was difficult for the Andorrans to stop. The worst news for the Andorrans was the injury of Haukur Palsson with a sprained ankle in the first two minutes.
In the second act, BC MoraBanc began to feel more comfortable on the court, finding offensive success and improving defensively. Oriol Paulí's four consecutive points brought BC MoraBanc closer to just one point (21 to 20). Unics Kazan, with John Brown inspired in attack, went on to win by 22 to 29, but a triple by 'Tyson' Pérez, three free throws made by Jelínek and a triple by the Czech forward placed 31 to 29. First time ahead in the electronic for those of Ibon Navarro.
A triple by Sergeev placed 34 at 37, but Jelínek from the 6.75 line put BC MoraBanc ahead again to reach the break with 39 at 38.
The best version of the Unics Kazan appeared in the third quarter. when they achieved a set of 3 to 18 to reach 50 to 63. BC MoraBanc gave in in front of an opponent who showed a very solid defensive game and very showy in attack. The third quarter ended with a triple on the horn by Clevin Hannah (53-63), but for the Andorran it was impossible to stop Jamar Smith (7 points), Canaan (16) and also Brown (10) 444 444
David Jelínek's success kept BC MoraBanc alive until the end in the last quarter.
A partial 11-2 for Ibon Navarro's team to leave 64-65 made the Principality dream, but two free throws by Jamar Smith and a tackle by Jordan Theodore broke the streak and Unics Kazan knew how to impose their quality. With three minutes remaining, Johh Brown gave the scare after colliding with David Jelínek. The player was stretched out on the parquet a little disoriented and dizzy. A shot from Jamar Smith closed the game at 1'22 "with 66-73.
Photos from as.com