"With Alcaraz we try to simulate what tennis demands"
Alberto Lledó, Carlos Alcaraz's physical trainer who advises him from Villena, explains to AS what total isolation means for the players in Australia.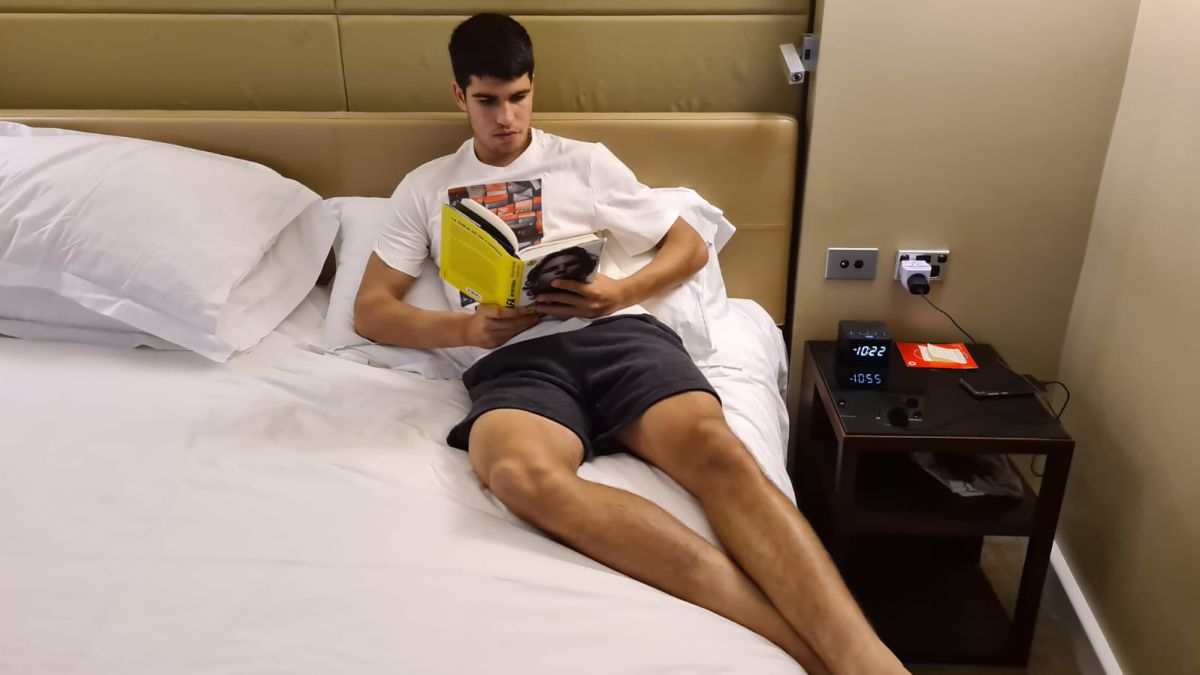 The best tennis players in the world are experiencing an unusual situation in Australia these days due to the mandatory 14-day quarantine that everyone, except the locals, must pass before starting to compete in the oceanic country, where the activity will begin on January 31. There are four groups: the first in the ranking, who are in Adelaide with their families, in rooms with a terrace and can go out five hours a day to train; and another three in Melbourne, where there are players who are also allowed to leave their accommodation to exercise, others who should not go out because they have been in contact with a positive case and those who contracted COVID and are locked in a medicalized hotel and with hardly any services. In the penultimate there are two Spaniards, Carlos Alcaraz and Mario Vilella, and in the last one Paula Badosa suffers. They are three of the 72 tennis players who remain isolated.
The consequences of this total confinement are especially harsh in the physical aspect. This is confirmed to AS by the Alcaraz coach, Alberto Lledó: "The player is used to training six to eight hours a day during a day. Being in the room all day now, doing only a few exercises in weather conditions that will not be those that occur later in tournaments, is very difficult and not good. Lledó warns about the danger of injuries appearing when competing: "When a tennis player spends three or four days without making his usual gestures, he has to enter a period of adjustment, recovery, discharge or vacation. It is sought to compensate and adapt physiologically. Here they will be like this for 14 days and without activity. The risk of injury will be very hot when I return not only to racing, but to training. "
From the Equelite Academy of Villena, Lledó advises Alcaraz in frequent contact with him and his coach, Juan Carlos Ferrero: "In the preseason he greatly improved his cardiovascular level and increased his lean mass. And now, after all that work, this is a stick. In his room and with the material they have given him (a stationary bike and ribbons), we try to simulate things similar to those demanded by tennis. He is young and adapts better to everything, but the risk of injury will be there. We have to be very careful. The good thing is that Juan Carlos has a lot of experience ". Every two days, the Murcian team meets "to see how the work is going, the head, the physique, possible changes ...". "Perform cardio, strength, coordination and technical mobility exercises." Ferrero directs Alcaraz's preparation because they live in adjoining rooms, with a connecting door as Carlos is a minor and the Valencian, his tutor. "They have made a homemade medicine ball, with a bag full of wet towels and a bottle of water in a backpack. With that they do forehand, backhand and some serve imitation (he also uses a mattress as a fronton to rally) ", says the coach, very happy with the physical development of the Spanish promise since he has been with him full time ( early 2019). "We knew what we had to do in the sensitive stages. We caught him at a very good time ", he explains. Now it is his turn to continue with that good work and overcome the difficulties of the confinement from afar.
Photos from as.com