Achraf averages more goals than almost all of Madrid
The defender, sold to Inter, manages averages in the league that a forward would want to sign. The work of art against Roma is their sixth goal of the championship. Only Benzema ties with him.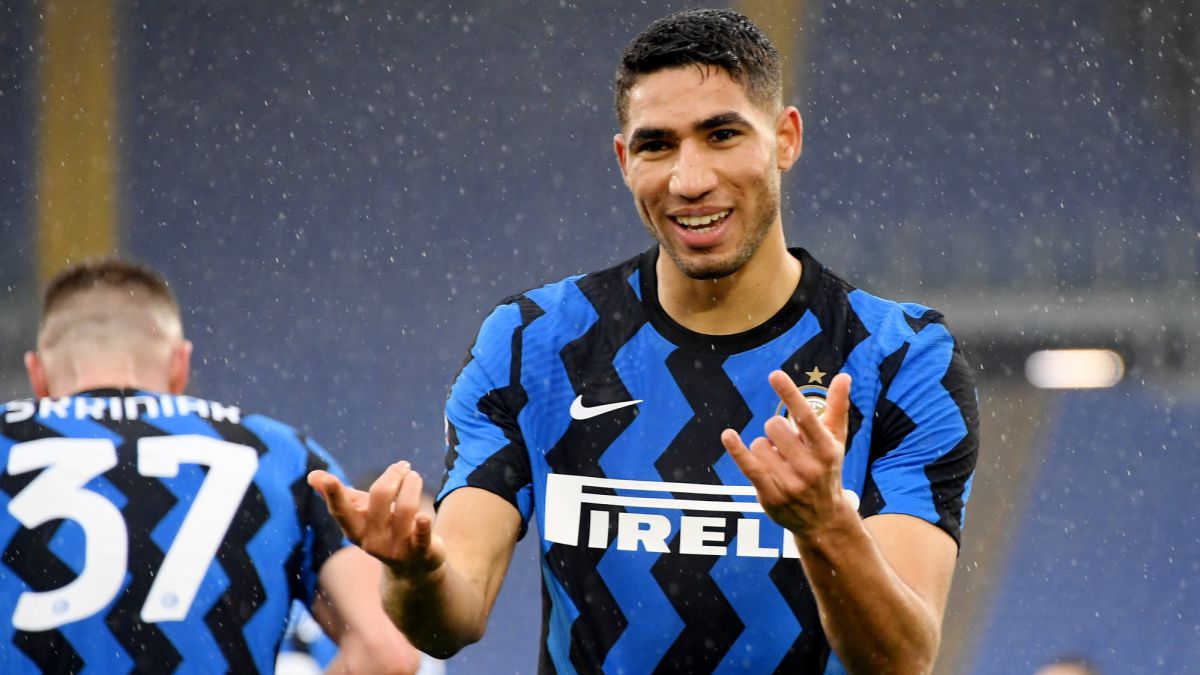 Inter did not win in Rome (2-2) despite Achraf's artwork. The full-back is still a sure value for Conte, even though it hasn't been easy for him. But their numbers impress again and in Italy they are surrendered to exuberance, especially the offensive of the ex-Madridista. Just also when Real Madrid misses a greater production in attack. Goal is missing and Achraf is left over. Against Roma he went from less to more maintaining a great duel with Spinazzola, one of the most fit players in the capital's squad. So much so that in the end the giallorosso was replaced. With good balance, the former Madrid player lacked some clarity in the last meters, until he was inspired by the final stretch. Before his work of art for 1-2, Pau already denied the goal in an arrival with a shot to the short post that deflected the former Betis goalkeeper to a corner. Then came that left foot that, after hitting the crossbar, left everyone speechless.
It was the defender's sixth goal this season, with a lot of offensive profile, but a defender after all. Madrid sent him to Milan and now he sees how that offensive production could be missing. In addition to his energy. Serve a tip. Achraf averages 0.51 goals every ninety minutes so far in Serie A. A competition record of consistency that almost any level striker would like to showcase. The Inter player has scored six goals in 1056 minutes played in the championship. His brand improves on that of practically the entire Real Madrid squad in the League. Benzema is the only one to match him, also with 0.51 goals every ninety minutes. The Frenchman has scored eight goals in 1,420 minutes, according to Statsbomb data. He has not taken any penalties, neither has the Inter player.
After Benzema at Real Madrid, the best averages are Mariano, with a goal every 44 minutes - although the striker has only played 206 minutes in which he has scored a goal - and Fede Valverde, who scores 0.36 goals every ninety minutes. The Uruguayan has scored three goals in 742 minutes. In addition, Achraf has already given three assists in the championship, 0.26 every ninety minutes. In Madrid, for example, only Rodrygo and Benzema average more. The Brazilian gives 0.85 goal passes every ninety minutes (4 assists in 423 minutes), while the Frenchman offers 0.32 per game and has given a total of five assists.
Photos from as.com