Abner González is the first Puerto Rican on the World Tour
Abner González (Moca, Puerto Rico, October 9, 2000) is already part of cycling history by reaching the World Tour with Movistar.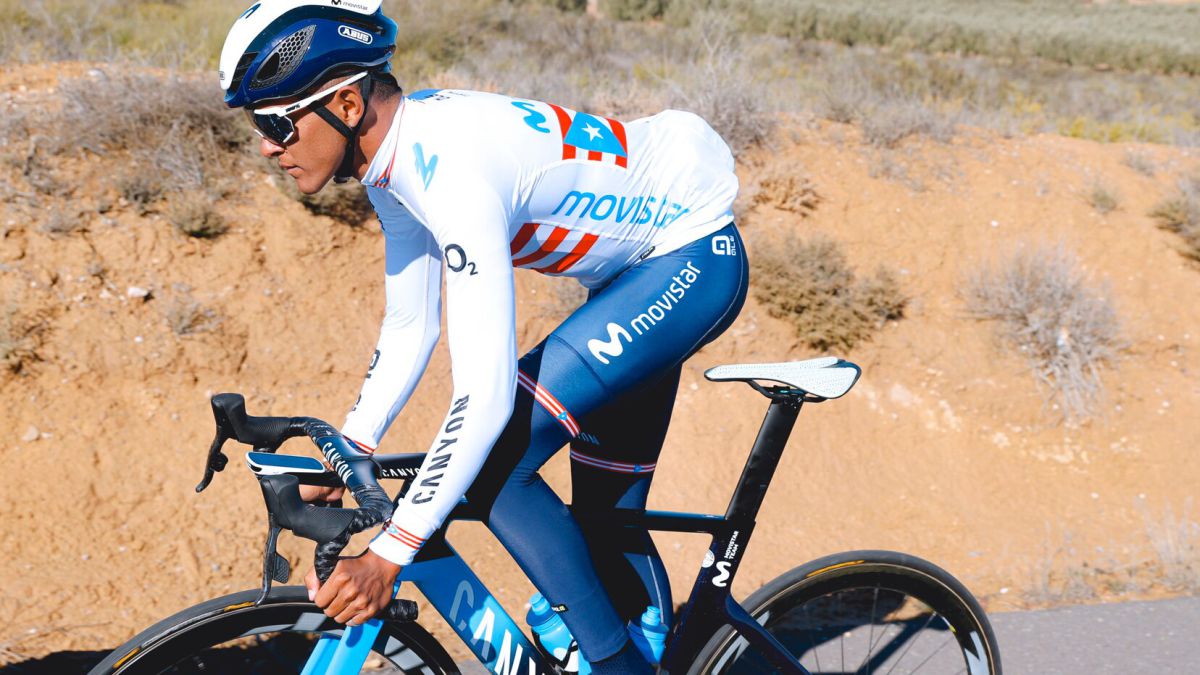 Abner González (Moca, Puerto Rico, October 9, 2000) is already in the history of cycling. In the ranks of Movistar, he has become the first runner from his country on the World Tour. He arrives with enthusiasm, without fear, and from the first concentration of the Spanish team he already dreams big. "I've made history by coming to the World Tour, but I'm not satisfied with that. I want to get to the big races and do something outstanding." He does not know if he will reach the level of Egan Bernal and Richard Carapaz, but his ambition allows him to dream of the highest peaks in cycling.
The cyclist from Moca, a name that comes from a tree with pink flowers that represents the town, started in the junior category in Spain with the Bathco team. He made the podium of the Vuelta al Besaya and in 2019, he made the leap to professionalism with Inteja Imca. He was proclaimed champion of Puerto Rico en route and in 2020 he took the Spanish Cup test in Torredonjimeno, after an attack of more than 40 kilometers. Movistar took the next step with his signing. The Puerto Rican shared with EFE his illusions about to debut on the World Tour: 444 444
Question. What does it mean for you to be the first Puerto Rican on the World Tour?
Response. It is something incredible, a pride for me and my country, a privilege that puts my spirits through the roof. A lot of people have tried it before and it was me who got the first chance. It is something that will be in my life and in the history of Puerto Rico forever.
P. The jump comes after a difficult year for everyone. Was this surprise expected?
R. I'm not expecting it, really, especially after such a special year as 2020. I finished the season very well, but I never thought I was going to make the leap to the World Tour. At most, I expected to join a Pro Continental team, which I would have already settled for, but never for things to turn out the way they did. For me it is a super achievement, incredible.
P. What goals are set in this first year at Movistar?
R. First learn from teammates, take things slowly, without haste. I will try to help the team in everything I can, and in two or three years to be someone great in cycling. My goal in cycling is to help, but I also have my aspirations to be someone in this sport. I think about learning to get to that level.
P. His profile is that of an attacking and ambitious runner. These are the qualities of the new wave of cycling, where Bernal, Pogacar, Evenepoel, etc. stand out.
R. Yes, I like attack cycling. I have never been afraid to try to do things, and I give my all to try to get victories, which is why last season ended so well. Now on the World Tour it's another world, another story, and you have to see how I react and how my body responds, see if my way of running changes something. I will do the job they send me, but I will dare at the possibility of a victory.
P. In Movistar he will be with Valverde and Enric Más. Teachers will not be lacking.
R. Teachers there are many in the team, that is a privilege for me. There is a lot of experience in Movistar and that will help me for projection and growth. It is a dream to be alongside great people in this sport.
P. Nairo Quintana, Egan Bernal, Richard Carapaz. Do you see yourself with options to join that succession of Latino figures?
R. I don't know, but I'm definitely going to try my best to get up there, to be at that level or even higher. Being on the World Tour is historic, but my goal is to be someone important and achieve great things so that the history of Puerto Rico increases in this sport.
P. What is the situation of Puerto Rican cycling?
R. Cycling is a small sport in my country. Basketball, baseball, boxing predominate there, but I hope cycling will develop with me on the island. Another personal goal is for cycling to grow in Puerto Rico. There is talent there, but there are not many careers, if there were more support for young people, many would come out like me, or better ones.
Photos from as.com