A suffering of seven hours
That was how long it took Sara García, the Zamorana who runs without assistance, to change the engine of her Yamaha. "It was a Christ," he tells AS.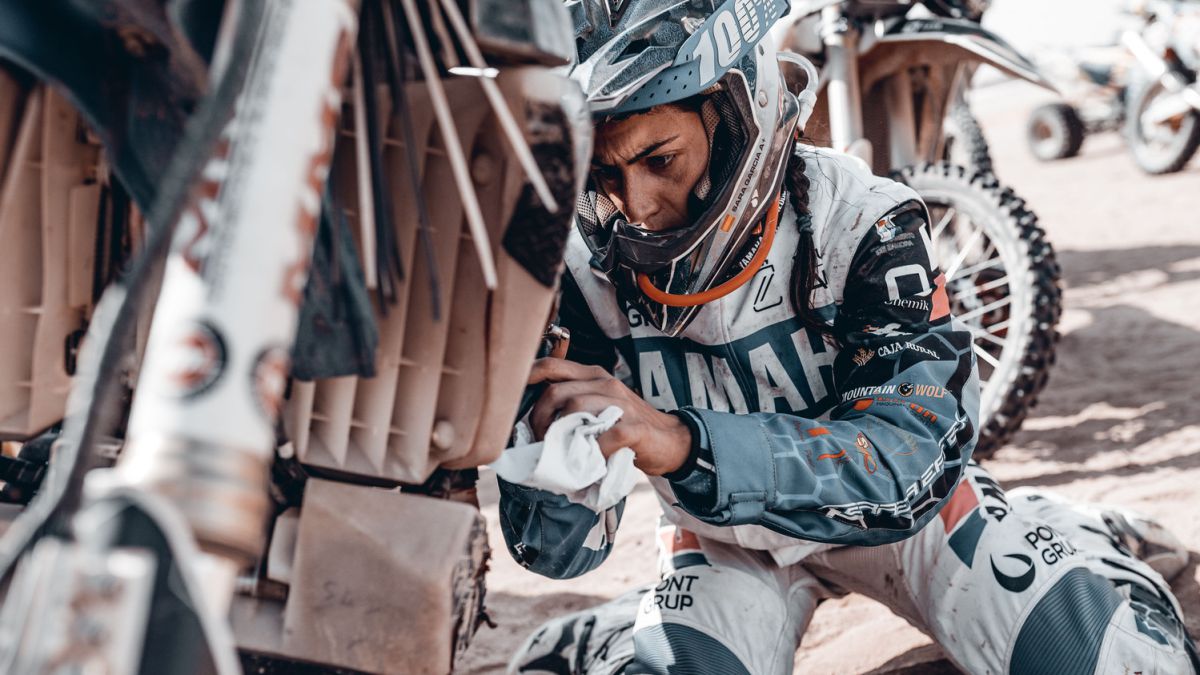 Racing a Dakar is for the brave, there is no doubt about that. But there are some participants who are especially so because they do it in the most dangerous way, on a motorcycle, and also without assistance. In other words, they are the ones who have to fix and fine-tune their mounts once they finish the stage, with what that entails after hours and hours on them. Unfortunately, Sara García, the 32-year-old from Zamora who runs in the Original category, knows this well and who had to make a tremendous effort to change the engine of her Yamaha after the marathon stage.
"We had started very well, without mechanical or physical problems, but the second week arrived with the marathon stage and Murphy came to see us ...", Sara begins by saying to AS at the Neom bivouac, and continues: "It was The only stage that we did not have access to our boxes and spare parts and something happened to the gearbox, I couldn't put a fifth and I spent two days without it because it happened to me on the link before starting the first part of the marathon. to survive anyway, and there it is, it has been done. Yesterday we repaired, it was quite hard ... ".
As hard as it took seven hours to do it! "We had to remove the engine and open it up to get to the change, a Christ. It was seven hours ... We considered the possibility of leaving it to the people of Yamaha so that they could fix it even if they took me out of the category, because for me it was It is important to finish the Dakar. But we saw that it was feasible to do it ourselves and we threw ourselves into the pool, "he says. She had the help of Yamaha mechanics, but they could not "touch the engine", only guide her and Javi Vega, her partner with whom she races the Dakar.
"They left us the tools we needed to disassemble it and they resolved our doubts and the steps to follow," adds Sara. All with "a curator there to make sure it was done right." It was a real challenge, another stage to overcome, but they succeeded: "I have opened the engine two or three times with my father, who is my mechanic, but you do this once a year and there are a thousand things you do not remember. It was very hard, very tedious and there are millions of parts ... Many thanks to the professionals at Yamaha who made it all very easy ".
An accumulated beating ... and with a fall
You only had to see his face and his movements to realize the fatigue that Sara accumulated on top, yes, without ever losing her smile: "You went to ask me the worst day, because I'm terrible laughs) ". Fatal, because to the beating of the engine change and the stage, a fall was added: "A pilot fell right in front of me and in order not to run over him, I braked and 'went out by ears'. I have done a little damage but , as my father says, in the desert there is always a hole or a stone that bears your name and I found it today (laughs) ".
Yes, she was one of the many who fell in the ninth stage, something normal because "everyone wants to run and that entails having falls". In spite of everything, he enjoys running through the desert and also with sailing this year: "I really like sailing and there should be even more. Besides, more navigation would be more safety." He has three stages left to "finish the job" and finish a Dakar for the second time. He still has strength: "I'm sure I will recover. So without fear, let's go for it!" A brave one.
Photos from as.com