The market value of white apparel is devalued by 5%, according to the latest Transfermarkt appraisal. Eight players, plus Jovic, depreciate.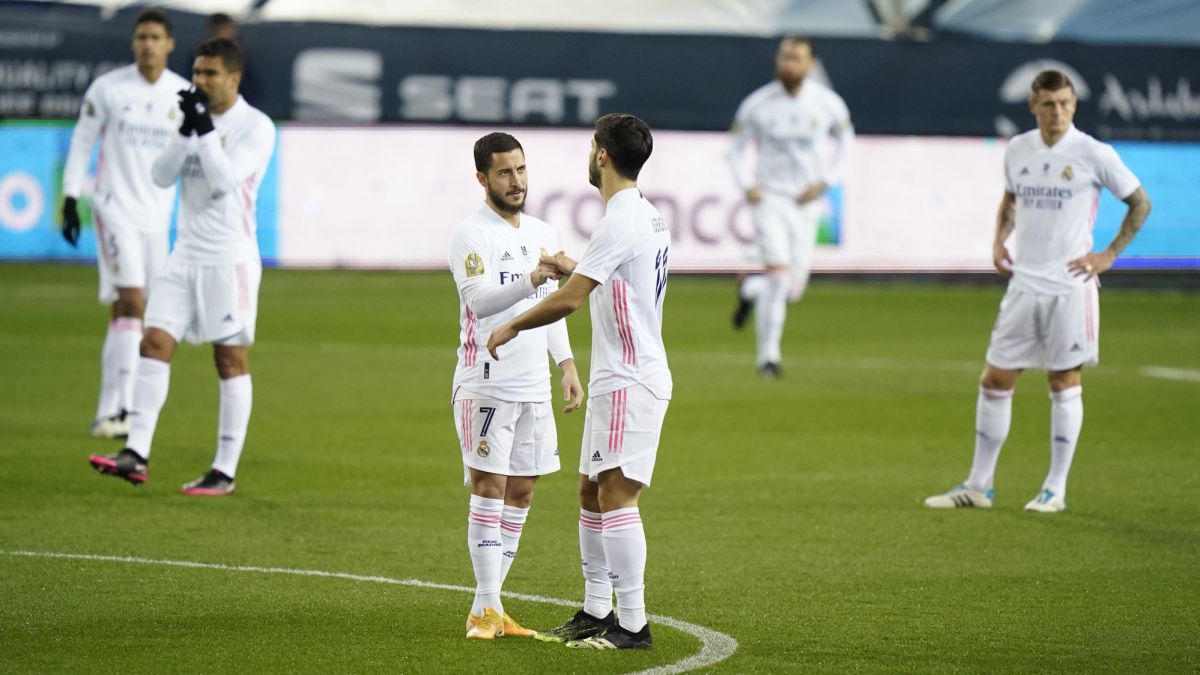 The faltering first half of the season of Real Madrid players has made a dent in the market price of white players. The workforce has lost 5% in value, according to the latest general review, updated on January 5, carried out by the specialized portal Transfermarkt. Only two players are revalued, Casemiro and Lucas Vázquez, while another eight, in addition to the recent Luka Jovic match, see their appraisal worsen. Excluding the Serbian, the total market value of the Real Madrid first team is 782 million euros, 4.63% less compared to the last revision, which dated from October.
The biggest falls in absolute terms were led by Militao, Vinicius and Hazard. The appraisal of each falls 10 million euros. That of the Belgian, which depreciates by 16.7%, already stands at 50 million euros, barely a third of its maximum, the 150 million euros of contribution with which it signed for Real Madrid. The defender, practically unprecedented so far this season (he has played 225 minutes and has been surpassed by Nacho in the status of third center-back) by 30 million, 25% less. His compatriot Vinicius, is devalued by 20% and its value remains at 40 million.
The highest depreciation in relative terms corresponds to Odriozola. The full-back has barely played 57 minutes this season (it was, together with the third goalkeeper Altube, the dismissal of Zidane against Athletic) and his market value falls four million to 10 million euros, 28.6% less. Marcelo, Odegaard, Asensio and Mariano also see their market value decrease. And Jovic, on loan to Eintracht this week, loses two million and falls to € 20 million .
In green numbers there are only two players: Casemiro and Lucas Vázquez. The paulista raises five million euros and reaches € 70 million in appraisal. He is the second highest-priced footballer in the squad, along with Varane and Valverde and only behind Courtois (€ 75 million). The Galician, who ends his contract at the end of this season and has not yet renewed, is recognized for his good performance and the prominence that he has regained in the team with a revaluation of 50%, five million more to reach 15 million euros.
The market value of the white team is below 800 million euros for the first time in the last three years, since December 2017. The 782 million euros represent just 56.2% of the aggregate maximum of the 23 footballers reached in their careers.
With these market values, Madrid is the seventh most valuable team in the world according to Transfermarkt valuations, behind Liverpool, Manchester City, Bayern, PSG, Chelsea and Barça. And his immediate pursuer is Atlético, whose appraisal is 770.2 million, only 11.8 less than his rival in the capital.
Photos from as.com