Xavi Pascual's 'new' Zenit challenges Barça in Russia
With Jasikevicius and Maskoliunas positive for COVID-19, third coach Tomas Masiulis will lead the team in St. Petersburg.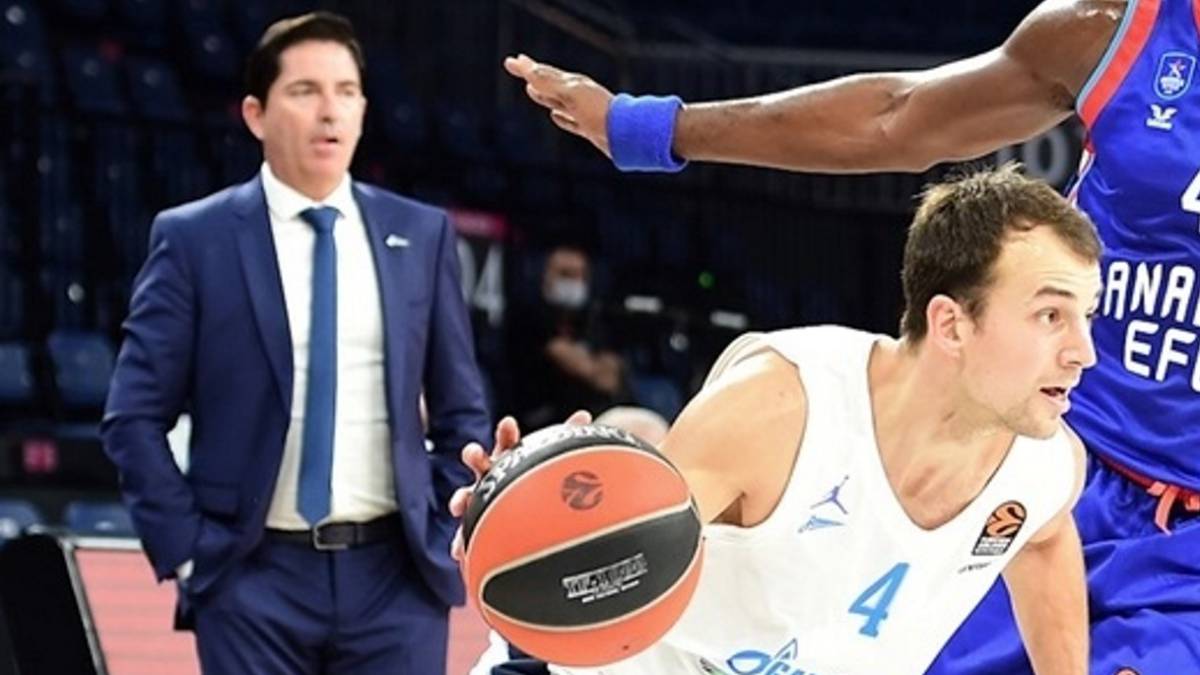 Since last Friday, when the positives in COVID-19 of coach Sarunas Jasikevicius and his assistant Darius Maskoliunas were detected, with a third from another member of the technical staff on Saturday, the week of the Barça squad, which this afternoon (18 : 00) is measured at the Zenit of Saint Petersburg of Xavi Pascual, it has been really shaken.
Fortunately, Barça, Zenit and the Euroleague reached an agreement to delay the match, which was to be played yesterday, Thursday, until today. This has given the Catalans a break, who have had to be confined for several days, without training and pass several PCR tests, all negative, to be able to travel to Saint Petersburg yesterday afternoon with a postponed Endesa League match and only three training sessions in one week
Today there will be an unprecedented duo of coaches on the Yubileyny Sport Palace bench leading the team: the third and fourth coach: Lithuanian Tomas Masiulis and David Garcia from Badalona. Masiulis, 45, a former Lithuanian international player who was already Jasikevicius's assistant at Zalgiris, will lead his first Euroleague game as head coach.
Regarding the match, he indicated that, "our preparation has not been the best due to the circumstances and we are facing an opponent who has a very organized game. Our first objective will be to stop his three-point shot and his pitchers" .
"On the first day they won on the Efes court, they have a high-level coach and a very difficult match awaits us," he concluded.
The entire Barça squad, with the exception of Kyle Kuric, in the final stretch of recovering from his injury, is available to the coaches and after last Thursday's victory against CSKA Moscow (76-66) they will try to repeat that of the year last on the Russian court (63-87) in a great game of the now absent Kyle Kuric (24 points) .
At that meeting, the Zenit coach was Joan Plaza, who in February 2020 was relieved by former Barça coach Xavi Pascual, a perfect connoisseur of the Barcelona squad.
The team that debuted in the Euroleague last season and that occupied the bottom position (18th) when the break came due to COVID-19, paid for its lack of experience in the competition, in addition to injury problems and Xavi Pascual who arrived in February barely had time to conduct four meetings.
With the support of a sponsor of the size of Grazprom, this season has started with an unstoppable Zenit, four victories in four rounds in the Russian league and debut in the Euroleague winning last round at Efes (69-73) with Former blue-red Kevin Pangos intractable (23 points and 7 assists) .
Pascual has reinforced its squad with seven high-level players: the guards Kevin Pangos (Barça) and Billy Baron (Red Star); the guards Denis Zakharov (Enisey), Vitaly Fridzon (Lokomotiv Kuban) and KC Rivers (Zalgiris) and the centers Alex Poythress (Galatasaray) and Arturas Gudaitis (Armani Milan) .
They have been joined by players already in the squad such as the Americans Austin Hollins and Will Thomas, the Polish Mateusz Ponitka or the Russian Andrey Zubkov.
The two point guards signed this year, Billy Baron (16.3 points and 4.3 assists on average) and Kevin Pangos (10.5 and 7.5), along with another newcomer, center Alex Poythrees (12.6 points and 6.3 rebounds) are pillars of the team. With them is the ERA of Austin Hollins (15.3 points on average) and Mateusz Ponitka (11.7 points) .
A fearsome team from the 6.75 meter line, very experienced players and to which Pascual is giving his personal touch in defense; a whole bone for a Barça that also aspires to the maximum, on a stage where there will be almost 2,000 spectators in the stands.
Photos from as.com