"I would have loved to work with Mourinho; if so many speak well of him, it will be for a reason"
Álvaro Negredo, signed this season by Cádiz, has attended AS to review his professional career since he emerged at Rayo in 2004.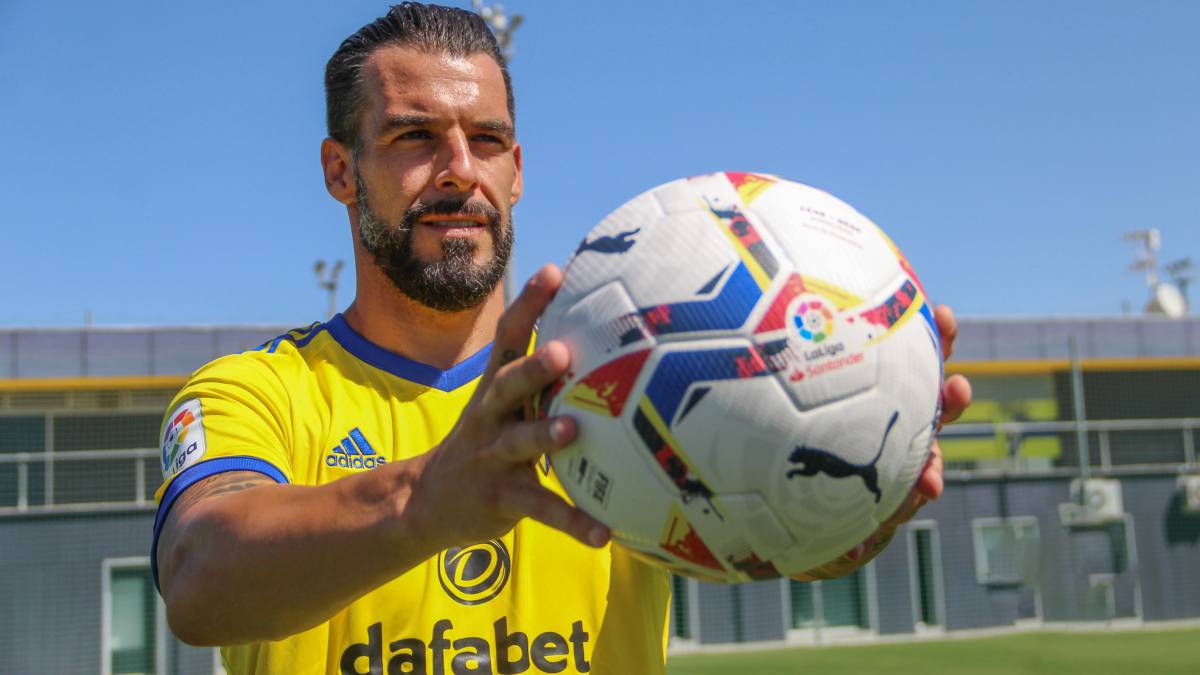 Álvaro Negredo (Madrid, 08-20-1985, 35 years old) has returned to the League hand in hand with Cádiz, after four years divided between England, Turkey and the United Arab Emirates, and has attended AS to review his professional career since that began to emerge at Rayo Vallecano back in 2004.
How are you living football in these times of the coronavirus?
With patience, because everything is being different for the players and for the fans, because after all it is a sport of and for the people; that they cannot be cheering us on becomes difficult. For us, the pre and post-game is strange, with the talks on the field and not in the locker room, we cannot use the stretchers for those who are treated before and after the games ... It is a problem that we try to handle as best possible way.
After four years, you have returned to the League. Why to Cádiz? Because I suppose you have had more offers ... 444 444
From Spain I had no more offers, but even so, Cádiz knocked on my door very soon, even before getting the promotion we were already in communication. I wanted to compete at the highest level again, after being in a minor league, and I wanted a new challenge like Cádiz, with so many years of history and that I had not played in the First Division for years, and play in the Spanish league, which is among the best in the world.
How are you perceiving Cádiz's return to Primera in these first five rounds played?
Except for the first game (0-0 against Osasuna), I think we are competing quite well, giving battle to the rivals, playing at a good level, but obviously we can and we have to improve. The dynamics are very positive and I feel a lot of desire to progress and grow.
You have signed one year plus another conditional. What does your continuity depend on?
In the first place, that we achieve permanence in the First Division, although everything is a matter of talking about it at the end of the season if we descend, because I have a very good relationship with the president, since we know each other from my time at Sevilla. But I hope I can be here for more years because that will mean that it has turned out well for everyone.
Let's go with your life and professional career. What remains of that boy who began to emerge in the Salesian school Ciudad de los Muchachos and in the AFE team?
Mainly, friends. Afterwards, I still have the desire that children have to play football at all hours. It is true that professionalism is governed by some parameters of discipline and work, but I continue to jump into the field with the idea of having fun, and when I don't, it will be time to quit.
You stood out at Rayo, you signed for Castilla and came under Capello's orders, first, and after returning from Almería with Pellegrini, but only a few weeks, because you signed for Sevilla. Is not having triumphed in Madrid a frustration in your career?
No, because I tried every way. I had to make a niche for myself at a time when there was a lot of attacking in Madrid: after returning from Almería I remember that there were Benzema and Cristiano Ronaldo, who have just arrived (2009), Raúl, Higuaín, Van Nistelrooy ... I was very young and at that time my place was not in Madrid. It is true that in Madrid I did not have the opportunity to stay, but I do not regret it or feel frustrated because afterwards I have played in great teams.
Was staying off the 2010 World Cup list hard?
Yes, it was a fat stick. I think I remember that at that time he was one of the top scorers in the league. It's true that two years later I was at the Euro Cup that we won, and for me that was superlative, even though I didn't play much, but I would have liked to go to the World Cup. But, come on, I don't hold a grudge against anyone. The coach's job of picking 23 is very complicated.
Was the greatest joy of your career winning Euro 2012 with Spain?
Surely. I didn't play much, but for me being there with such an exceptional group was incredible: the day the day in the concentration, the training sessions, the games, and the culmination was unforgettable.
What would you have preferred to win the Champions League or the World Cup?
They are two very important titles, but I will keep the World Cup. It seems to me that it is the most important title, because it is at the level of national teams and the world and the other is for clubs and Europe.
What is the debut in which you have been the most nervous or with the most emotion of all the teams in which you have played?
With Almería, in 2007, against Deportivo in Riazor, because it was my first match in the First Division. Also, I scored a goal. We played a great game.
What goal do you get: the first in the First Division, in the Champions League or with the National Team?
Difficult. With all three, because they were important to me and to the team at the time I did them: with Almería, in First Division, I paved the way for the team's victory (0-3); In the Champions League it was with Sevilla against CSKA, in Moscow, in the first leg of the round of 16 (2010) and I did the first of the match (it ended 1-1); and with the National Team it was in my second game with La Roja (2009), in which I made a double against Bosnia.
And what is the one that you have marked that when you were celebrating it, you were thinking 'what a chicharro I have put?
One that I did with Almería, in 2007, against Valladolid and that served to win (1-0). Corona picked it up for me, on the serve of a foul, and I spliced it. We were so tired that during the celebration my calf rose, but the truth is that it was very nice, although in training we were rehearsing it and it did not come out even once.
You have had many coaches in your career. What other would you have liked to work with that you think would have made you improve?
With Mourinho. He is a coach that I like because he makes the most of the player to get the best out of him. Very few players speak ill of him. It may have a particular character, but when almost all footballers speak well of a coach, it will be for something.
Which coach has marked you the most in your career?
Emery marked me a lot. I had him at Almería and Sevilla and he is a coach that I like for his way of expressing himself, of being, how he lives football and how he was able to wear the dressing room, and that is very important for the good running of a team and so that the footballer feels comfortable.
With which player would you have liked to share a team?
I have had very good footballers as teammates in the teams I've been in, but I would have liked to share more with Raúl on a day-to-day basis. We hardly agreed, only when they brought me up to train with the first team when I was at Castilla. He was a player that I loved and what he represented as captain of Real Madrid.
You have played in both leagues. Which is higher, the League or the Premier?
The Premier seems to me that at the organizational level and in the treatment of the fans, it is a step above. In terms of showiness, they are even.
Is it true that you came very close to playing for Atlético?
It is, and very close as you say, but the presidents were to blame for the lack of agreement.
There has been talk in recent years that Rayo has tried to get you to play again in Vallecas. Has there been any chance? Would you be excited before you hang up your boots?
That's where everything started for me, it's the club of my life, my father has been a member for many years, but since I left there I have never had any offer or communication to return.
And another exotic adventure, such as the North American MLS, the Chinese league or the Japanese one, have you ever wondered?
You can never say that I will not drink this water, but these last four years abroad have been long, and I am already 35 years old and I want to compete at the highest level until my legs respond. Later, when I no longer have enough to be in a demanding league, we'll see.
What is it like to play, train and live in the United Arab Emirates?
Everything is very different. You live very well in Dubai, it is a very safe city, with many amenities. At the sporting level, the league is minor, but it is still football, although they do not feel professional, in fact, many have another job.
Now that Valencia is in the spotlight, with Javi Gracia even trying to march, I want to ask you about Peter Lim, with whom you agreed. What opinion do you deserve?
Speaking now may be advantageous, but it is true that things are not going as expected by Valencian fans. I believe that things are not being done well. There is a constant internal fight that has led to the departure of coaches, sports directors, players ... A club, especially if it is big like Valencia, needs stability and right now it does not have it, and it cannot be in this situation.
And what do you think about Monchi?
It is a reference for any sports director. What he has done and is doing at Sevilla is impressive.
How have you lived from the outside the whole Messi affair and his 'almost' departure from Barça after the famous burofax?
Every summer or winter there is uncertainty with the departure of players, but being Messi, the best player in the world, he is given more hype. A player must be comfortable and if he is not, he will not perform at his best, even if it is Messi, who will surely continue to contribute a lot to Barça and will continue to be the best in the world. When a footballer has a conflict with his president and on top of that it becomes so public, as things don't go well, the problem will get bigger.
Your career is contemporary with that of Cristiano and Messi. Who or whom do you see his successors in the near future?
The first, without a doubt, Mbappé. He is a great player. Ansu Fati seems to me that he has a splendid road ahead, as he is showing, but he is still very young and it is necessary to go calmly.
And the last one, will we see Negredo acting as a coach one day?
Well, look, a year and a half ago, when I was at Al-Nasr, that aspiration was awakened in me; It was not my role, but I did advise the players what to do in certain game situations, perhaps because I had more experience. For now, I want to continue enjoying football and then we'll see.
Thank you so much.
To you.
Photos from as.com