"It would be the bomb to repeat my great-uncle"
Marcos Llorente also believes that the game against Bayern "will be very tough and it will be necessary to grant as few chances as possible" in order to win.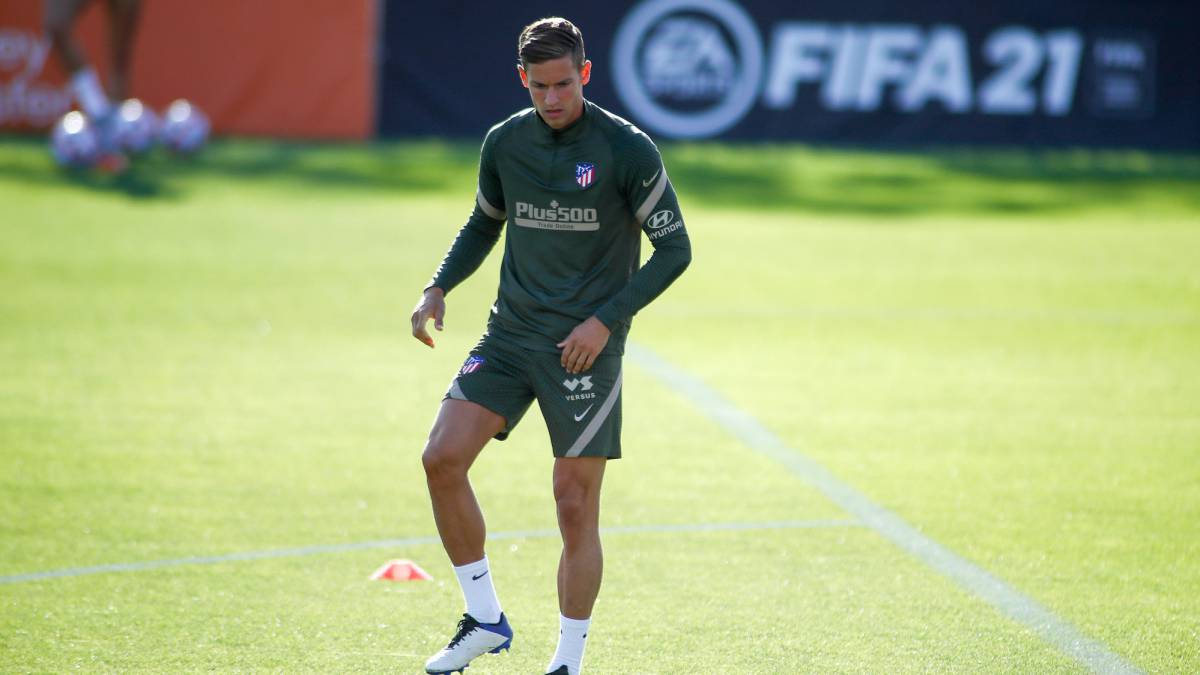 The Atlético de Madrid player, Marcos Llorente, has spoken telematically with a group of journalists after the rojiblancos' morning training session and they have asked him, among other topics, about the Champions League, Bayern and the club's aspirations this season.
What does the Champions League mean for Atlético?
An opportunity to compete. It is a very beautiful competition and we all like to win, but not many are lucky enough to do so. Every edition, we go out to compete in every game and try to go as far as possible.
With the arrival of Luis Suárez do you aspire to the Champions League?
Yes, it is clear that we are going to take a leap. Luis is a great player who has been at a very high level for many years. We are delighted to have you with us. I'm sure it's going to help us a lot and it's going to give us a quality leap that always helps in competitions like this one.
Do you see yourself as an attacking player or as a midfielder?
I see myself as a gamer. As long as I get out of playing, I don't care where to play. Normally I'm doing it later, on the wing or as a forward, but there are times when I have to play for a while as a midfielder. I adapt to any position and, as long as I help the team, I don't mind playing on one side or the other.
What do you think of Bayern Munich?
We have respect for all rivals. It is currently the best club in the world. He has shown it by winning the previous edition and the Super Cup. He is a very tough opponent that we obviously respect, but we have our weapons. We have already shown that we can beat any team and this Wednesday we will work for it.
Can defensive imbalances be expensive with Bayern?
Yes. These matches are decided in situations like this. You don't have so many chances and, therefore, both in attack and defense you have to be very effective. You have to try that they have the least possible and you create chances and be able to score. It's going to be a very tough game, very complicated and you have to try to concede as little as possible because Bayern Munich has already shown that as you leave spaces or make mistakes, they will crush you.
How do they carry the role of giant killers?
It is clear that all players like to play against big teams. The more level they have, the more expectations they have, the better because one is motivated, one comes up. This is what happened with Liverpool, both at home and there, we played great games and, in the end, we ended up defeating the current champions then. Bayern Munich is a very tough opponent, currently the best team in the world, and it will be our turn to row all together and fight to get it out.
Do you see yourself with options to enter the list of Spain for the European Championship?
I have options, like all Spanish players. I don't usually think about that much. I dedicate myself to the day to day, to think about my club, which is the most important thing. Doing it well in your club leads to the other, which is a great prize, if not the maximum of a footballer. It is something that I do not appreciate much, but I know that it is there and it is for what we all fight and work.
How can they counter Bayern football?
That question is for the coach, who is the one in charge of these issues. It is clear that a perfect match has to come out. We have to be one hundred percent, very concentrated, fighting all together. The coach takes care of the most tactical things. We are already working on it and I am sure that on the day of the match we will all be clear about it and a good match will come out.
What presence has the European Cup had in your family?
When my great-uncle (Gento) won those cups, I was not even born. That is a little behind me. It is a pride that he has raised so many titles. It would be the bomb if I did the same. They are very important to me. It is a privilege to have you as a family. At times they have helped me a lot and have led me on the right path.
How does it take to not be a holder?
Everybody wants to be a starter and if they think they deserve it and they aren't, they're screwed. The coach is the one who decides what is best for the team. If at that moment he does not think of you, you have no choice but to respect him and wait for him to give you the opportunity to take advantage of it, as I have always done throughout my life.
Do they understand the demands placed on them from outside?
The demands from outside are not taken into account very much. We demand ourselves to the maximum, we do not need anyone from outside to demand us. We demand ourselves the maximum and that is what we try to do. I don't think any team demands half of it. This year is a great year. Footballers have come who will make us a better team, who will make us believe. It's the same as always, you have to go game by game. When things are going well, you don't have to go upstairs and when things go a bit bad, you don't have to pay attention to everything outside. We have to make ourselves strong inside and this is how we always carry out the results each season and this will be the same.
What would it mean for you to score the winning goal in the Champions League final?
I still don't think about it. For that, first you have to reach the final and pass all the qualifiers and it is something very complicated. If we start dreaming, it would be my great dream to achieve, an immense happiness and I hope it can be fulfilled.
Which Bayern player would you stay with?
With Lewandowski. He is the team's top scorer. He does not stop scoring goals. Last season and this is still the same. He is, if not the best, one of their best players and will have to be taken into account on Wednesday.
Is it difficult to adapt to Simeone's messages?
Yes. When you change clubs it is always difficult to adapt. The coach is also a special coach, very methodical, who has things very clear. At the beginning it is difficult to adapt to the new teammates, to the new ideas of the coach, but between the coaching staff and the players they make it very easy for you and you quickly learn a bit what Atlético de Madrid is. The coach always gives you many ideas about mental strength, about attitude. Both the coach and his coaching staff are very energetic, very aggressive. They do not let us relax for a moment and this is reflected in the field.
Can this Atlético be a candidate for the league title?
If a team does not go for the League or Champions title, it does not make sense. We go out to compete for all the titles and, depending a little on the situation, some will be achieved and others will not, but we always go for all the titles.

Photos from as.com