"Returning to the Palace is a joy. The pity is that it is without an audience"
Pablo Laso and Jaume Ponsarnau have spoken in the preview of the Euroleague match that will face Real Madrid and Valencia at the Palace.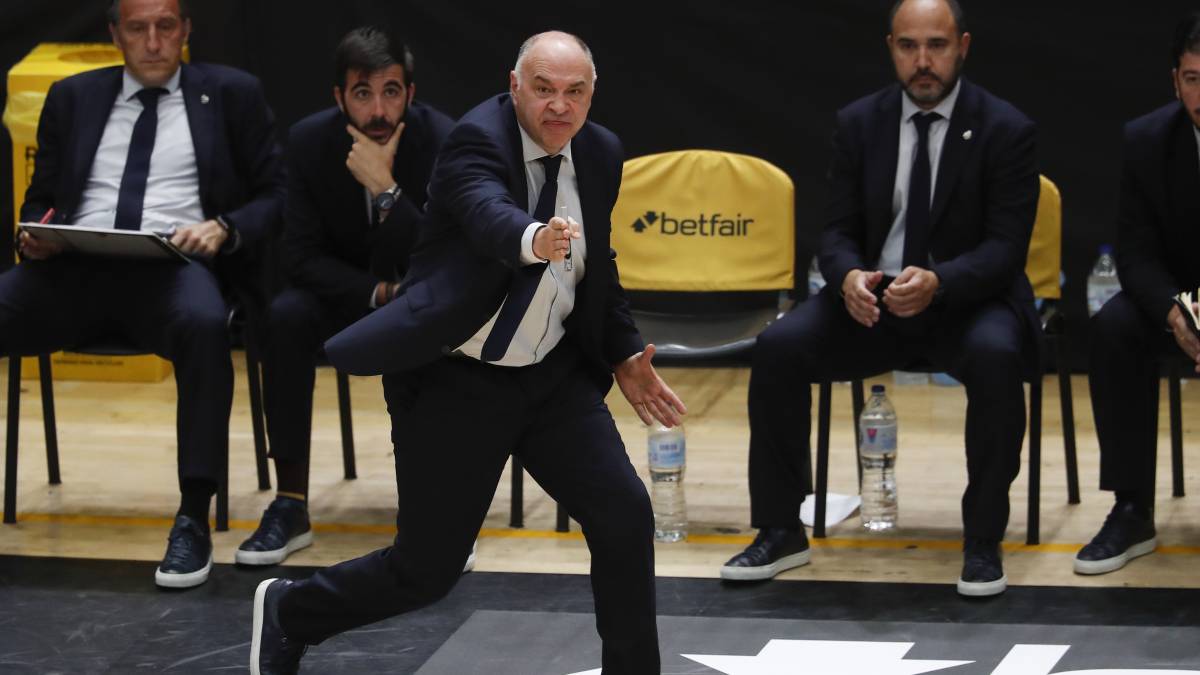 The Real Madrid coach, Pablo Laso, has explained that his team has an "obligation" that "uncertainty does not generate anxiety" within this season marked by the pandemic, at the same time that he has warned that "Valencia Basket already has Little Cinderella ", before the Euroleague duel between the two teams this Thursday.
"Our obligation is to be as concentrated as possible in daily situations and that uncertainty does not generate anxiety. These are situations that we are going to have to get used to this year. We have to accept that it is a special year, this is how we are seeing it "explained Laso at a press conference.
Regarding the last loss to Baskonia, the coach said that "when you have a bad feeling after a game, the sooner you play the sooner you forget." "On Saturday we were preparing the trip to Gran Canaria and in the end we did not go. On Sunday we took a break and the team has worked well the last three days to arrive in good condition for the next two or three weeks, which are going to be very full of matches ", he warned.
Before the second day of the Euroleague, Laso acknowledged that "returning to the Palace is always a joy". "The pity is that we cannot enjoy the heat of the fans. We come from a defeat away and we know the importance of being strong at home. It is not easy to play without an audience, it forces you to be more focused. Sometimes you make a mistake and you people help, or if we get on a good streak. We have said that we must have that feeling of being all very involved in the game, but it is difficult to replace the lack of public, "he lamented.
Regarding the rival, he warned that "Valencia has been competing at a very high level for several years." "Last year was their first in the Euroleague and it was good, when the competition stopped they were close to the playoff. Their movements in the market have been important and have rounded the base they had. Valencia already has little of Cinderella," he compared with a smile.
In this sense, he indicated that the 'taronja' team has signed this summer "four very important players, top players in Europe." "Tomorrow's game is very complicated. In the big teams it is very difficult to focus on just one. With Dubljevic and Tobey they have the center position very well covered, but we cannot forget about their outside men. In the end we are talking about a team very complete ", concluded the man from Vitoria, who recovers Sergio Llull and only has the casualties of Jeffery Taylor and Felipe Reyes. Ponsarnau: "We don't have to blur our personality"
Valencia Basket coach, Jaume Ponsarnau, assured that despite the many virtues that Real Madrid has, they should not lose their personality in the duel they will play this Thursday on the second day of the Euroleague . "We have to adjust not only to Madrid and its virtues but we do not have to blur our personality," he stressed at a press conference.
The coach explained that although in the last match they had, in the final phase of the last ACB League, they tried to cool down Facundo Campazzo by preventing the player he was defending from coming into play, now they will not focus so much on the rival. "That was an almost terminal game and now he is one of the many that we hope to play against Madrid. We will try to play ourselves and do it not against a player as good as him but against Madrid. It was good at that time but now is another moment "he noted.
The Valencia Basket coach also explained that the defeat suffered against Coosur Betis last Sunday in the ACB League should remind them that they must complete their defensive work. "This game has given us information to work and grow, we are still a team under construction. The first thing is that we have to improve mentality things and we have to do it all in the same way, maintain a culture. The other thing we have identified is we almost make good defenses, we lack a player, or two seconds, possessions last 24 seconds, not 23, "he stressed.
The coach said that they must evolve and "make things happen" but "not because we play against Madrid but because we want to do things better, not because we are excited to play against them." "Obviously we would like to have won in Seville and that there were no worries but we are focused on continuing to grow to get as far as possible," said Ponsarnau, who explained that he accepts criticism and prefers to focus on him rather than the players. "It is part of my job and I am focused on helping the team, it is the best I can do. If criticism goes to me, it does not go to the players, who want to do their best and are finding their way," he said.
Photos from as.com