The solution is in Castilla
While Madrid lacks a goal and Marcelo falters, Hugo Duro has made his debut in the subsidiary with a great goal and Miguel Gutiérrez, the best 'three' of La Fábrica, also scored ...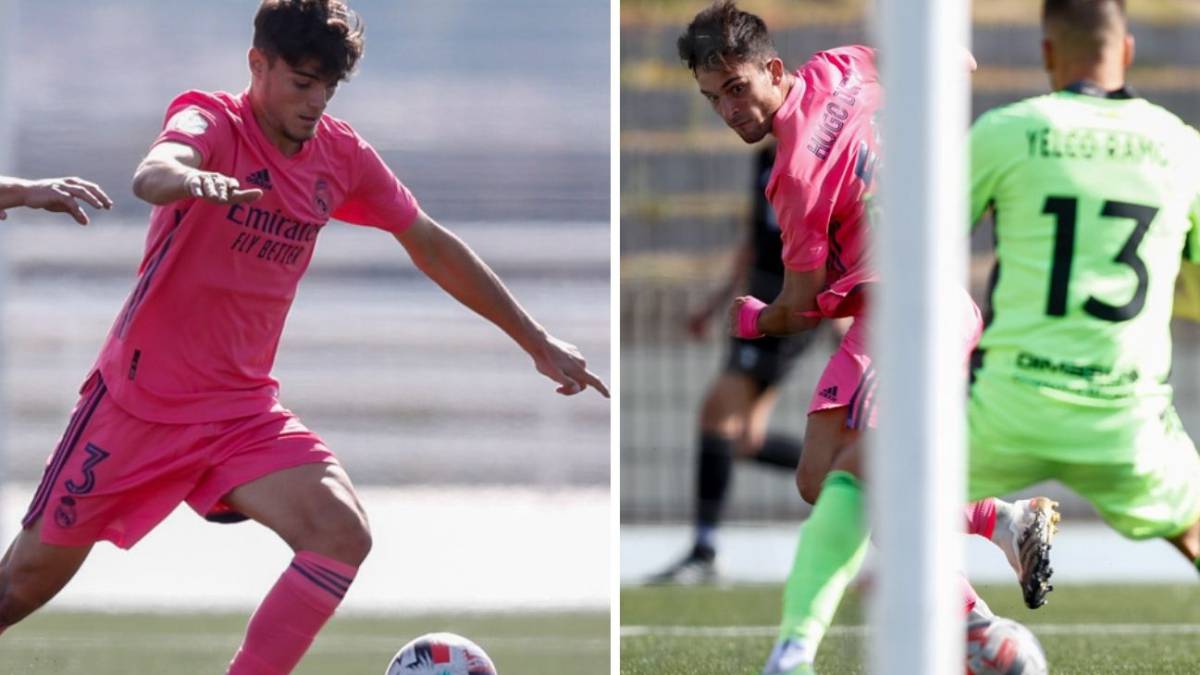 Madrid faces the Clásico after having activated the panic button and with Cádiz having confirmed two problems: Zidane's team suffers from an alarming lack of goal and even more alarming is the state of footballers like Marcelo when they start. Castilla this weekend made it clear that it could be the solution ... with Hugo Duro and Miguel Gutiérrez.
Because with Jovic indolent and left in evidence by Mayoral, Mariano tenant almost for life of the Valdebebas gym and the team offering the worst scoring numbers in a decade, Zidane included the recently signed castillista Hugo Duro in List A for the Champions League and the Getafense did not is disappointing. In the 1-2 to Las Rozas with which Castilla started the season last Sunday, the U21 striker made a target the first time he had. A foreshortened header, very complicated and unattainable. In other words, a goal from a soccer player with a goal. Just what Zizou needs in the first team. A 20-year-old striker who is certainly not a rookie. He spent the last three years learning from Bordalás at Getafe and as a azulón he played both in the First Division and in the Europa League. An attacker studying mechanical engineering and ready to produce ...
On the other side of the field, Marcelo makes water less and less disguised. Mendy is indisputable, Reguilón and Achraf had to take the door and the position of substitute left-back is open seeing the low level of the Brazilian. Miguel Gutiérrez, the 'three' for Castilla and the successful Juvenil who won the Youth League in August, has raised his hand. His was the second Castilla goal against Las Rozas and he did it playing as a winger ahead of Pablo Ramón. Raúl is also testing it there, like a wasp on the wing, a sign that he can contribute a lot in the rival field, Marcelo's specialty. In the Youth League, he taught everyone that gargantuan display.
"He is perfect for Madrid"
Furthermore, Gutiérrez is not at all unknown to Zizou, who made him play a friendly in 2019 at the Audi Cup in Munich and had him at his command after confinement, and Madrid has total faith in him . He shielded him until 2024 to avoid the marauders. In the National Team his name is more than indicated as future for Luis Enrique if he maintains his progression. "Miguel will be a top winger, he's perfect for Madrid," said the U-17 coach himself, David Gordo, who had him with him in that category before the boy was promoted to the U-19. "It has a level for First, sure." A First in which he was close to making his debut last season, when Zidane summoned him to Cornellà-El Prat ... 444 444

Photos from as.com