The day Maradona played for Granada against Malmoe
On 11-15-1987 the three Maradona brothers (Diego, Lalo and Hugo) reinforced Granada in a match against Malmoe. 33 years later they meet again in the Europa League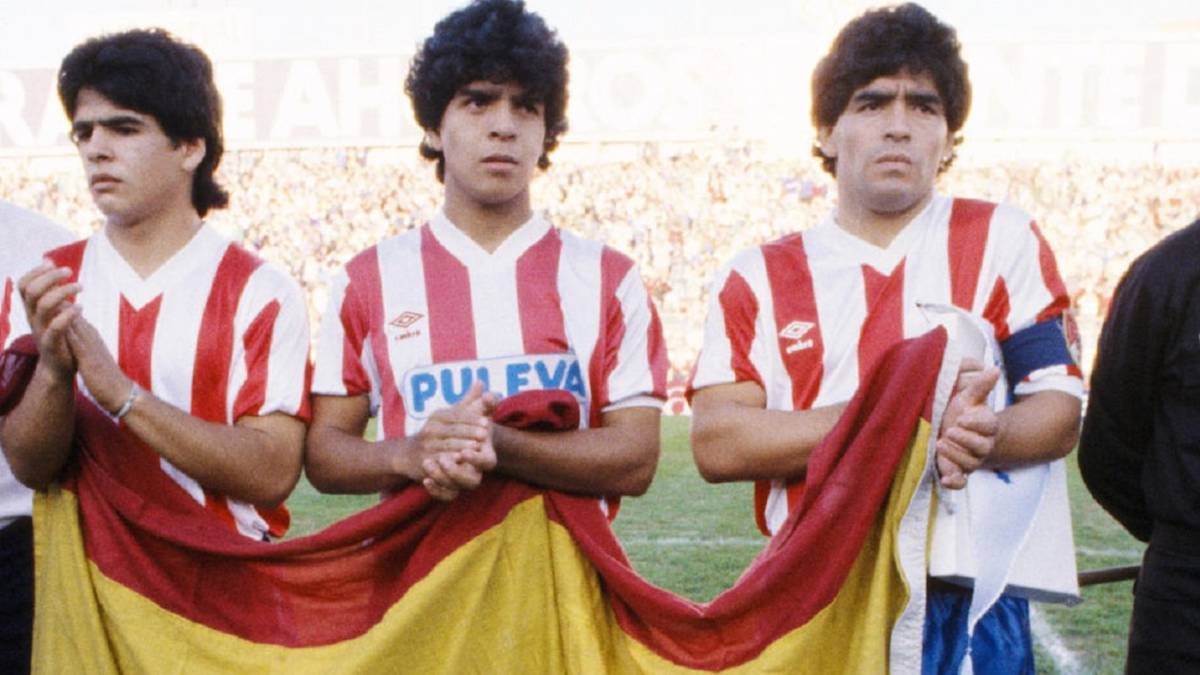 This Thursday's game between Granada and Malmoe is historic because it can launch the team coached by Diego Martínez into the group stage of the Europa League. This great game brings to mind an old Granada-Malmoe played on November 15, 1987 in Los Cármenes. That day the Granada team had the reinforcements of three illustrious Maradona brothers: Diego, Hugo and Lalo. None other than Diego Armando Maradona with the Granada shirt. Exceptional!
We explain it. 1987-88 season. Granada had achieved promotion to Second from Second B. The coach, the remembered Joaquín Peiró. The team showed a dangerous institutional and sporting decline. Joaquín Peiró, a great soccer player forged in Atlético de Madrid who triumphed in Italy, was the leader of the project. But the president in those years, Alfonso Suárez Mendía, who was looking for 'something more' was convinced to give the team more glamor by signing 'a Maradona'.
Diego Armando Maradona was the best player in the world in those years. I was at Naples. In those years his surname Maradona was the hand of a saint. Some clever businessman proposed to the president of Granada to sign an unknown brother of Maradona. Raúl, known as 'Lalo'. He was defined as 'a creative flyer'. In those years, besides Diego in Naples. Hugo played for Ascoli in Italy and Lalo for Boca Juniors. He was 20 years old and his famous brother said: "He is the best of the three" .
Granada believed it and accepted the challenge. He signed him. The media hit was tremendous. So as not to extend ourselves. The transfer cost 20 million pesetas (120,000 euros at the current exchange rate). It was a fortune.
Granada could not pay it. So Maradona, who supported Lalo, moved to make the operation viable. And he got a game to be played in Los Cármenes. I mess up everyone. A rival of tronio was sought. And this was Malmoe, a good Swedish team that in 1979 had been runner-up in Europe (that final was won by Nottingham Forest). The objective was that with the collection of the party the transfer for Lalo and the five million (pesetas, 30,000 euros to change) that the Malmoe cache cost would be paid.
The pull was tremendous. The stadium was full and the photo of the three Maradona brothers dressed in the Granada jersey went around the world. For history, the lineups.
For Granada this was the team: Toni; Salva, Choya, Lina, Pedro; Leo, Delgado, Hugo Maradona, Diego Maradona; Lalo Maradona and Ramón. Víctor, Espejo, Manolo and Rivera also played. Fedel came out at Malmoe; Jonsson, Larsson, Andersson, Agren; Eminovski, K. Jonsson, Schwarz, Martin Dahlin; Palmer and Harryson. Johansson also played.
These were the goals. 0-1 Palmer (min. 20), 1-1 Lalo Maradona (min. 26), 1-2 Johansson (min. 64), 2-2 Diego Maradona (min. 76) and 3-2 Manolo (min. 86 ). Referee: Antonio Martín Navarrete.
As you see Lalo and Hugo scored. It was all a party. And in League things started well. Lalo made his debut against Depor (5-0 and scored a penalty goal) and made a brilliant match in Vallecas (1-2). Since then things have gone awry. Lalo did not give the level. Granada descended to Second B and began a terrible journey of 34 years until it returned to First. Now he is reunited with Malmoe ... without the Maradona family.
Photos from as.com