The 1x1 of the champion Lakers
From the exceptional work of the coach to secondary with defined roles and two generational stars. This is the Lakers 2019-20.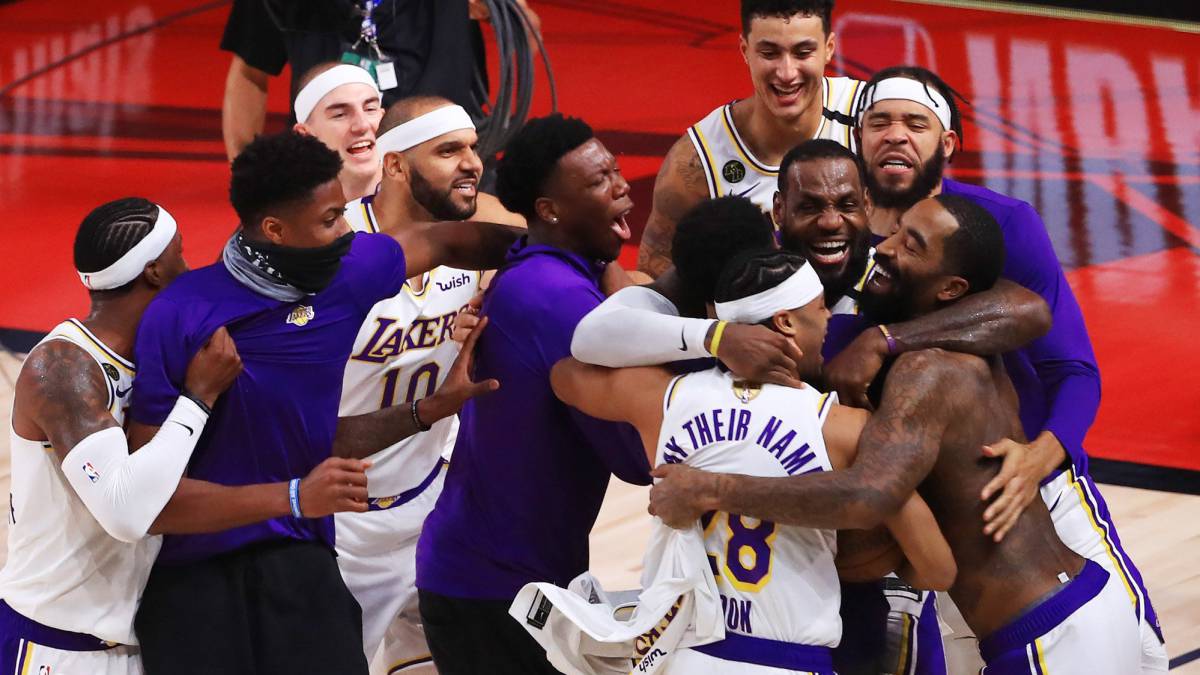 TRAINER: FRAN VOGEL. 47 years. Outstanding season from Wildwood Crest coach. After being ostracized for his ugly time at the Orlando Magic (2016-18), he appeared on the Lakers horizon as plan C (Tyronn Lue, Monty Williams failed…). Many did not trust him and believed that hiring Jason Kidd as an assistant brought the enemy (and future replacement) at home. But Vogel has triumphed splendidly. From day one, he got LeBron James and Anthony Davis to buy his vision and style, a very physical and defensive basketball, an evolution of the game with which he triumphed in the Pacers (2011-16). With defined roles for each player, flexibility to move the pieces and good adjustments during the playoffs against very different opponents. From the focus of Damian Lillard to the ultra small ball of the Rockets, the power of the pick and roll of Murray and Jokic in the Nuggets and the penetrations of Jimmy Butler in the Heat. Vogel took a template that was not very clear how far it could go and got it to have commitment, sense, unity and the solidity of granite from day one. Exceptional work. Champion.
LEBRON JAMES: Base. 35 years. Playoff statistics: 27.6 points, 10.8 rebounds, 8.8 assists. Qualifiers are exhausted. At 35 years old, in his seventeenth season in the NBA and after a failed first year at the Lakers, with a young and stunted team truncated by an ugly groin injury. LeBron has played one of his most complete seasons, with fewer minutes but the same responsibility, already as a base for all intents and purposes (he has been for a long time) and for the first time as the NBA leader in assists in a Regular Season (10, two). Its longevity is legendary, also the intelligence with which it dissects the game and that allows it to be just as incident even though it does not have the physical explosiveness of a few years ago. LeBron has also been a committed and positive leader, he has taken care of the chemistry of the dressing room and has bought Frank Vogel's plan with a decision and a discipline that he had not shown in a long time. At his best defensive level since his years in the Miami Heat, the best player in the world (and a historic top-3 ... at least) continues to break records (he surpassed Kobe Bryant and is already the third leading scorer in the NBA) and continues to preserve passion, hunger ... and a talent from another dimension. Fourth ring and fourth Finals MVP for a legendary, unique player. Unrepeatable.
ANTHONY DAVIS: Power forward. 27 years. Playoffs: 27.7 points, 9.7 rebounds, 3.5 assists. Anthony Davis had a bad start from the Pelicans, a trance that ended in a media soap opera, hit his public image and made some forget the kind of player he is. But Davis, beyond a few mistakes and noise and clickbait, wanted a chance to compete at the highest level after seven frustrating years in New Orleans. LeBron and the Lakers gave it to him… and he has taken advantage of it. His season has been huge, spectacular. A hammer on offense and arguably the NBA's best player on defense (certainly in the playoffs), although he didn't win the Defender of the Year award. LeBron James needed a teammate like him at this point in his career and he needed support like LeBron's and a great stage like the one the Lakers offer to show, again, that he is one of the best players in the NBA and that can be removed, many years from now, as a historic interior. In fact, he is already champion with the shirt of the historical centers: Mikan, Chamberlain, Kareem, Shaquille ...
KYLE KUZMA: Power forward. 25 years. Playoffs: 10 points, 3.1 rebounds, 0.8 assists. The survivor. Kyle Kuzma is the last trace of the young squad that the Lakers had and that was losing to make room for LeBron and Davis: Randle, Lonzo, Ingram, Hart, Nance, Clarkson, Bonga, Bryant, Zubac ... Kuzma's season is difficult to evaluate but it is not bad. A priori, the Lakers needed him to take a big leap forward to smooth out the talent gap (and points) between the two stars and the rest of the roster. Kuzma has not done that, he has not been a fixture either in the starting quintets or in those who closed the games (not necessarily) and he has not stabilized his scoring or his outside shot, so promising in his surprising rookie year (he was 27th in the draft in 2017). But he has improved a lot as a team player, he has learned to defend with consistency, to read the movements of his teammates better and, although he does not always do so, to find positions near the basket when defenses are primed with LeBron and Davis. He hasn't been perfect, he hasn't been brilliant but Kyle Kuzma has had his role in this champion team.
KENTAVIOUS CALDWELL-POPE: Escort. 27 years. Playoffs: 10.7 points, 2.1 rebounds, 1 steal. A fundamental player, many nights the third best in the team after the inescapable LeBron and Davis. KCP started off missing every shot and being teased and memes. He came from two irregular seasons with the Lakers, from a jail sentence that forced him to sleep in prison and not play outside of California last season ... and from the constant comments that pointed out that he was only in LA because he shared an agent with LeBron James . But (remember, he was number 8 in the draft in 2013) he went further, he fit like a glove in what Vogel was looking for and ended up being very important. The best shooter of the secondary team, capable of scoring in hot moments with a firm wrist, and a long-suffering and physical defender. Especially relevant in the bubble given the absence of Avery Bradley, KCP (in Detroit they said they were the initials of Kid Can't Play) has redeemed himself, has played a great season, has shone in the Finals and is an NBA champion.
AVERY BRADLEY: Escort. 29 years. Playoffs: Has not played. In regular season 8.6 points, 2.3 rebounds and 1.3 assists. When the season ended on March 11, Bradley was in his prime, growing closer to the player who dazzled the Celtics rather than the one who later floundered for the Pistons and Clippers before bouncing back on the Grizzlies. A perimeter defender who is one of the best in the NBA at one-on-one, he was a key piece in Vogel's steel network ... but he gave up playing in the Florida restart because he has a six-year-old son with serious problems respiratory. With player option for next season, he will be important again (almost like a signing given his absence in the playoffs) if he continues with the Lakers next season.
RAJON RONDO: Base. 34 years. Playoffs: 8.9 points, 4.3 rebounds and 6.6 assists. An incredible case. Between injuries and dire stretches of play in which the Lakers fit dangerous sets with him on the court, Rajon Rondo had been a shadow of the excellent (particular, but excellent) player who had shone for the Pelicans two seasons ago, with Anthony Davis. Not to mention the exceptional point guard of the Celtics (2006-14). But for something he has an extra life called Playoff Rondo. After missing the entire restart and first round against the Blazers with a thumb injury, he came back against the Rockets and, after a poor first game, became an essential player for the remainder of the title road. His intelligence, reading, experience and ability in decisive moments have ended up being invaluable weapons for some Lakers that the veteran point guard has supported in many of the minutes in which LeBron has rested. A champion trade and a colossal game reading, he has had an aim from the line of three and has finished with the best record of assists of a substitute in the playoffs since 1971 ... and that without playing the first round. Decisive and extraordinary, in addition, in the sixth and final match of the Final. Playoff Rondo.
DANNY GREEN: Escort. 33 years. Playoffs: 8 points, 3.1 rebounds, 1.2 assists. Second ring in a row and third in his career, with three different teams (Spurs, Raptors, Lakers) for Green, an accomplished professional who has been the undisputed starter for the Lakers. His aim in the shot of three, one of his virtues, has never appeared regularly, and that has been a problem for the team's static attack and put him in the trigger for his mistake in the fifth game, in which he missed a triple totally released in the Lakers' last attack. But his experience and his ability to add in many little things have been important, as has his other great virtue: defense. There he is a true specialist and in that he has been key in helping to forge the fearsome defensive identity that has led the Lakers to the title.
TALEN HORTON-TUCKER: Forward. 19 years. Playoffs (2 games): 7 points, 2.5 rebounds, 1 steal. He's still 19 years old and it's a name to keep in mind: No. 46 from the last draft is a diamond in the rough that the Lakers are polishing with patience and dedication. After spending most of the season in the Development League, he was in the bubble and had his moment in these playoffs: Vogel used it by surprise in the last two games against the Rockets and he delivered. He is a forward of enormous size and many possibilities that, perhaps, he will find a niche already in the rotation next season. We will see.
ALEX CARUSO: Base. 26 years. Playoffs: 6.5 points, 2.3 rebounds, 2.8 assists. Social media idol of Lakers fans, his ordinary looks and jokes about it made many people not realize how good a player he is. But there he is, after working hard to earn a place in the Lakers rotation, he has been fundamental (starter in the decisive clash), he has played many game ends and signed many small winning actions. An excellent defender who is already one of the best point guards in the NBA in that field, in attack he reads the game well and makes little mistakes. LeBron fully trusts him and fans love him. If he improves his outside shooting and adds a handful of points to his stats, he will sign a very good contract the next time he is due to renew. An exceptional worker.
MARKIEFF MORRIS: Power forward. 31 years. Playoffs: 5.9 points, 3 rebounds, 1 assists. On February 21 he was cut by the Pistons and on February 23 he signed for the Lakers. An excellent signing and a piece that has been tremendously useful in the playoffs. Tough, very physical (on the team line) and with a good hand from the line of three, he has fit in in small quintets as a center or simply taking dirty work from Davis. He first outplayed McGee in the rotation and ultimately carried more weight in the Finals than Dwight Howard. Big role from the winter market of buyouts.
DWIGHT HOWARD: Pivot. 34 years. Playoffs: 5.8 points, 4.6 rebounds, 0.5 blocks. An incredible story of redemption. He left the Lakers in 2013 as public enemy number 1. Never had a star refused to stay with the Angels in their prime years. Later, the Lakers did not return to the playoffs until this season and he, between physical problems and a complicated character, faded away. Between trades and buyouts, he went from Rockets to Hawks, Hornets and Wizards. Cut without joining the team by the Grizzlies, DeMarcus Cousins' injury opened the most unlikely door for him and he returned to the Lakers, this time with a minimum contract that was not fully guaranteed at first. He arrived in excellent physical shape and with a renewed and exemplary attitude and his season has been splendid: toughness, defense, energy, faultless behavior, always at the service of the team, and very good minutes as a worker, blocking, intimidating and finishing plays for above the hoop. His best moment in the playoffs came in the tie against the Nuggets, when Vogel used it to wear down Nikola Jokic. He complied, as throughout the season.
JAVALE MCGEE: Pivot. 32 years. Playoffs: 2.9 points, 3.1 rebounds, 0.7 blocks. A great talent who was about to be lost because of his bad head, he was resurrected in the Warriors, where he won two rings and was useful in a limited role. Now he has taken the third in four years, this time with the shirt of some Lakers in which he has played the last two seasons, almost always as a starter. His physical faculties and his ability to intimidate and play over the rim are useful in small doses (he has very pronounced concentration gaps) and against certain opponents. In the playoffs, Vogel has hardly used it against the Rockets, Nuggets and Heat.
QUINN COOK: Base. 27 years. Playoffs: 2.2 points, 0.2 rebounds, 0.8 assist. Second ring for the DC point guard, who has had a testimonial role. Already in the Warriors he threatened without ever exploding and in the Lakers he has barely had prominence, much less in the playoffs, despite the fact that in theory he could have fit in as a shooting point guard.
JR SMITH: Escort. 35 years. Playoffs: 2 points, 0.3 rebounds, 0.3 assists. Signed to the loss of Avery Bradley in the Florida bubble, he has barely been able to help the team. At 35 and after almost two off the slopes, he was not in a position to keep up with his teammates' defensive rhythm. Neither his excellent wrist and his personality to score complicated shots earned him to have more prominence. Of course, he has shared a team with LeBron in two rings: very important in that of the Cavaliers 2016, little more than a guest in this of the 2020 Lakers.
DION WAITERS: Escort. 28 years. Playoffs: 2 points, 0.4 rebounds, 0.4 assists. The player who had the ring assured: he started the season with the Miami Heat and has finished it with the Lakers. A great talent with a very bad head and recurring physical problems, his indiscipline closed the doors to the Heat. In March, the Lakers bet on him, looking for more points from the second unit. But the stoppage came due to the pandemic and he did not debut with the team until July. An injury knocked him out of the playoff rotation and he was never able to find a niche afterward, especially with Rondo's exceptional level in the playoffs. He could be a very good NBA player, but he keeps missing opportunities.
TROY DANIELS: Escort. 29 years. He has not played. In regular season 4.2 points, 1.1 rebounds and 0.3 assists. The Lakers turned to him because they needed outside shooting. In that he is brilliant, but he is a small player and too discreet in everything else, especially in defense. In March he was cut and signed with the Denver Nuggets.
DEMARCUS COUSINS: Pivot. 30 years. He has not played. It was cut in February. On January 26, 2018 the nightmare began for a player who until then was a star and who was shining in the Pelicans, next to Anthony Davis. He broke, months before signing his great contract, the Achilles tendon. Last season he tried it with the Warriors, but injuries haunted him again in the playoffs. For this course he committed himself to the Lakers, in search of lost time. And in August, in preseason training, he suffered a serious knee injury. Once again off the slopes and without making his debut with his new team, he was cut in February by some Lakers who needed to use the roster spots on players who could contribute. From disgrace to disgrace.
DEVONTAE CACOK: Power forward. 24 years. He has not played. In regular season (1 game) 6 points, 5 rebounds, 1 assist. A power forward that the Lakers like for his excellent performances in the Development League. Rough but tireless, he is a rebounding and working machine but it remains to be seen if his place in the future is in the Lakers ... or if he is not even capable of carving out a niche in the NBA. By delivery it will not be.
KOSTAS ANTETOKOUNMPO: Power forward. 22 years. He has not played. In regular season 1.4 points, 0.6 rebounds and 0., 4 assists. The little brother has also spent most of the season in the Development League. He has physical abilities and potential, but he is very green. The gossips claim that the Lakers have only counted on him to capture the attention of his brother, the two-time MVP Giannis Antetokounmpo.
JARED DUDLEY: Small forward. 35 years. Playoffs: 0 points, 0.3 rebounds, 0 assists. Thirteen years in the NBA for a veteran who has had remarkable stints as a stuntman (a good shooter and a savvy defensive player) but barely counted for Frank Vogel. Of course, in LA they have seen another of his great virtues: he is a great presence in the locker room and an exceptional partner. At 35, he is also an NBA champion.
Photos from as.com