Senglin and the defense wake up MoraBanc after the break
The Andorrans snapped their four-game losing streak with 21 points from Jeremy Senglin and a stifling defense in the second half.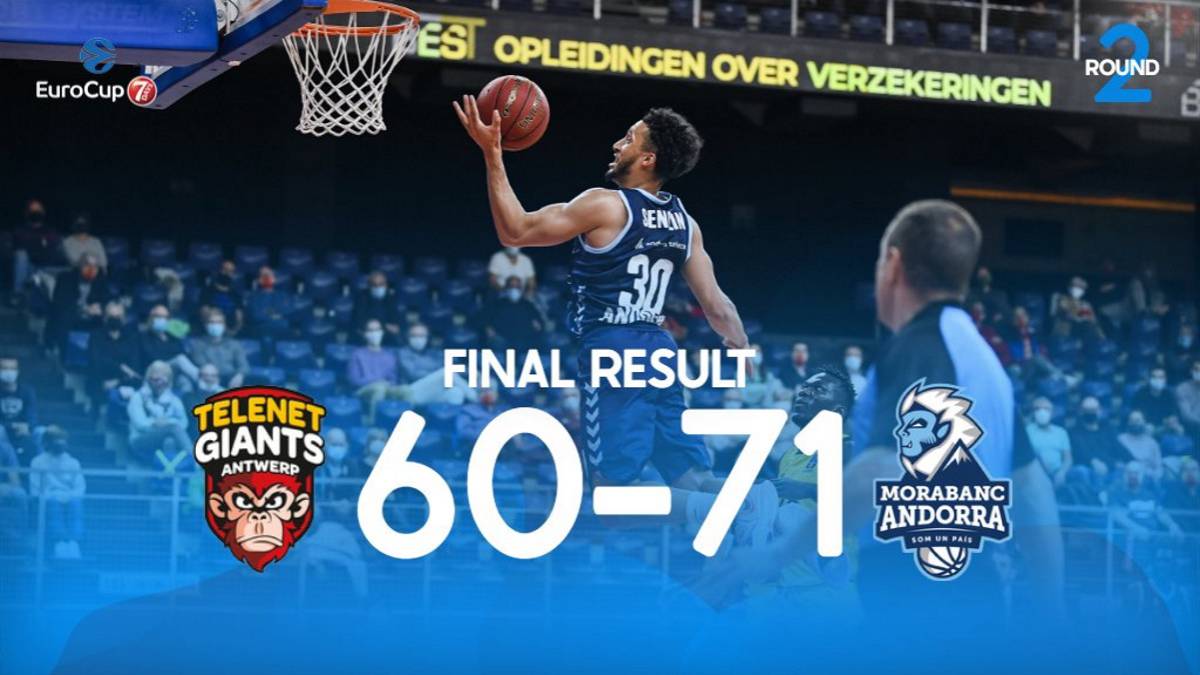 MoraBanc won again in the Eurocup after four consecutive defeats. Ibon Navarro's men woke up after the break and, with a good third and last quarter, defeated Telenet Giants Antwerp 60-71 with 21 points from Jeremy Senglin that were decisive, as well as a suffocating defense at the restart. The game was played with an audience. The negative dynamics seemed to be going to change at MoraBanc, with the four consecutive defeats as a backpack, at the start of the game in which Ibon Navarro's men played with enough success and good ball mobility until they reached 9-14 of the partial.
In particular, he highlighted the success from the 6.75 line with triples from Oriol Paulí, the Dominican 'Tyson' Pérez (two) and Senglin. The Telenet Giants gritted their teeth in defense and managed to tie the game at 17 first, and then take the lead at 20-17 thanks to Dudzinski's success. The first act ended 26-22 and with bad feelings for the Andorrans who continued in the second quarter. In the second ten minutes, MoraBanc did not exist in attack and the Belgians, led by former player Christophe Beghin, nailed a 9-2 run for 35-24.
At six minutes came the first basket for BC MoraBanc with a triple by Senglin for 35-27. The Telenet Giants had a lot of offensive success and drowned those of Ibon Navarro in defense. Two consecutive triples by 'Steph' Branch placed the maximum difference in the electronic with 47-31 (+16). For the Andorrans, Clevin Hannah appeared before the break with two consecutive triples and finalize a second quarter to forget (47-37) .
MoraBanc's benefits improved at the restart. Ibon Navarro's men improved on defense and gritted their teeth in this facet of the game. In attack they played with more criteria to make a 2-12 run and tie the game at 49. The leadership of Clevin Hannah and Senglin was key for the Andorrans. Those from the Principality failed to get ahead on the scoreboard in a third quarter that ended with a tie at 54 and with a final quarter of 7-17.
In the last quarter Ibon Navarro's team continued to dominate the Belgians at will and with a 0-8 run they achieved a reassuring 54-62. The Telenet Giant Antwerp disappeared from the track and BC MoraBanc took advantage of it to get the first victory of the season in the Eurocup and in this way break a streak of four consecutive defeats (three in the Endesa League and one in the Eurocup) with 21 points and Jeremy Senglin 24 rating.
Photos from as.com