San Pablo Burgos, new master of the Champions League
The Castilian team beat AEK in Athens in the final and won the first international title in its history. Thad McFadden (18 points), MVP.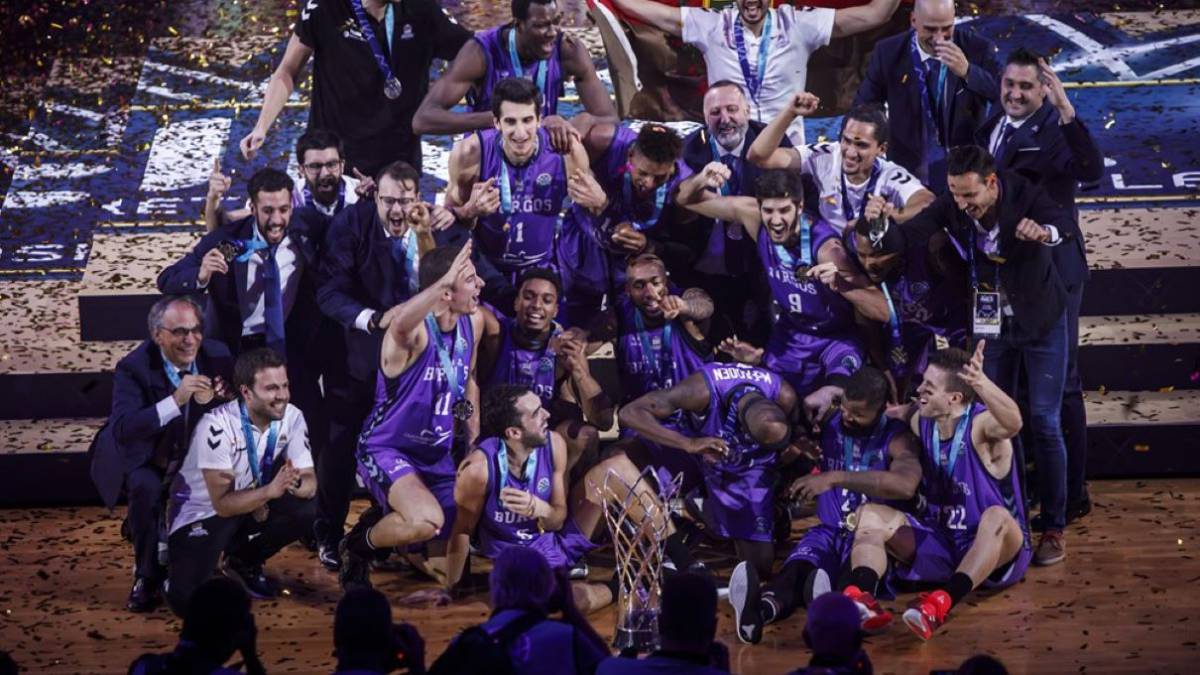 Europe has a new master and lord: the Hereda San Pablo Burgos. The Castilians conquered the FIBA Champions League in the historic OAKA in Athens (Greece) after defeating the host, AEK, the great dragon of the tournament, in the final, a team created by and to win a trophy that will wear, now and forever, brilliant and majestic in the Coliseum. Burgos Cathedral has found a strong competitor in affection in the city. A title, the first in history for San Pablo, even more amazing if we look back: the club was created in 2015 from the ashes of Tizona Basketball and promoted to the CBA two years later. And in just three seasons in the elite, the most absolute glory. To rub eyes.
The people of Burgos beat the Athenians as they already did with Hapoel Jerusalem in the quarterfinals and with Dijon in the semifinals: scoring with the Peñarroya seal for their flag. Firmness and toughness in defense; confidence and intelligence in attack. Without losing hope or collapsing when his rival threatened to break the grand final in the first beats of the game and pressed in the last when he was almost 20 points down. Nothing could with them.
The AEK was the big bogeyman of this successful Eight Final created by FIBA to put the end to the 2020 edition. And it showed it at the start with Moreira biting the Burgos area and Langford unleashed. The MVP of the regular phase of the Champions League (19 points on average in these express playoffs) scored 6 goals in a blink of an eye. Rice took the baton with 5 and the Greeks licked their lips: 14-24 at the close of the first quarter and the wind in favor. They did not have Omar Cook.
Omar Cook and McFadden
The 38-year-old point guard is a marvelous mind at game control and passing, but when he decides to score, he's unmatched. In 3 minutes of the second period (from 9:46 to 6:51) he gave a master class of cold blood and temperance with 12 points, 4 of 5 from the triple to tie the duel at 33. Back to start, but with a script completely different: it was Burgos' turn.
McFadden gave the first advantage to the Spanish team (35-33) and nothing was like before. Pushed by the American himself, a true scoring machine and MVP of the final (18 points), with a defense of pure iron and the rebound as a friend (41-27 in his favor), they destroyed AEK. The Greeks drowned, they did not find a single crack to put their hands on and the distances grew until 59-41 in the third quarter, which was definitive, despite the arreones of Rice and Lojeski. Nothing worked and Burgos became the second Spanish team to win the Champions League after Tenerife in 2017. What will be their next and surprising feat? 444 444

Photos from as.com