Sainz: "I still have motivation and I think I can do well"
The Madrid native will return to the Dakar with Mini, a path that begins in Andalusia. "I have put everything in a balance and I will defend the title," he assures AS.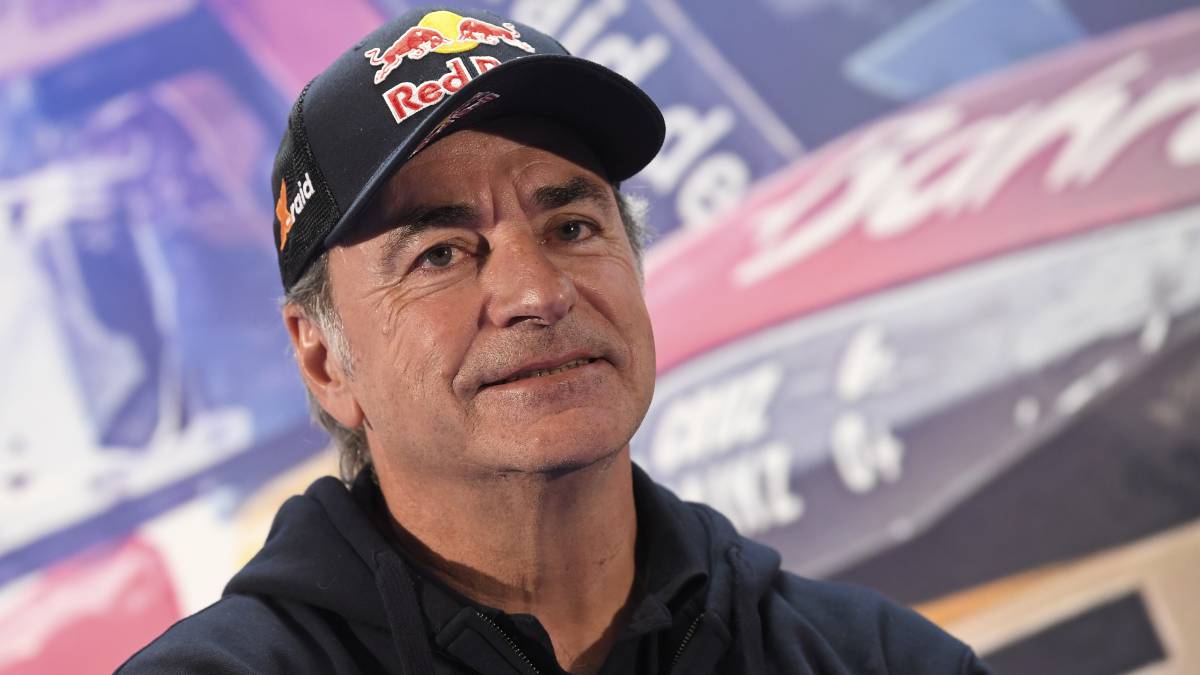 At 58 years old, two World Rally titles, three Dakar Touareg, a Princess of Asturias and Carlos Sainz is still not ready to take his foot off the gas. The Madrilenian will defend his crown in Saudi Arabia next January and will fine-tune the Mini this week at the Andalusia Rally. On the way there, talk to AS.
— Since the end of the Dakar, he has always said that he has earned the right to decide when to leave it, and it is not yet time…
— Well, always after each Dakar there is a period of reflection in which you analyze a bit how the competition went, what are the options you have for the following year, the desire and motivation you have… Everything. And if the scale falls to one side, you do it, and if not, no. In this case, he has continued to fall to drive and defend the title and I am going to do so.
— Have you had fewer doubts this year than others?
— No, it has been the same as every year. I still have the motivation and I think I can continue to do well.
— His wife, Reyes, will consider him impossible…
— No… She knows me, knows what I think and, logically, I talk about it with her, as always.
— And what has your son Carlos told you? Are you happy?
— Well, I have not discussed it with him, I have not asked him, but I imagine that yes, that if I am happy, he will also be happy, just as when it is the other way around. In that sense I think it is reciprocal and he respects my decisions just like Reyes and the rest of the family.
— In addition, it has been a great year for both of us: the Dakar, the Princess of Asturias, the signing for Ferrari… An atypical 2020 for everyone, but special for you in that sense.
— It is a very difficult year for everyone, a year that if it could be erased from the calendar, I think we would all do it. It is true that good things have also happened and I thank God for that, but it has been an ugly year.
— Who never fails him is Lucas Cruz, always by his side.
— Of course, Lucas is a great friend as well as a great co-pilot and a great collaborator. We talk it all before and make the decision together.
— How is the preparation for the Dakar going with all this COVID-19? Difficult?
— Yes, the tests have been complicated. Basically until before August we couldn't do anything. Then last week we did another day and a half of testing and it's being more difficult because we haven't had much more options. We have not been able to race in Morocco either ... In fact, this Rally of Andalusia is in its replacement. In that sense, it is being more difficult, not only because of the tests but because of the preparation races. In principle, we are going to do this race and we will probably do another in Saudi Arabia like we did last year, a two-day Low in the month of December. But now making plans, no longer in the long term, but in the medium term, is complicated because things change from one day to the next, what is valid today in two days is different. It is very difficult to make plans.
— Still, have you been able to improve the Mini in any way?
— Some things have been polished. It will be the third participation in the Dakar that we have done with this car, last year we took a good step forward and it is about polishing those aspects that in the race have not gone quite well, or that can be improved. There are pending subjects such as suspensions, in which you can always make progress. We are going to take a car with some small modification that will surely help us.
— What do you expect from this Rally of Andalusia?
— The truth is that not much… They are roads that are not designed for a car like ours, a two-wheel-drive buggy that is made to run in open deserts, in sand, in dunes, on very rough terrain… In Arabia There are no these types of roads and all the work that is done is not done for this type of tuning, but in the end it consists of doing kilometers, and if we have to suffer on roads that are not ideal for the Mini, then we will have to do it.
— Although different in characteristics from Morocco, but can it be a good alternative?
— It was this or nothing. So before we do anything, even if it is a type of terrain that is not at all for our car and in which we will suffer more than anything else, in the end we have to do kilometers. And it will also be good for us to have some training.
— Isn't that a good yardstick then?
— A two-wheel drive on a road in Andalusia defends itself very poorly, what we will assess is that nothing breaks. As for results, we will suffer.
— Their main rivals will be Peterhansel and the Toyota with Al Attiyah at the helm, but will we have to count on Loeb, Roma and the Prodrive team for the Dakar even if they don't participate here?
— It's a project and a team that I know well because I raced with them and, without a doubt, I know the drivers well. It will be a good project, difficult to beat and it is good for the Dakar that there are alternatives apart from Mini and Toyota. They will fight with us for sure, but you have to give them time to achieve reliability in the car.
Photos from as.com