"Carlos Sainz does not come to Ferrari to be number two"
Charles Leclerc speaks exclusively with AS about the situation of Ferrari and his future partner. "This is the first time that I have gone backwards."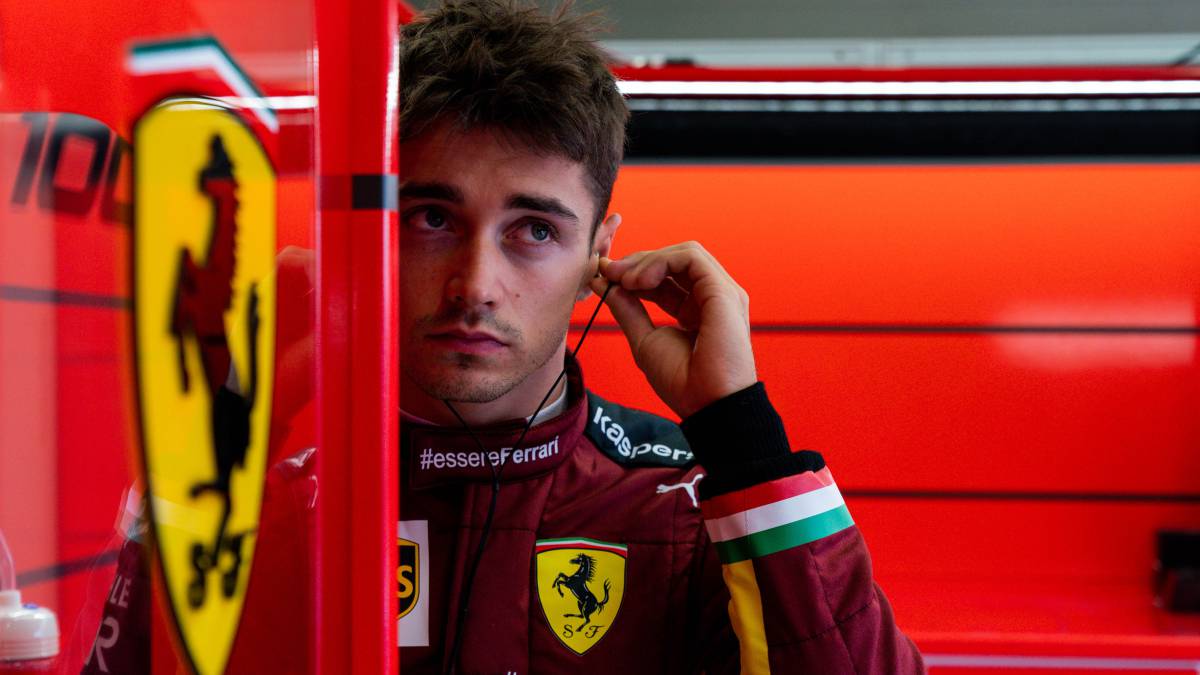 Charles Leclerc, 22, is one of the talents with the most future in Formula 1. Ferrari soon realized and tied the Monegasque until 2024. He sits down to talk to AS about the crisis in his team, the future plans in Maranello and his next companion.
— How's it going?
— I'm fine. It has been a very intense year. Very boring at first, for all the time I spent at home training, and then very intense because since the season began there have been no breaks. Although I really like my job and I can drive. It is true that for the rest of the people on the team it is not an easy season.
— Road to 17 races, does it look like a normal Formula 1 season?
— The FIA has done a tremendous job to make it all happen. There are many procedures and they have made them work for us. And despite everything, it is a great season. I would never have expected so many races on new circuits like this one, Nurburgring, but also Ímola, Portimao or Turkey. It's a shame not to go to America or Suzuka and especially Monaco, my home race. But it is the best thing to do in this situation.
— In your case, last year you were fighting for poles and victories and now you are not. How are you wearing it?
— I focus on myself. I am motivated by the progress I have on the track. But it is a difficult situation for the whole team. We have all accepted it and we try to do the best job possible. It motivates me to change the trend.
— To the point, what's wrong with Ferrari?
— For someone who does not know F1 it must be difficult to understand, because it is already difficult to explain it to an amateur. In this sport progress occurs very quickly and any wrong step has enormous consequences. It does not come from one thing or another, there are many small differences that make us suffer. But Ferrari has gotten through all its tough times and I'm sure we will do it again. It will be long, we must be patient, but Ferrari can come back to win,
— In Spain we know how to follow in detail a good performance away from the podium, a lot happened with Alonso at McLaren or even Ferrari. Do you think you are confirming yourself as a great pilot in these circumstances?
— I think the driver grows more in a difficult season than when everything is going very well. These are hard times and psychologically it is difficult. It is the first time in my career that I have gone backwards. I went from Formula Renault to F3, to F2, to F1, always upwards. First Sauber and then Ferrari, and this is the first year worse than the last. You must accept the situation and that makes me stronger, I am more patient. My only goal is to improve the car and get back to where we want.
— What do you know about the Ferrari of 2021?
— There will be no miracles for next year. There were small improvements in Russia that were going in the right direction and I hope that this year we will deliver another. In 2021 there are small changes to the rules that I hope will help us regain benefits, but it will not be enough to fight for victories. In 2022 the change will be great for all and it is where we must start this new era of F1 in the best possible way.
— How about Carlos Sainz as a Ferrari driver?
— I'm very, very happy for him. He has always been a very competitive rider and as soon as I found out he was coming I wrote to him to congratulate him because I know that it was a dream for me to join the team. It will be good to have him as a partner and I am looking forward to racing with him for Ferrari. It's hard not to get along with Carlos, he's a good guy. I didn't know him before coming to F1, but we've always hit it off. As a person I like him and as a pilot he is very talented. All good.
— There are those who say that, seeing that McLaren is ahead of Ferrari, perhaps they have chosen the wrong ...
— Going to Ferrari can never be a bad decision. It is the most legendary team in the paddock, any driver dreams of driving for Ferrari and, as I say, they have always overcome the tough periods by resurfacing with more force. I will not speak for him, but I am sure that Carlos did not hesitate for a second when he had the offer to come, as he would have happened with any pilot. We are in a bad situation, but without any doubt you have made the right decision.
— Is Leclerc the leader of Ferrari? Is there number one and number two?
— I have never paid attention to the story of number one and number two. From the outside everyone wants to find out, but I don't like to work like that. Carlos is talented and I don't think he comes to Ferrari to be number two. It will be competed. We don't have to fool around on the asphalt, but the best must win on the track and it has always been that way in F1. I'm happy that he's coming to the team and there won't be number one and two.
— As for you, what do you need to be an F1 champion?
— At the moment we have to work on the car. For my part, I must make sure that I will be ready as soon as I have a suitable car to fight for the World Cup. I always analyze what I could do better after each race and find details of my driving and my management. I will only know if I am ready the day I have the tools in my hands and prove it.
— How do you make Vettel, a four-time champion, look small in this Ferrari?
— Seb is an incredible pilot, he has achieved much more than I have in the sport. Maybe now he has a difficult period, but it happens to all of us, he will return and if it is not this week, it will be the next. It is very difficult to drive this car and perhaps I have done better, or I have adapted better. But that means nothing. He's the same great driver ever. The rear end moves a lot, we have oversteer and it has been a problem in some races. In others, we manage to balance it quite well. When we have that situation it is difficult to pilot.
— Ignoring that only Mercedes wins, in 2021 it will be interesting to see the fights between you, Carlos, Alonso with Renault, Vettel at Aston Martin, Ricciardo with McLaren…
— The only thing is, I hope we get closer to Mercedes and Red Bull, that would make it that much more interesting. I hope Carlos and I do a good job with a better car, in front of all those drivers you mention. Although because of our current situation, I think we will fight against them and it will be very interesting, in any case.
— Good luck.
— Thank you very much (in Spanish) .
Photos from as.com