Redemption or disaster? Time to solve the 'Kawhi mystery'
After a very hard skid and marked by his demands and his little leadership, Leonard will now have to show what kind of star he is.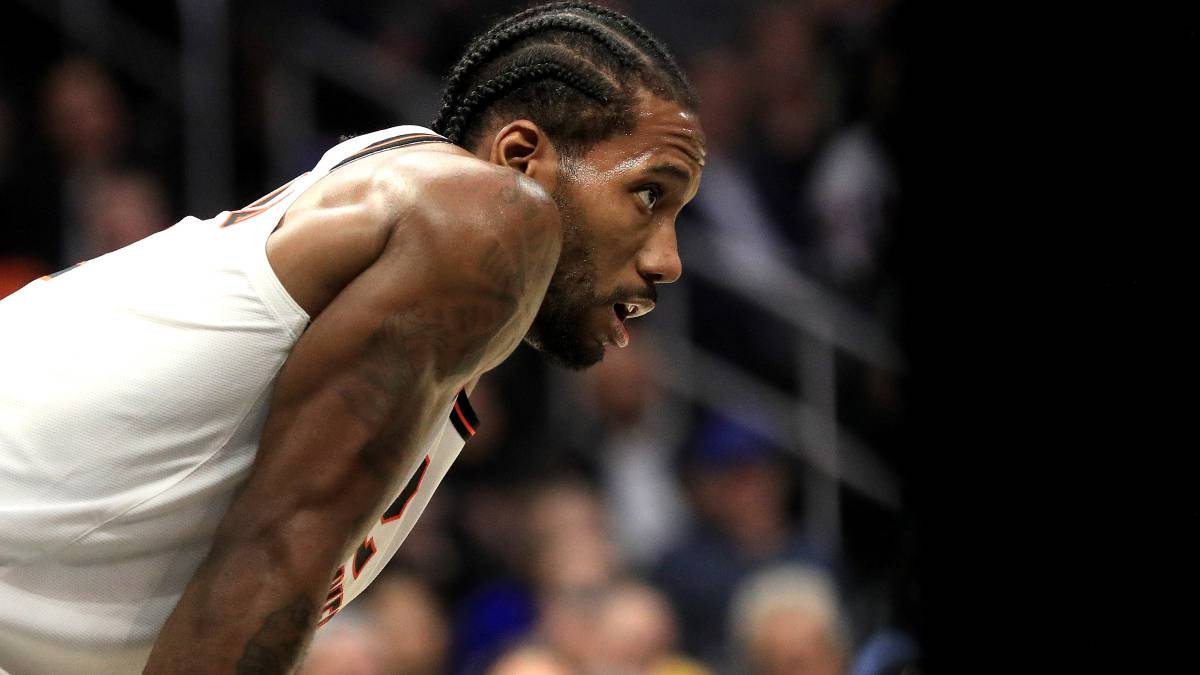 Since Steve Ballmer put his mega-fortune at the service of the Clippers (he paid $ 2 billion in 2014 for the worst franchise in American sports), he began to put money, resources, work and qualified personnel to change the history of the cursed team par excellence. This season, 2019-20, was his, the one that could culminate that historic somersault while the move to Inglewood, where the Showtime Lakers played, was paved. It was the season, for the first time consensus favorites, for the first time pampered by the entire NBA environment, for the first time snatching the big game (Kawhi Leonard) from the hated neighbor, the Lakers of the endless figure, who have turned them into a sort of eternal guest at a Staples Center who have never really made their home.But the year in which it seemed that yes, everything was going to turn out well, has ended in the worst possible way. And there may be nothing more in keeping with the history of a franchise that still does not step on a Conference final: the season was discreet, by level of play and expectations, and the playoffs were simply horrendous, with a first round of inexplicable (then We knew not so much) ups and downs against the Mavericks and an already legendary disaster in the Western semifinals, a series they lost 3-4 after dominating the Denver Nuggets 3-1. Three losses in a row, on the way to an elimination that seemed impossible even for the Clippers, with sets in the second half of 49-67, 35-64 and 33-50. And a total in the last three quarters of 59-94. Advantages between comfortable and theoretically decisive at the fret and two second parts, from 3-2 to 3-4, of 35 and 33 points. The horror. On D-day, the seventh game, they stayed at 89 points, which was 82 with 90 seconds to go, with all the fish sold. In that game, the first to change a stubborn disaster history, the Clippers scored 24 points and 10/38 shooting from their superstar duo: 10 points and 2/11 on 3-pointers with more losses (5 ) that baskets (4) for Paul George and 14 points with a 6/22 for a Kawhi Leonard who made a basket (1/11) in the second half.
The storm surge washed away Doc Rivers, a venerable coach who did a disappointing job all season, and soon after leaving the Clippers, had already committed to the Sixers. The first rumors pointed to Paul George, for his collapses in important moments (something that has been pursuing him for years), his airy problems with teammates for not assuming responsibilities (Montrezl Harrell at the head) and his poor performance if the balance was put on the scale. Historic price that had to be paid to get him out of the Thunder: a top-tier player like Danilo Gallinari, a young star project like Shai Gilgeous-Alexander (who they got rid of too gleefully), and, outrageously, three first rounds of their own ( 2022. 2024 and 2026), two via Miami (2021 and 2023) and the right to exchange two others. It was either that or nothing, because the arrival of Paul George (after probing Jimmy Butler and James Harden, among others) was the only way to ensure Kawhi Leonard's yes.
All roads end in Kawhi
Because, ultimately, the roads had to lead to Kawhi, as a franchise player and theoretical spiritual leader of the team. A player in a favorable media current and whose demands and conditions had marked this year I of the new Clippers that ended like so many years of the old Clippers: with disaster and, to top it off, the Lakers ring. Jovan Buha, who covers the franchise for The Athletic, has finally been the clearest when pointing out that the pampering of Kawhi Leonard dynamited a locker room that came from a strong idiosyncrasy with the players who had kept the beach bar afloat after the departure of Blake Griffin and Chris Paul: Patrick Beverley, the aforementioned Harrell, Lou Williams ... changes to the letter, scheduled breaks to take care of his body that demanded that other colleagues not take care of theirs, travel delays because he did not even move to Los Angeles and lived in San Diego, the meddling of his uncle and right hand (and part of the left), Dennis Robertson. Uncle Dennis, the man who waged war against the Spurs and to whom all the shady issues regarding perks and demands of that complicated Kawhi environment are pointed out.
Kawhi had failed, without excuses or half measures, for the first time. Until now, everything had had a justification, a reason, at least a reason for the debate. His ugly injury (Pachulia's stomp) in the 2016 playoffs, the beginning of his end at Spurs, the determination with which in 2014 he erased (title and Finals MVP) his mistake at the close of the 2013 Finals , when he pardoned from the free throw line before Ray Allen's miraculous triple in Game 6. The 2017-18 season was a bad dream of just nine games and a bitter divorce from the Spurs, the franchise no one ever got that bad of, which included Dantesque moments like hotel getaways to dodge Texans' managers desperate for not to lose the player who had to take over from Tim Duncan and extend the thousand-year empire of Gregg Popovich. But even then, nobody knew anything. What about the quadriceps, what about the normally infallible Popovich, what the hell about Kawhi.
All that also came to nothing because Kawhi, although he asked to be traded to California, ended up in the Toronto Raptors and won his second ring and his second Finals MVP. This year I had to make him the first to do it with three different jerseys ... but LeBron James was ahead of him. And this year, finally, it has been obvious the deficiencies of a player that everyone had insisted on comparing to a machine, a cyborg who ended up being too human: melted in the last games against the Nuggets; no energy, no leadership, no chemistry with his peers. Horrible. After resting 22 games in the 2018-19 Regular Season, it remained at 57 (with fewer totals due to the pandemic) in 2019-20. An already industrialized management and due to script requirements, load management taken to the extreme, which did not prevent Kawhi from being at a terrible physical level when the season was played. And that facilitated the lack of automatisms, sense and unity of some Clippers who had spent the year distributing breaks, alternating brilliant games with grotesque disappearances and with their eyes set on the playoffs. As if teams clicked just by trying, an axiom that leads to failure nine times out of ten. Or more.
Kawhi was not up to the task when it was not enough to be quiet, to go out and play. When the culture of the Spurs, living history of American sports, or the exceptional need of the Raptors, a team traumatized by the losses against LeBron that accepted Kawhi as he was and with all his conditions to give himself another opportunity, did not cover him. Nick Nurse, the locker room bosses (Kyle Lowry at the helm) and the entire franchise environment pushed, Kawhi had a huge playoffs and the Raptors were champions. But this time, in that no-man's-land that the Clippers are, he was naked. Without support, without other leaders to bring together, in the franchise without culture par excellence, faced with a major challenge that went, finally, beyond gathering talent and going out to play.
Elevated by many to the NBA throne in the summer of 2019, Kawhi finished the following season again behind LeBron. Surely behind a Kevin Durant who has not played, and one has to wonder if also behind Stephen Curry or even Anthony Davis, so relaunched after his first season with the Lakers. The damage to him has been enormous. The big skid, the lowest moment for a player whose peculiarities had a dark reverse that the media narrative and the successes had (largely with justice) covered. Kawhi left the 2019 champion and went to the Clippers, who were forced to undergo a limit operation for Paul George and accept point by point his entire agenda and his conditions, game and life. That is worth it if you win. When you get into that game, it's that crude. Or, at the very least, if you lose otherwise.
Kawhi will turn 30 next season. It is legitimate to wonder how much and how he can endure at his best physical level, given the maintenance needs he requires and the bad result he has given this season, in which the disunity and lack of judgment of a team worse than expected in defense, without good passers and without much brain on the court. It will also be especially interesting to see how things are going to go, already with Tyronn Lue on the bench, because at the close of next season, whatever time in 2021, both Kawhi and Paul George will be able to become free agents. Maximum pressure for some Clippers who better have things different almost from the first night of next year. Which will be very interesting: to see if it is the year, this is, and to see Kawhi's response. From that point of view, it is likely that we are about to discover what paste is really made of a player with whom the unknowns always tend to exceed the certainties.
Kawhi, it is fair to admit, played (individually) a great season last season, with his best minutes as a playmaker and the axis of an attack with the ball in his hands. With, still, moments in which he seemed one of the best defenders in the NBA, and with his best figures in some statistical sections: 27.1 points, 7.1 rebounds, 4.9 assists and 1.8 steals in Regular Season . 28.2 + 9.3 + 5.5 + 2.3 in playoffs. During the regular season, his team was 12.5 points per 100 possessions better with him on the court, the third-best figure in the league behind Giannis Antetokounmpo and Chris Paul. In the playoffs, and this is an unfathomable mystery, the Clippers were statistically better (9.7 points per 100 possessions) without a Kawhi who in 59 of his 70 total games scored at least 20 points.
He is an extraordinary player, at his best almost as good as anyone, at his top a historically incidental forward in the game. In attack and in defense. There is no doubt about that, nor that he can look like it again, that he can win more rings and more Finals MVPs. Dealing with failure is something all superstars have had to do, in one way or another. And Kawhi had never experienced it like this, so harshly. So now he will give us, like it or not, many answers. About his physique, about his will, about how he wants to handle himself in a dressing room that, surely for the first time, needed something more from him than his powerful production on the track. Kawhi, we've seen it, can decide playoff series and can be the best player on the court whoever is in front. If in addition to that he gets up from this (tremendous) blow and returns to the top, we will know that he is definitely one of the greatest of his generation. If not ... the Clippers will be in trouble. Very, very serious problems.
Photos from as.com