"Since Real Burgos 30 years ago, there was no such repercussion"
The mayor of Burgos, Daniel de la Rosa, receives the team after winning the Basketball Champions League. "We have signed players with heart and ambition," says Joan Peñarroya.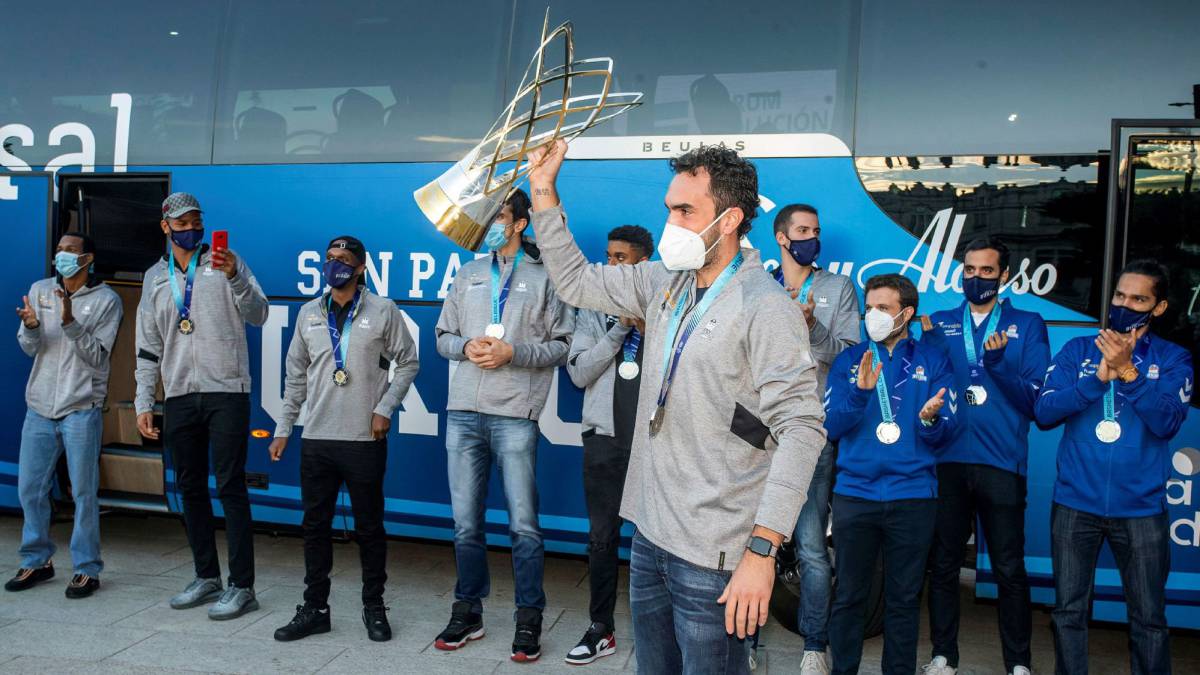 Nobody could imagine that a club created five years ago could reach a European final, on the court of the great favorite and beat them with spectacular basketball. That is what the Hereda San Pablo Burgos did on Sunday against AEK Athens at the OAKA. Tizona, the representative of Burgos basketball, achieved promotion to the ACB League three times and could not materialize it and San Pablo took over. In the first training session there were no balls or shirts and now he has received one million euros for being champion of the Basketball Champions League. Before the pandemic, each match at the Coliseum filled with ten thousand spectators and there is a waiting list to get paid.
Burgos has succeeded in displacing football from the forefront of sport and has worked a miracle by engaging the entire city around an ambitious and constantly growing project. The Burgos expedition returned from Athens and had an official reception this Monday by the City Council and the Provincial Council. The mayor of Burgos, Daniel de la Rosa, highlighted this milestone for Burgos sport: "For thirty years with that Real Burgos we had not had such an impact on sports, it is the first Burgos club to become champion of a European competition and that it is very important for the city. "
One of the architects of this miracle is Joan Peñarroya, the coach who in just one year has managed to qualify his team for the semifinals of the Endesa League and achieve this continental title. The Catalan coach highlighted the quality and enthusiasm of his players: "We coaches can't do anything if we don't have players with character, spirit and desire, and above all we have signed players with heart and ambition and that is the basis of everything we do. we are achieving ". Peñarroya does not set goals and wants to continue growing with San Pablo: "We cannot approach Real Madrid or Barça but we can still do better, there are always nuances to improve and that is what we will continue to do from now on" .
For his part, the president, Félix Sancho, only put one downside to the feat: "This project was born and sustained by a faithful and numerous fans, they are our gasoline. When I met Peñarroya to convince him to come to Burgos a year ago, I told him that we were going to win the Champions League and I was not wrong, it only remained to put the icing on the cake of having done it with our fans, there will be time, for sure.
The city of Burgos has once again felt proud with a sports club; curiously, the best fans of the Endesa League in recent seasons have had to celebrate the greatest success at home, the one in which everyone believed that one day it would come true.
Photos from as.com