Prepelic: "Why didn't I succeed at Real Madrid? That's a question for Pablo Laso"
The Slovenian guard from Valencia Basket returns to Wizink two years later. He does it without rancor and appreciates the positive experience he had as a white player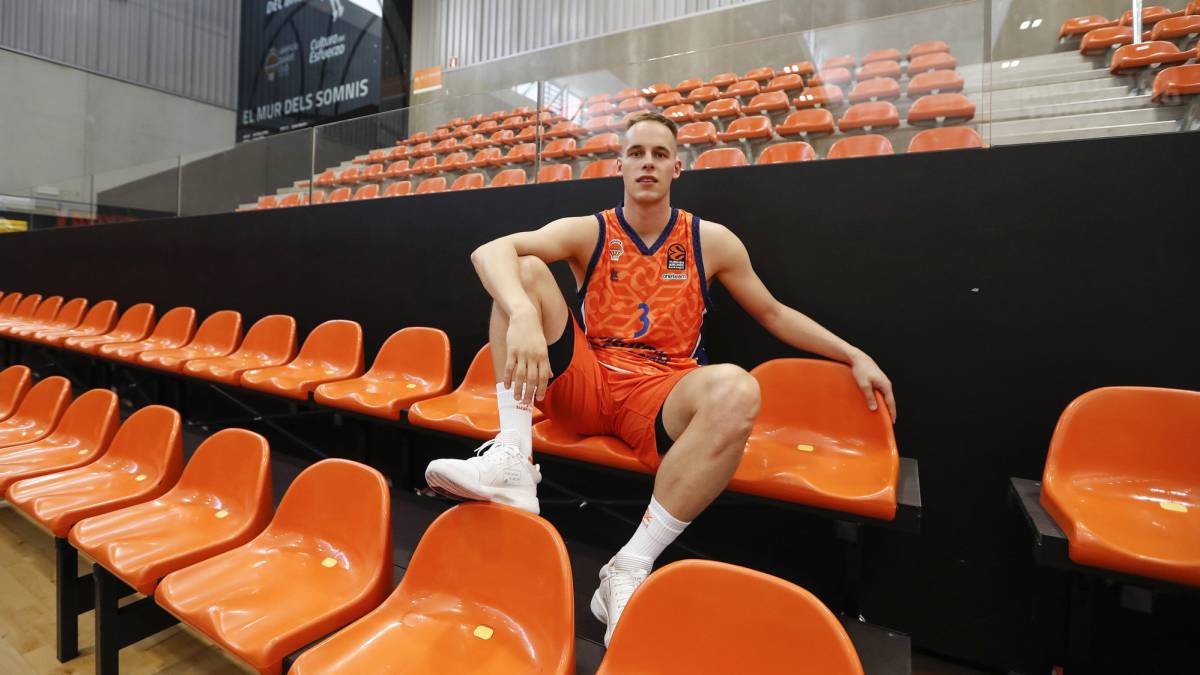 Klemen Prepelic (Maribor, Slovenia, 1992) returns today to face Real Madrid, the club where he could not succeed despite arriving with a poster of excellent scorer. He barely played in the 2018-19 season (9.1 minutes on average in the Euroleague and 11.1 in the Endesa League) but last season, on loan at Joventut, he was the league's top scorer.
Valencia Basket is his second chance in a big one. And he wants to take advantage of it. Your task will be to help score and reach the top-8 of the Euroleague. Now, with a long-term injured Tailor, he'll have to step up.
Why is Valencia having these ups and downs at the start of the season?
For a team that has five new players, four very important, it is normal for these things to happen. I think we were able to win in the last game against Betis. But I think these things are going to happen during the season. It is never easy to play a tough Euroleague game and then connect with the ACB League. We have a long squad and I think we signed very well. We have a mixed experience and very good youth. If we don't have more serious injuries, we are going to win a lot of games.
How do you feel personally after overcoming a preseason injury?
I think I'm working at a good pace. My injury is past. I am going to try to get into the group more than I am doing so far.
Do you already see yourself fully adapted to the group?
I have experience in the League, I try to speak Spanish, I improve every day ... The group has accepted me very well, here are eight or nine players from last year. And that has made it easier for me.
The small Balkan community will also have helped…
Yes, Dubi has been in Valencia for eight years and Vanja, since last year ... But hey, I also have a good relationship with Hermannsson, who has also come this year and we are together for a long time, he has a little boy like me ... group there is a very good atmosphere.
Do you think Madrid will come out with more enthusiasm after starting with defeat in Vitoria?
Whenever you lose a game at Madrid, it's very hard. It is a top level team, top in Europe. They are always going to win every game. We must go with the same mentality. We have a great project and a team with top-level players. If you want to be among the top eight in the Euroleague, which is our biggest challenge this season, you also have to win on difficult courts such as Madrid.
Do you take this signing for Valencia as your second chance in a big game?
Valencia is right now among the top ten teams in Europe. In Madrid I had a story that didn't end well in the end but I think my first year helped me a lot, training with players like Campazzo, Carroll, Llull… And that was demonstrated last year at Joventut. I had a great year, although as a team we didn't play that well, we had ups and downs but there was a period where we won seven games in a row. At Eurocup we also played very well… Now I have a new opportunity. Valencia is betting on very great players, we want to do a new project and everyone knows that entering the top eight is the club's challenge to keep the Euroleague license for next year. The club is also going to make a large pavilion, which will be in 2023 and with this project we have an obligation to finish as high as possible.
Why do you think you did not triumph at Madrid?
I don't know. That question has been asked 100 times but I think it is not for me. That is a question for Pablo Laso. But like I said before, I don't have a bad feeling about Madrid. I was there for a year and I was able to win all the titles. I was in the Euroleague Final Four. I didn't play but I was there. In Copa del Rey we lost the final, we won the Super Cup and the Endesa League. I played with the most important players in the Euroleague, some historical. So I am grateful for that opportunity. However, now there is no past, there is a future, and with Valencia we have another good opportunity.
At La Penya you were the top scorer and were included in the Endesa League quintet. Much of their systems were for you to finish the plays. What role do you think he will have in Valencia?
In La Penya I have to thank my colleagues and Carles Duran, who trusted me. He gave me the most important role in the team. La Penya bets on players from the house, with its great quarry, but it is more difficult to achieve great results. At Valencia we have a lot of talent and different options in attack: Dubi, Kalinic, Williams, Hermannsson, Van Rossom, me ... In defense we have to help each other because this will be key to achieving good results.
It seems that they have the pressure of fighting for the top-8 of the Euroleague very internalized…
The club is not putting any pressure on us yet. But when you are here, you see the history of the club and how they bet on us, it is an obligation. The pressure is put on by the players and the coach. You have to try to get into the top eight in the Euroleague. Also among the eight best in the first round of the Endesa League to play the Copa del Rey and finish as high as possible in the regular phase of the League.
So far he has played with 400 spectators against ASVEL. But I suppose you are looking forward to playing with La Fonteta full ...
I remember that the first time I played at La Fonteta was at Eurocup, with Oldenburg. It was very difficult to play for a rival that day. With Joventut, last year, it was our worst game: we lost by 30. The push from the public would be one of the keys, we would have more options with our fans.
Changing the subject, was this Luka Doncic explosion expected so soon in the NBA?
Everybody talks about it. When we trained with Luka in the national team, you could see that he is different. He wants to win every year, he wants to play all the time, he wants there to always be a competition… He is so talented that it is very difficult for me to talk about him. The sky is your only limit. I think he is among the five best players in the world. With his stats he could be in the top-3 even though Dallas didn't make the playoffs. But in five years, he's going to be the best player in the NBA.
Speaking of your compatriots. How is a country of 2.5 million inhabitants have so many top athletes come out in such a short time? Doncic, Oblak, Pogacar, Roglic…
We also have Tina Maze, who was an Olympic Alpine Skiing Champion. We are very small but we also have handball and volleyball, which are runners-up in Europe. In our country they bet a lot on sport. I think this is good publicity for the country. That is why it was important for us to miss the last basketball World Cup. We want to play the European first and then be in the Olympic Games.
Photos from as.com