Portu: "The fans are going to ask us to be in Europe all year long"
The Real Sociedad striker talks to AS about the exciting year his team has ahead of him, with five competitions and a Cup final.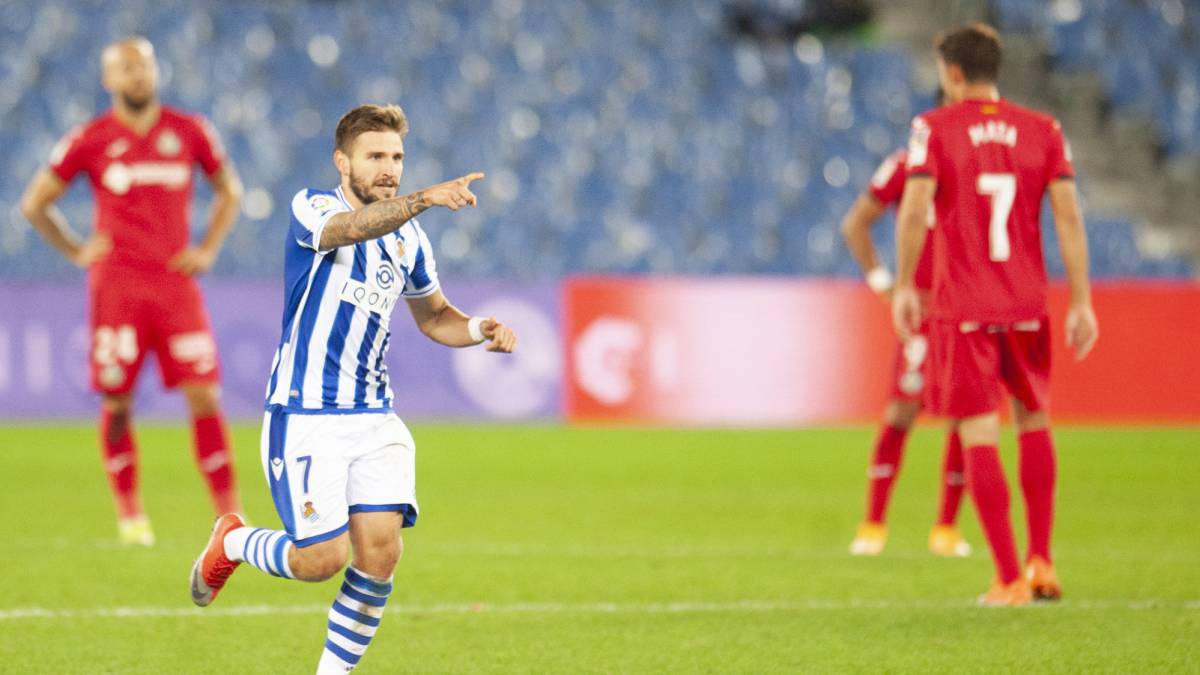 Possibly, he is the Real Sociedad player most fit in this league start. He has scored two goals, the second of supreme quality. And he had a very special celebration: a V with his fingers, because from now on Cristian Portugués 'Portu' dedicates his goals to a little person who has changed his life.
-Is it going to be usual to see him celebrate his goals by making the V gesture?
(Smiles) I think that celebration is going to stay. Both that and the one I used to dedicate to my wife, and we hope this year will be seen a lot.
-Well, at the moment you have already done it twice, it is a good start individually and personally, right?
If you think about it, with the break and the games we have played, for me it is a good start, taking away that game against Valencia in which, in addition, I think we deserve more. I think even the start could have been better, but we are satisfied with the points we have. In the end, you look at the classification and you see yourself up, which is how we all hope it will continue all year. In addition, with the last year we did, the least people are going to ask of us is to be within that European classification all year.
-What have you needed to be better then?
On the level of occasions the team is doing well. Perhaps it is necessary to take advantage of the occasions even more. Because later in defense we have played very serious games, we have conceded very little and we are feeling very comfortable both in the exit of the ball and in the arrival at the rival goal, making very good games in attack.
-Tell me how you happen to score the goal of the last match against Getafe ...
You also have to train in matches. That's why after the goal I went to give Remiro a hug, because in training when you score a goal like this, made of Vaseline, the goalkeepers get angry and tell you that in games you have to do it too, and I told him to calm down, that I'm going to do it. But Remiro is also the one who comes to me before the games and tells me how the rival goalkeepers are. I owed him that goal, let's say. That way he won't be able to tell me anything in training. When you feel good and confident, you have that mental freshness and you dare to do those things. I saw it very clearly, I was very confident.
-A curiosity, is he very grumpy with his companions? Because I see that he gets very angry when they do not pass him when he unchecks ...
(Smiles) It's that in the end, when I go out to a field, it doesn't matter if it's a game or a training session, I always go for everything. And then the coach also asks us to go full capacity in each action, and it is something very positive that this team has. And then there is that performance in games. It is one of the keys. And I just can't stop, I think the center-backs and wings always finish me up. Because I like to shoot off the mark, run, win the back of the defenders whenever I can. And you do that, especially when you have players like Mikel Merino, David Silva, Oyarzabal ... you almost feel compelled to move up because you know the quality of your means to interpret your movement and give you good passes.
-What did your grandfather tell you about the goal against Getafe?
(Laughter) My grandfather is always happy, he doesn't care whether the goal is from a rebound or from Vaseline, he has always said that all goals add up. He cares about looking good and that the team always wins.
-I tell you because you have a very special relationship with your grandfather ...
Well yes. My grandfather was always the first to take me to train when I went to play in Murcia and he was 45 minutes away. He helped me pull forward by making a significant sacrifice for me. Not a day failed. And thanks to him I am where I am. And I would like this story to serve to thank all those grandparents, fathers, mothers ... who are there helping so that their children can enjoy what they like the most.
-How do you personally approach this second year at La Real?
This second year I have to take a step forward, because we have a historic and exciting season for everyone. We have Europe with a very strong group, but we have to take a step forward, but we do not forget the League, the Super Cup, the Cup and the Cup final that we still have to play. And for that we have to take a step forward, say that we are here and we are a great team.
-What does playing in Europe mean to you?
In the end it will be a step in the career of all of us. But it will also be very demanding because we will not have almost time to rest, but it will be all different and very nice to play. We must compete very well against Napoli and AZ Alkmaar, and then try to get the maximum points and goals against Rijeka. Everyone to take a step forward because we want to go very far in Europe.
-By the way, in the summer was there something for Portu to leave the Real?
In the end, with this coronavirus it has been a very strange market, but I am very comfortable in the Real, I have many years of contract here ahead. And when a player is happy, he brings out his performance. And that happens to me. When I have to leave Real, which will be in a long time, I would like to be remembered as a fighter who always left everything every time he put on the Real shirt.
-Tell me about the issue of the central that was not signed by the departure of Llorente. There are people who say that the workforce is weakened ... 444 444
No, quite the opposite. We are practically the same with one more year together of maturity and knowing each other more, because last year helped us all to mature much more because of everything that happened. We came out very reinforced and it helped us to take a step forward. It has been seen in these five games that the team is more mature and we are a pineapple as a group, as you can see how we all celebrate goals. The group is very strong with its 26 players, because I also remember Sangalli, and a weakened squad, not at all.
-But did you expect a central for Diego Llorente to arrive?
We were not aware of that. We were focused on training, on giving everything on a day-to-day basis. In my opinion the central defense position is very well covered, with four very good defenders of a high level.
-Do you think about the Selection? I'm telling you because you already have numbers for Luis Enrique to call you. And the goal fails now in La Roja ... 444 444
I try to do my best in every game to help Real. In doing good numbers so that the Real is benefited. That is first. But then of course why not think about the National Team. Hopefully one day there can be a call from the National Team, I would love to do my best.
Photos from as.com