Polonara and Giedraitis strike down a Barcelona without rhythm
Barça's first defeat in the Endesa League with a 31-18 in the third quarter. Those of Jasikevicius were left without answers against the reigning champion.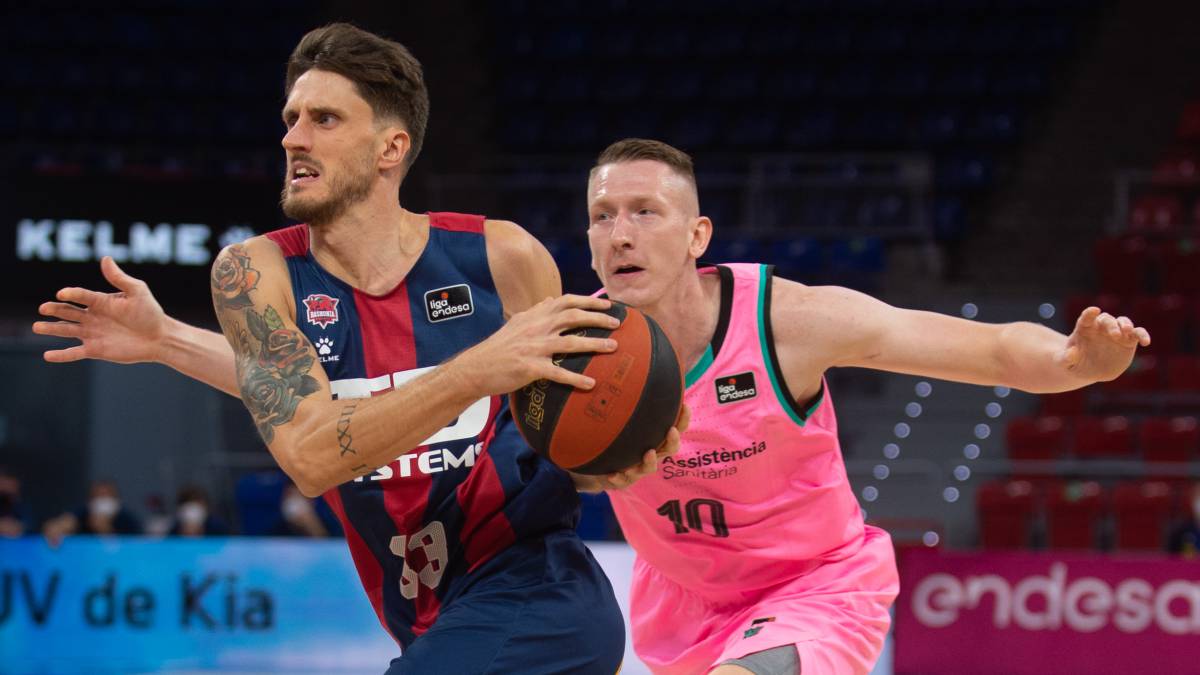 Baskonia's undisputed triumph (82-71) over a Barça that collapsed in the third quarter (31-18), but which gave no image of continuity or defensive solidity. Jasikevicius himself acknowledged the bad play of his team stating that, "it is not understood that when we play well in attack we do not do it in defense". In addition, two Baskonia forwards, the Italian Achille Polonara (19 points, 6 rebounds and 4 assists and the Lithuanian Rokas Giedraitis (19 points and 6 rebounds) were a nightmare for the Catalan defense.
To that was added the tactic of the three Baskonia bases in play: Vildoza, Henry and Kurucs, who prevented Calathes and Heurtel, although they scored 15 points, from maneuvering comfortably. The only positive thing was the league debut of the young forward Sergi Martínez.
As always, a Baskonia-Barça duel is of high tension and the Barça fans had not forgotten their defeat in the Valencia final and were looking for revenge, although today they lacked their reference in attack, Nikola Mirotic, and a reference from their defense, Víctor Claver , with discomfort in his plantar fascia. Dusko Ivanovic, with Alec Peters limping, had Sarunas Jasikevicius in front of him today and this gave a clear prominence on the benches and the fights of one and the other in the time-outs were sounded.
Barça, with Abrines plugged in (2 triples) went fast up (2-8, m.2). Dragic, Polonara and Jekiri imposed their law with a partial of 12-0 (14-8, m.5) and two triples by Vildoza and Dragic left a clear 20-12 (m.7). Nick Calathes came into play and threw Higgins and Kuric to bring his team closer (21-20, m.10). Ivanovic fought his team and Pierriá Henry placed 23-20 at the end of the quarter.
Calathes and Heurtel went out on the track together in the second quarter and a 0-7 through Kuric and Heurtel gave Barça command again (23-27, m.12). Baskonia tied (27-27) and Jasikevicius's men returned to the charge with Heurtel and Davies (27-33, m.14). It seemed that Barça had control, but the haste in attack (6 lost balls in this quarter) allowed the locals to recover, with Giedraitis inspired to go to rest with 39-40.
And in the third quarter came the baskonista festival against a slow and failing Barça where only Heurtel and Davies contributed something positive and Ivanovic's men did not forgive. They had not scored a single triple in the second quarter and they endorsed him four, Giedraitis and Jekiri passed over the Barça defense and not even the changes of Jasikevicius prevented a resounding 31-18 (70-58). Barça had only scored 1 of 8 in triples and this was noticed on offense.
With 73-60 (m.33) Calathes relieved Heurtel at the center of the Barça game and a minute later the French guard entered for Cory Higgnis, off-center. Not a time from Saras prevented the maximum advantage from Baskonia (80-65, m.36) after a triple by Polonara. Nor did the return of Higgins to Kuric change anything and Barça no longer responded (82-71) .
Photos from as.com