Petrucci took its toll on Ducati
"I have to change teams. That will help and I will have people who believe in me one hundred percent. It was probably not like that last year," he said after winning at Le Mans.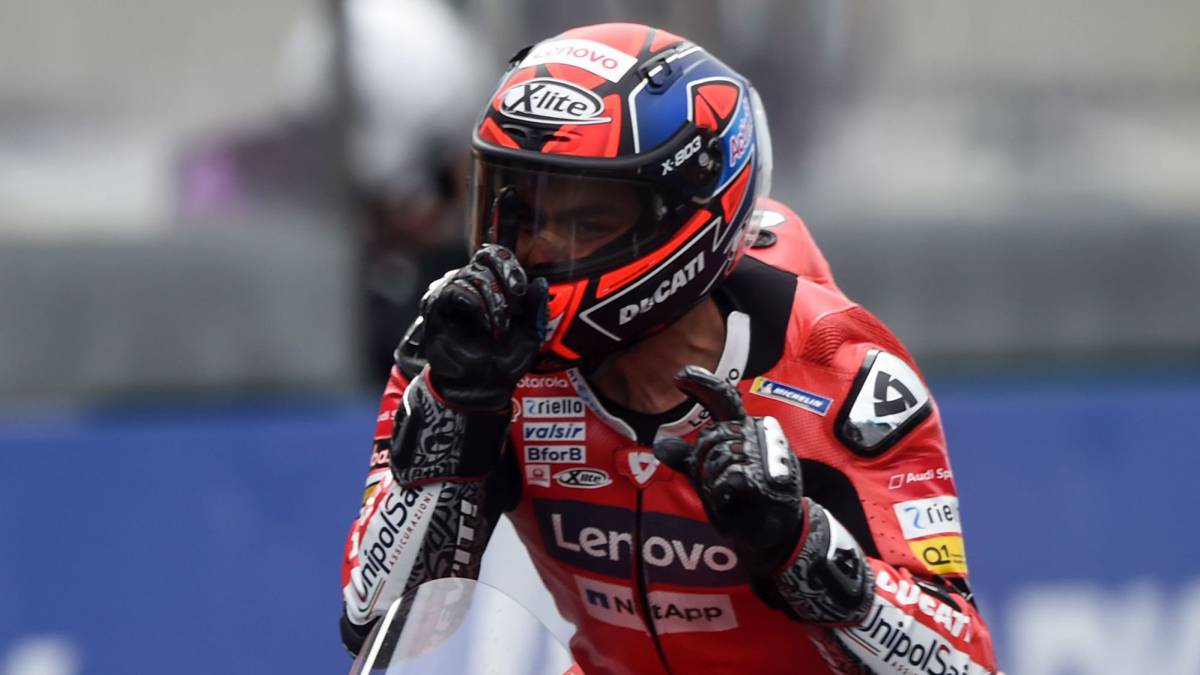 A year and four months passed between Danilo Petrucci's previous victory, Mugello 2016, and yesterday's at Le Mans. The following race he visited the podium again, as third in Montmeló, but suddenly he mysteriously disappeared from the top positions and it was he himself who yesterday was able to explain such a drop in results. He did so by billing Ducati, his factory, and predicting a better deal from next year, when he will call on KTM, in his satellite team.
As soon as he crossed the finish line, he took the index of his right hand, commanding silence, due to so much criticism he had heard, but he was even more forceful when he spoke to journalists. Eye on the stick he gave to Borgo Panigale's house: "I have to change teams next year. That will surely help and I will have people who believe in me one hundred percent. It probably wasn't like that last year. It disgusts me a lot. to have suffered at the end of the season, but I have to change and be more focused on myself and try to be more convinced without the help of anyone else. I think it's time to do it. "
About the gesture of ordering silence, I was very clear: "I had that gesture there, for a long time and I said to myself: as soon as I return I will. It really came from my heart because I have heard so many things in this time, but since yesterday I I said to myself that if tomorrow it was dry or wet I would try to win. When I saw the water, I told myself that a race in the wet is hard, but also that I had nothing to lose. At one point Dovi attacked me and from the screens I could see Alex Márquez approaching and I had to stay calm. The last ten laps were long, but I said: they won't overtake me today. "
When asked if he lifted a weight off his shoulders with this victory, he said: "Yes, after yesterday I already felt lighter and especially with a lot of energy. Now it is easy to say, but I really wanted to fight for the victory, already wet or dry. It's a good release, because the worst feeling was that Mugello could be the only victory. "
He also spoke of the moment in which he was the winner: "I understood it at the last corner, because I didn't know how much Márquez was recovering me and, as his brother here has always taken the victory from me, I didn't want Alex to cheat on me too. I knew that I had a great opportunity here. The goal was the podium, but winning is totally different. I didn't think of anything else, just going as fast as possible. Now I want to win, I have nothing to lose, I have no team orders and I want to Running knowing you have a motorcycle next year doesn't change anything, because next year is next year. This year I had a lot of problems because the bike hasn't changed, but its character with the rear tire caught us by surprise. I started to work on electronics, but that was not the direction and then I started riding differently. Now I want to keep doing good races until the end of the season. "
And about whether he ever lost faith, he replied: "No, also because when you race in MotoGP you know that details make the difference and then I kept working as hard as last year when I was gambling for victories and I was third in the championship. This year I received a lot of slaps, on a morale level, and in the end I am happy to be back ".
Photos from as.com