Pau Gasol: "Marc or me at Barcelona? That's fake news"
The Catalan is clear that, "if in November or December" he sees "that there is some complication or things are not going as they should," he will have to retire.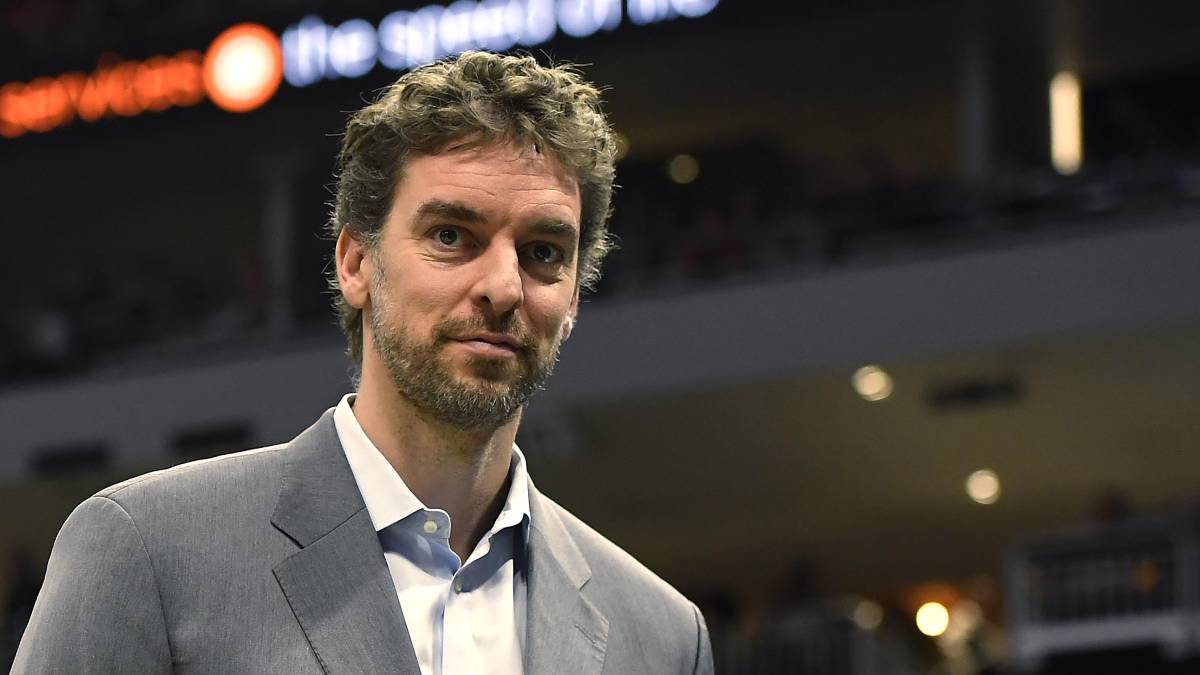 The Spanish international pivot Pau Gasol has set a period of "a month or a month and a half" to know if he will be able to return to the fields or end his professional career, interrupted almost a year and a half ago by a stress fracture in his left foot .
Pau Gasol (Barcelona, July 6, 1980) attends EFE by videoconference from his home in San Francisco, where he is enjoying his recent paternity, and explains where he is in his recovery. "This pandemic, within all the bad it has brought us, is giving me a little more margin to regain that foot, and the progression is being positive. In the next month or month and a half, my level of demand on the track It will be very high, and there I will find out if I can compete again, "he says. The Catalan player, who in the coming weeks will incorporate "contact" in his training sessions, is clear that, "if in November or December he" sees "that there is some complication or things are not going as they should," he will have to announce his withdrawal.
The goal, acknowledges Pau, is "to be able to compete at the highest level for one more season and play other Olympic Games in Tokyo", but he is aware that he has just turned 40 and that he has practically spent the last two years in white for his health problems. "I continue working with enthusiasm in my recovery, but you have to touch with your feet on the ground: I have been a year and a half away from the competition and I am no longer a kid", he summarizes.
In any case, the older Gasol says he feels "privileged" because of the career he has had, and that, if he finally has to retire, he will be happy "for having been able to enjoy so many years of sport at the highest level." When things end and the lights go out We would all like to have a dream ending, but most of the time it is not. That is why you have to savor each game, each moment, each day, living it as if it were the last ". He reflects.
"I am very prepared for the next chapter of my life. But I am also working to see if it can extend a couple more pages what I have enjoyed so many years," he adds. In this new vital chapter appears his daughter, Elisabet Gianna, born last month as a result of his relationship with Catherine McDonnell. The couple chose the little girl's middle name to honor the memory of Gianna, the daughter of their friend and Lakers teammate Kobe Bryant. Both were killed in a helicopter crash last January. Elisabet Gianna's godmother is Vanessa, Bryant's widow. "Kobe and his family mean a lot to us. They have gone through a tragic loss, which has also been twofold, and we think that this was a good way to honor the family and always have it very close," says Gasol in this regard.
Fatherhood seems to have not changed Pau's life much: "We get along very well, the girl behaves well, sleeps well, eats well ... And it catches us at a time in life that we are much more at home than before , and we are enjoying it. " Gone are the constant trips, the games every 48 hours, the adrenaline of the NBA playoffs (he won two rings with the Lakers) and the changes of city every time a franchise ended up hiring his services (he has also played in the Grizzlies , Bulls, Spurs, Bucks and Trail Blazers) .
Now, Gasol focuses his life on his family, his recovery and the foundation that he directs with his brother Marc and of which the PRE-SAFALÍN pilot project has just been presented, an initiative to prevent obesity and reduce social inequalities in health since early childhood that will help more than 160 families in Catalonia and the Community of Madrid. "The Gasol Foundation is based on four pillars: physical activity, nutrition, emotional well-being and the quality of rest. We have had significant growth on both sides of the pond and, little by little, this facet of my life has gaining ground to others, "he details while smiling proudly. On the other hand, he gets a little more serious when asked about the information that placed him, first this summer, and recently his brother Marc, again in the orbit of Barça.
"I do not know if they have come from the same source or have created the same noise with equal veracity in both cases. But if in the end things do not come out of the player or the club, they are only rumors, and I am surprised by the impact and the journey who have had such news without having been contrasted at any time, "replied the 6-time All-Star, who qualifies both information as 'fake news'.
In this sense, Gasol insisted that right now, he is "focused" on his recovery process, so the fans who were waiting for the reunion between the center of Sant Boi and his friend Nikola Mirotic, at the Palau Blaugrana, will stay with the desire. In any case, Pau was full of praise for the Catalan club's new project, that his "little brother", as Mirotic likes to call, leads on the court and Sarunas Jasikevicius, on the bench.
"Barça has bet very hard to have a champion team, first with the incorporation of Niko, the most important signing in the history of the Euroleague, and later with a coach like Saras. But not only that, also betting on players Álex (Abrines) and Americans very established in the Euroleague like Davies or Higgins. But everything has its process and being a champion does not happen overnight, "he says.
Photos from as.com