Olabe: "We don't want Europe to be like going to an amusement park"
The Football Director has analyzed all the news from Real Sociedad: "The arrival of Carlos Fernández would have meant his departure, but he decided to stay and we gave him his value, not giving it away."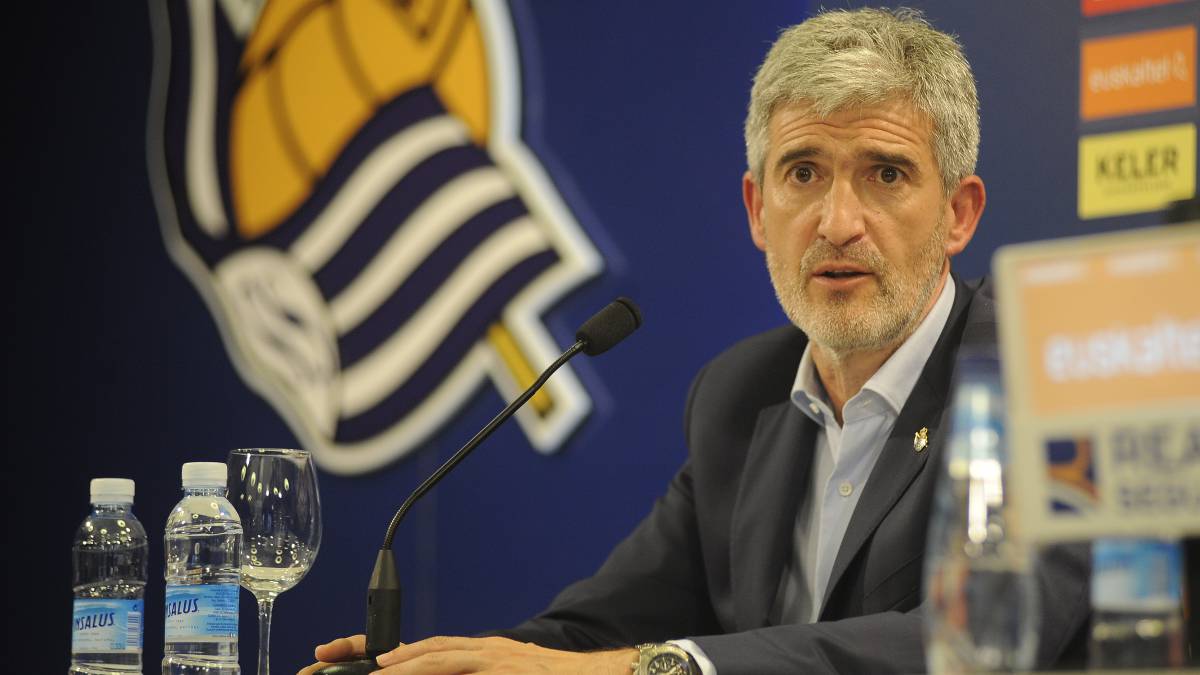 Roberto Olabe, Real Sociedad Director of Soccer, has made an extensive review of all the news of the txuri-urdin club, in a meeting with the press, with whom he had not met since April, in a state of alarm for the coronavirus crisis.
-Clear project. "At a time when restlessness and uncertainty lead to being prepared, we see that Zubieta is more alive than ever. Not only is the game and models debated, but above all. The basis of this project is to be faithful to the laws succession, and try to bring together generations of talent. We are in the middle of that project. We have talked a lot about the importance of construction, and we are still in that process. Construction not only of the staff, but of how we want to be. incorporate, we can sign but we also want to train ".
-Analysis of the template. "Now we have a closed squad of 26 players, with some injured that is already close to entering, and a squad that had the departure of Diego Llorente, Gero Rulli or Kevin, and additions such as David Silva, which gives us not only what that we already see in the field, but other intangibles such as development and projection towards young people. Players like Merquelanz and Guridi, who come to form a larger squad than at other times from what we are seeing, which is the health situation and the number of games we have this year. Also the incorporations of Zubimendi or Roberto López, who beyond numbers, are first team players ".
-DNA Zubieta. "Building is not only about incorporating but about working and giving confidence. Also about projecting. A staff with a very young average age, with Zubieta's DNA, and that beyond being below 25 years on average has an average age eight-year tenure at the club That is part of us and what we want to be, a large, dense squad, with different resources for the coach to say how he wants to play, and to which Imanol gives his style and idea. We are prepared to face a season that in itself is a challenge ".- Long squad. "We must ask them to be supportive, respectful, generous and assume the role and that level of demand and improvement that must be faced together together. Generosity for the decisions made by the coach and assuming that one day they play 60 minutes and another 30, and not thinking that it is more important, for example, to play against Napoli or against Cádiz. It is an extraordinary season, but one must make it ordinary, and that must be achieved based on the levels of demand that we set ourselves ".
-Young template. "We are a living project that aspires to continue working in a certain way. We are still in the process of generational change, and we are never going to finish it because we must continue to feed that" competitive beast ". Our goal It is not being young p, but being competitive and trying to be better than ourselves starting from work during the week ".
-Europe. "I'm trying to see the calendar without differentiating LaLiga from the Europa League. I'm happy with the start of the team but beyond the results because I see that the team continues to have the same DNA and has the block a little higher than last year and defending higher than last year. I feel absolutely identified with the team, because they want things to happen, take the initiative, be a protagonist. We don't want being in Europe to be going to an amusement park where you travel and take out photos. We are not going to visit the Adriatic, to eat pizza or to see the canals of Amsterdam. "
-Market valuation. "When we talk about construction, I have been very satisfied. But I disagree with the concept of summer management. I think that summer is a consequence of everything that is being done. In the final stretch of last season there were seven renovations. We are happy with the 26 players, and with emerging elements such as Petxarroman, Pacheco ... who give us that perseverance to continue working. It is true that the rival is the master, and our limitations will be seen by the adversary. A team with a very wide margin for improvement, and the fact of being together for another year is a huge exponential leap. What we were already beginning to sow, based on 'watering' it, will be much better, not the same, but much better ".
-Willian José. "The decisions are at a given moment. What I think is that 'Willy' needed to hear the club say 'we want you to stay' and his club hear 'I want to stay'. Carlos Fernández's name came up, and his Arrival would have meant his departure. Willian José and La Real, what they really need is to understand the role they have at all times and we are happy that he was able to say that, and that is what we needed, for him to say 'I want to stay'. He had the option of doing an operation and in the end he stayed. And we gave him his value, not giving it away, we have to give the value that they have to our players ".
-Exit from Ødegaard. "His departure caught us a bit backward, it made us 'pupa', but we understood that it could happen so we try to be prepared, and we are happy and grateful for what Martin did with us, and very happy and satisfied with that David Silva be with us and be part of the dressing room ".
Photos from as.com