Nadal: "To tie with Federer is an honor and something beautiful"
A day after winning his 13th Roland Garros and 20th Grand Slam, Nadal gave an interview to AS and three other Spanish media in which he opened up.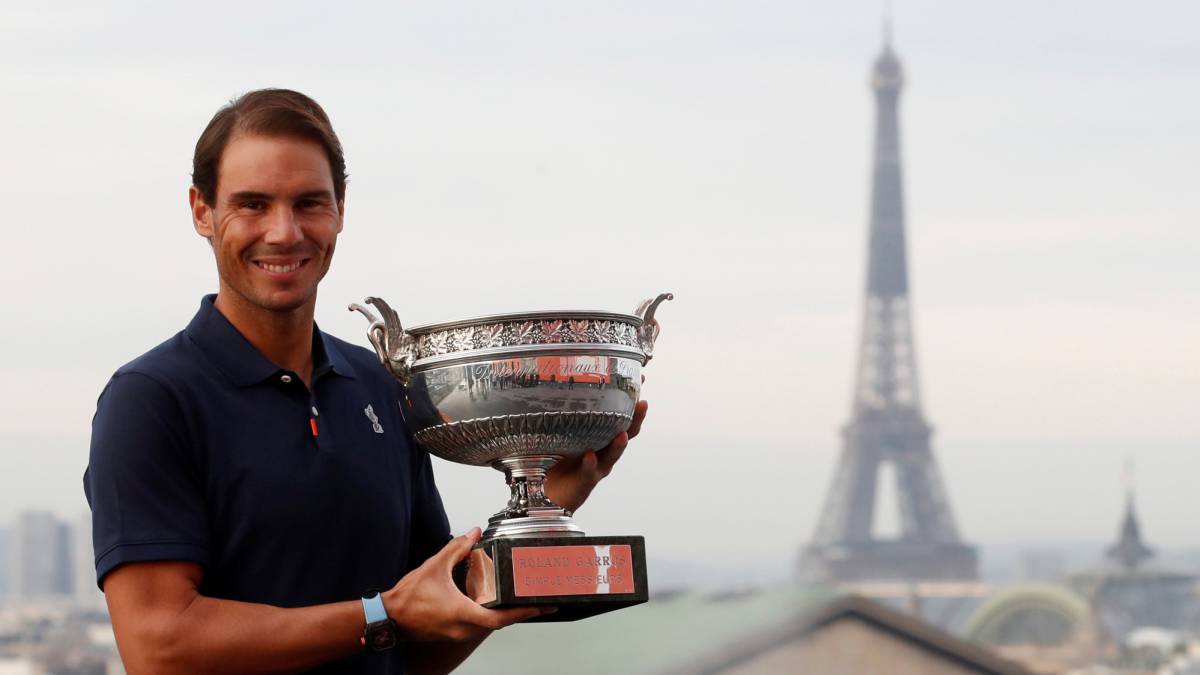 The day after winning Roland Garros for the 13th time and equaling Federer's record of 20 Grand Slam titles, on his way to the airport, Rafa Nadal addressed via Zoom to AS's special envoy and those of three other Spanish newspapers. The Spaniard spoke about what his feat means, without being fully aware of the impact it had on the whole world.
Did you ever feel that you would not win at Roland Garros at any time because of the conditions this year?
Of course. Every year I go to Paris I think I may not win. But I do arrive with the illusion of doing it, knowing that the logical thing is that it does not happen, although I might think that I will achieve it for all the times I have won here. The normal thing is not to win, and I have that very present and I said it from day one. Taking into account the conditions, this was the most adverse Roland Garros, also because the preparation in the last six months had been practically nil at the level of tournaments, not training.
During the championship, you were sometimes in low spirits.Does this whole pandemic situation affect you?
I was not sad, but a little more muted than usual, I think it is a general trend throughout the world. We are in a sad time because you cannot share moments with the people you love and the situation is more unpleasant than we are used to. And one cannot abstract from what is happening in the world and in Spain. You suffer for everything that is happening because, in the end, it is something unheard of in our lives. In the past there were other pandemics, but in recent history we have not experienced it and it is sad and worrying. As far as possible, when I have had to be cheerful, focused and with the right attitude during these days, I have been. This is what I am most satisfied with.
Djokovic said that you had been much better tactically. What changed with respect to the previous matches?
My last match on clay against him had been in Rome. I remember that I came from a not very good time and apart from winning, I played very well, so I took that game as a reference and came out with a clear idea of what I wanted to do; the tricky thing is putting it into practice. Luckily, on Sunday we were able to put it into practice because my tennis feeling was very good.
Can it be said that you are the best in the history of tennis?
Well, it is debatable. The figures have to be analyzed by people who know that tennis history well. And honestly, it doesn't matter much to me either. I am happy with my career. It is clear that, today, I am one of the two best. But we'll see what happens to Novak, what happens to Roger when he returns, what continues to happen to me… Hopefully, if all goes well we will have time to analyze it when our careers are over. Then, with all the data, a clear verdict can be made.
He once said that Borg ended at 26 because he couldn't hold his head. You are 34, how do you keep being mentally well? 444 444In the end, we all go through better and worse moments, through stages of illusion and disappointment, especially when we have had more physical problems than necessary. But I have been fortunate to have a fantastic family and team that have supported me throughout my career; It helps to have a stable personality. I try not to be overly overexcited when things are going great or being especially negative when things are going bad. This helps me to do everything more calmly and gives me the opportunity to move on. Anyway, in the end it all comes down to having a passion for what you do.
Are you impressed by the impact your deed has had around the world and the admiration of a girl like Iga Swiatek, champion of the women's tournament?
I do not know what it has meant because I have not had the opportunity to see practically anything ... At the sporting level, something important has been won, firstly because one of the most important tournaments in the world is won 13 times, and secondly because it is tied at 20 great with Federer. You have been talking about all this for a long time and I understand it, because a record has been reached that seemed very difficult to match. I am very satisfied, very happy and I really appreciate the messages; also that of Swiatek, whom I must congratulate on her victory.
When so much has been earned, what is left to do?
For me, continue to enjoy everyday life. I am fortunate for all the things that have happened to me during these years. Until today, life has smiled on me. What is left for me to gain? I do not know, but the illusion is always to move forward, because if you do not have the motivation to do what you do, it is time to dedicate yourself to something else. As long as I maintain that enthusiasm for playing tennis and competing, I will continue to push myself every day.
Is it distressing to work without a goal?
They have been complicated months, because in the end you are living with constant problems at the social level, and on the personal it is true that I have had a few bad months, because my body, after confinement, has not responded in the best possible way. I have solved it in the best way, I have spent many weeks training very little and the body sensations have often been unpleasant when doing it. All this, together with working without having clear objectives on the horizon, makes the problem worse. But as I said before, I have had the right people by my side, who squeezed me when they had to squeeze me and who also left me free to enjoy other things when I really needed it. I have had to make difficult decisions, such as going to New York or not. Everything is good or bad depending on the final result, and now it seems that having won Roland Garros everything has been done well. But if I hadn't won it, maybe it would have been done well too ... This is the reality of sport, which ends up being something totally results. All decisions have been made by consensus and, regardless of the result, I am personally satisfied with what we have done.
What has the life of the bubble been like?
It costs me more than the rest of my team, because I am a person who perhaps likes being with people more than anything else. Both Carlos and Rafa manage better than me alone ... The days may have been longer than they did, but hey, at least I have recovered things that I had not done for a long time, like playing Play; I hadn't picked one for six years. We have played with each other. I also read the news and current affairs, and I have watched some series to make it easier for the hours to pass.
Are the three touches that you gave to the shoes with the racket before serving, are they incorporated into your routine on the ground or was it a resource to combat the humidity of the ground?
The track was more slippery this year than usual. It was vital to remove the earth. From the first day I slipped quite a few times and Carlos (Moyá) told me, "remember to do all that at each point because if not, the ground will stay hooked on your shoe, unless you start without it." It is not a built-in routine but a resource to improve movement.
What do you most want to do now?
Recover normal life. Being at home, playing golf, going to the Academy, seeing people I haven't been able to see in all this time…
Does playing in Paris-Bercy and London put Australia's preparedness for quarantines at risk?
I have to think about all things well. Decisions, today more than ever, must be taken calmly and carefully analyzing all situations to say both on a personal and professional level. I need a little time to know what my next tournament will be. In the next few days I will make a decision and make it known.
Next year it is expected that there will be a night session at Roland Garros. This edition has been a kind of test. Do you like that idea?
More change than there has been this year with respect to the others, it is very difficult to have it. The temperature, everything has made it totally exceptional and there have been semi night sessions. Hopefully when there are in June it won't be so cold. I'm not a fan of night sessions on clay, because the conditions get heavier. But I understand that we are in a very difficult economic situation and I suppose that for the business of the event, doing a double session is a plus. And more considering the great investment in leaving Roland Garros as they are leaving.
How did you process the fact of playing the games with almost no public?
In the end there was some atmosphere, not like in Rome. There were some people in the front rows, the family and the team were in the box ... That changes the perspective of everything. In Rome, the feeling was much sadder. Three or four people, much more unpleasant.
Are you great and proud that the day you tie 20 Grand Slam titles with Federer, the Swiss is the first to congratulate you with a letter?
In the end I think we have a very good relationship for many years and in a way we have great appreciation for each other. I think we have shared many of the most important moments of our career, competing against each other. A rivalry was generated that has gone far beyond the world of tennis. We value and appreciate it in a special way. Tying him at 20 means a lot, it's an honor and something nice.
What is the key to that good relationship that does not always occur in sport?
It is about relativizing everything a bit. We play tennis, nothing more. When we understand this, it goes ahead. At the end of the day I think life is more pleasant if you have a good relationship with your rivals than if you are in a fight. Being in a positive atmosphere, saying hello and chatting, the day to day on the circuit is much more pleasant.
What he did at Roland Garros seems like a blow on the table, like saying that there is no one who beats him at Roland Garros whatever the circumstances, how do you see it?
I don't see it that way. I think I have played strides forward every day and made the almost perfect match when I had to. I am not very banging on the table. I did well enough to win the games. It was a tournament that seemed difficult and I won it without losing a set, so it was better than expected.
What does the Chatrier have for you that other clues do not have, such as Rome, for example?
It's Rome I've won nine times so it's a good scenario for me too. Playing five sets on a much larger court, where it is more difficult to play because of its size, although what I say may sound Chinese to people who are not totally involved in tennis. There is an intangible thing, when one has played very well many times in a place, it is easier to do it again, there is an extra confidence and belief in oneself and you know it, so it has a decisive influence.
If the situation continues due to the pandemic, how long do you think it is profitable for tournaments and the circuit in general? 444 444
I trust that it will not last much longer, because otherwise it will be a very complicated economic situation, although the health problem is a priority. For tournament organizers and promoters, it will be unsustainable if it takes too long. Let's hope that there is a solution as soon as possible to return to a more logical and happier life.

Photos from as.com