Mourinho consummates his revenge at Old Trafford with a historic win
Tottenham thrashed in a game that began losing in minute 1 and ended up beating United with 10 due to Martial's early expulsion.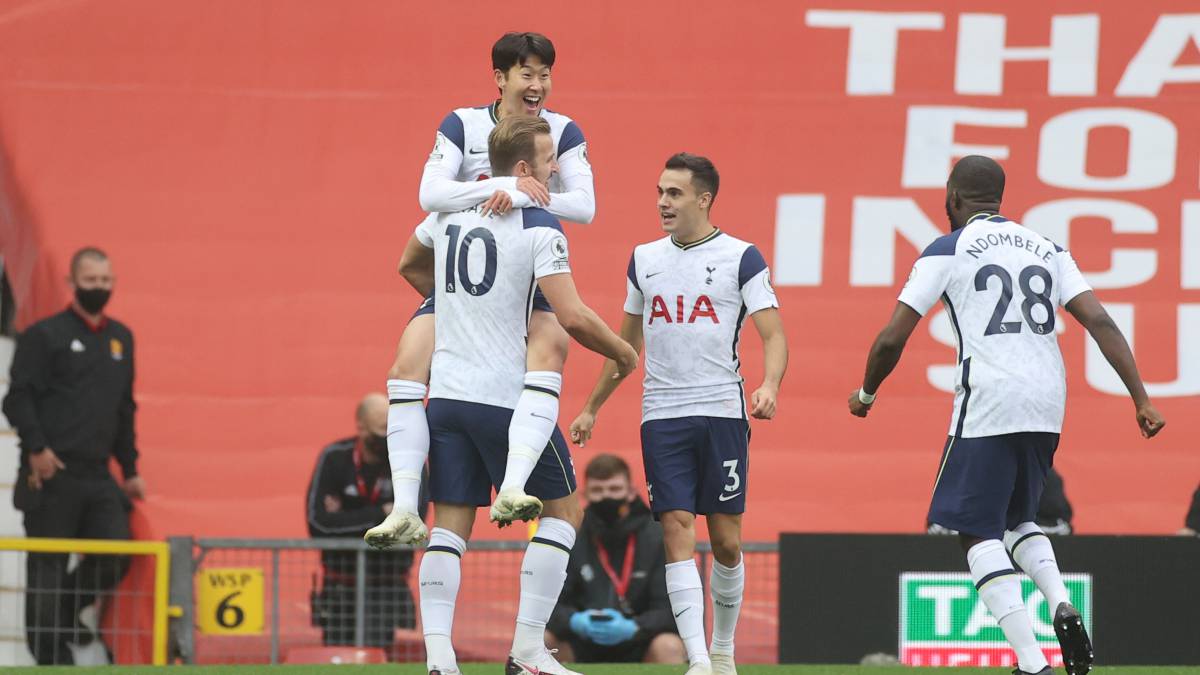 He left through the back door of Old Trafford, disowned by a club that was a dream for him, but José Mourinho is one of those guys who always reserves a last word in football. Today, with the Tottenham crest on his chest and visiting what was his home, a Theater of Dreams full of illusion, he has gone back to London with the satisfaction of the outstanding accounts settled and signing a historic result that will reopen all the wounds that seemed healed in the Mancunian complex. The Spurs rise and crack, from their very foundations, some Red Devils that have to be asked for much more.
Because De Gea has long ceased to be the best goalkeeper in the Premier. It is no longer even one of the top three. Because Maguire, who comes from having such outdated parties that they even took him to the dungeon in Greece, is not worth a quarter of what they paid to make him the most expensive defense in history right now. Neither Bailly has forcefulness. Neither Shaw is fit for a great. Neither Wan-Bissaka seems the same.
It seems that as soon as the light of Bruno Fernandes goes out, a flame of hope that was lit in January and that led them to get into the Champions League against all odds, nothing works in Solskjaer's team, which may be delaying their departure from Old Trafford. For the good of the team, let Pochettino arrive as soon as possible. And that the first goal of the game at the minute of the match was converted by the Portuguese talent after a penalty committed on Martial, but not even with those did Manchester United escape the most bulky win since the Premier is played in this format. That means that for at least 30 years no one had scored four or more goals at Old Trafford. Tottenham made six.Just a few minutes later they had already tied the game through Ndombele after the first nonsense of Bailly and Maguire, who would look bad in practically all the goals, but it is that in minute 8 a cross between Martial and Lamela ended with the French expelled. The Argentine, if United's '9' saw the red, he also had to have gone to the locker room.
Just before, Son had already scored the first pass from Kane and then they would exchange roles about the half hour of play. Before the break, the South Korean would score another pass from Aurier, who would score fifth himself at the restart. Kane would close the set from the penalty spot in the closing stages after a penalty resulting from the desperation of Pogba, who was powerless throughout the match.
Mourinho: "It's a historic victory"
José Mourinho, Tottenham Hotspur coach, assured that Sunday's 1-6 victory over Manchester United is "a historic victory."
"Manchester United do not lose many games and less by six goals. It is a historic victory, but in the end it is three points and three very important points because we have already lost five at home," the Portuguese told Sky Sports.
"We prepared very well tactically and also psychologically. We were so prepared that not a penalty and 1-0 in the first minute affected us," he added.
Of the expulsion of Anthony Martial for attacking Erik Lamela, Mourinho said he did not see her, but pointed out that if anyone can "cry" over the decisions of the VAR it is Tottenham and that if anyone should not complain it is Manchester United. "All I know is that we played extremely well today," said Mourinho.
Photos from as.com