Mir: "A pass that they see me as the favorites to the World Cup"
"That gives me a lot of extra motivation, but I'm focused on going race to race, learning, being better, winning races," says the Suzuki man.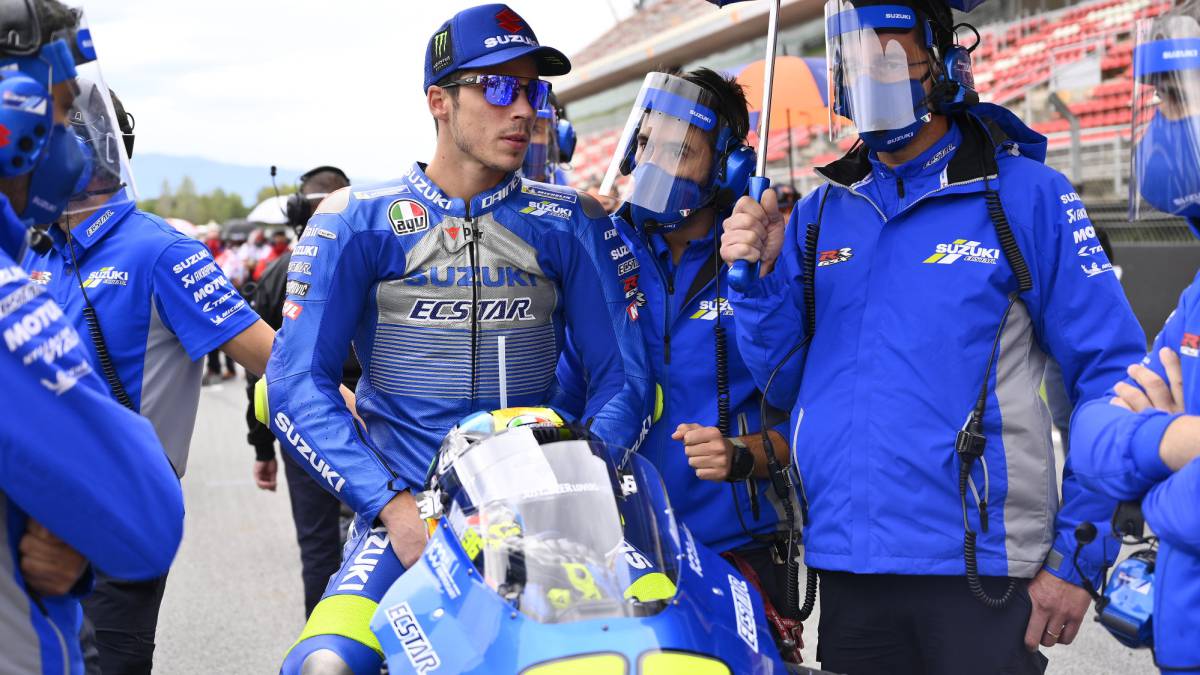 The role of Joan Mir among the candidates for the MotoGP title for this season can no longer surprise anyone. He is second overall, eight points behind Quartararo, and has four podium finishes in the last five appointments. He claims that he is motivated to be given title options, but that does not change his mentality.
-How was the contact in Portimao with the GSX?
-The test in Portimao went quite well. I was able to do a few laps with the Suzuki GSX and I felt very good. The truth is that this bike works very well and I could also see the lines of that track. It is a very different circuit from the others. You have to go with a lot of 'flow' and it is important to find the lines. It is also important to keep the front wheel supported all the time, because it gets up a lot with the ups and downs. It was good to do a few laps. I did not want to give many, so as not to lose the feeling with MotoGP since it was a very different motorcycle. I didn't mean to squeeze like crazy, but it was a good test.
-You competed there, and with victory, in the Moto3 CEV. What did you think of Portimao in terms of security?
-With resurfacing, the grip was good. It is true that there were potholes in some places, but nothing exaggerated. And with the street bike you don't notice as many potholes as with the MotoGP. At the safety level, the last corner funnels the way out and can be dangerous. I had already ridden on that circuit and it is one that I liked. I did it in the CEV and I didn't remember much, although it is true that I knew where the corners were going. I did not remember that there were so many ups and downs. It was nice to be riding on that track again. It's really cool and I think our bike can work well there.
-How does it look with the Suzuki in water? It looks like it's going to rain this weekend ...
-In water it is not my strength, but I think we can do well. The weather here is very unpredictable and it seems that tomorrow we will get wet. For the rest of the weekend, there are doubts, and in the race it seems that it will not rain, but you never know here.
-What memory do you have of the 2015 Le Mans race with which you became known to many? In which, starting last, he placed first and fell.
-That race was at the FIM CEV Repsol and I have some brutal memories. I could not do any laps during the weekend, because they brought me a different bike and the one I had ridden with in Portimao they only gave it to me in the race. The other one did not work and I was only able to warm up. I knew where the curves went from the videos. At home I sometimes put it on to remember that day. It was amazing, but also because of what happened before, because I didn't have a motorcycle to race and we demanded the motorcycle. My manager, Paco Sánchez, also asked for the Portimao bike and there was an important show. Luckily things are calmer now and I know that the bike is there in the box, that I can go out with the same bike. It would be very strange if they changed it here and now I am calmer. (Laughs) .
-That race ended up crying in the box and is now second overall in MotoGP. How is this change assimilated in five years? 444 444
-If you look back, everything has happened so quickly ... Five years ago we were at the CEV. The following year, entering the World Championship and assimilating that he was with the pilots he saw on TV. Then be a favorite, win a race and the following year win the Moto3 World Championship. Then, go up to Moto2, with podiums and being leaders in a year, and then see myself in MotoGP with people like Valentino, who when he won his first World Championship I had just been born. And now being a candidate for the World Cup ... It has all happened so quickly. This is my daily bread, continually adapting and being in continuous evolution, improving day by day. It does not surprise me so much because I have experienced it before in other categories. That's why I am not so surprised, but from here on there is no more and we have to stay here, trying to be the best we can and push hard to have good races. Here we have to stay.
-You are seen among the favorites of the World Cup and the readers of an Italian website vote for you as the top favorite. What do you think?
-It's very good. (Laughs) It's amazing that they put me as the favorite or favorites to win the World Cup. It gives me a lot of extra motivation. Right now, of course I want to win the World Cup, but I'm focused on going race by race, learning, being better, winning races. Surely if I continue like this, with those podiums and winning races, we will have many numbers to win the World Cup, of course, but we go part by part. Winning a MotoGP World Championship is not easy.
Photos from as.com